Okra stew with butter rice
A hearty okra stew is just the right dish for cooler days. When it gets a little darker outside, I like to serve the stew with the green pods. This is real comfort food for me. Many people then always ask "What is okra?" - then just let them taste it. The recipe is simple! I'll show you how to make the Lebanese okra stew called Bamya.
What is okra?
I bet you that okra will soon become very popular in this country as well. The pods of the mallow plant okra have hardly any fat, but a high proportion of fiber - these are very healthy and good for digestion. The vegetable pods taste mild to very slightly acidic and have a tender to slightly woody texture and consistency, depending on their size. I think you can compare the taste somewhat to green beans. You can use the polygonal pod for salads, creams, stews and much more.
Okra is called bamya or bamyeh in Lebanon. And this stew was simply named after this fantastic pod. In Lebanon it is an absolute classic and is really simple to prepare. Sauté everything briefly, put the lid on and let it stew.
Prepare okra
Alright; one or two things to keep in mind when preparing the pods, though. When you cook the okra, it secretes a kind of slime - no need to panic! Now this sounds more unappetizing than it actually is. This property allows the stew to thicken without the addition of starch. Of course, if you don't want this at all, there are workarounds.
Before you cook the pods, you can first blanch them in water with vinegar or lemon juice - and you'll be rid of slime. My mother had another trick for me. "Fry them first, then they won't slime - like snails." - "Okay, so I fry the pods hot."
Besides the okra, you'll need the following ingredients for the stew:
lean beef
Onion
Garlic
Vegetable broth
Strained tomatoes
good olive oil
Spices
Pomegranate syrup
and with pleasure a little chili
By the way, I use the small variety of okra for this stew, as it is more tender than the large, longer pods. The exact ingredients and the preparation of the dish you will find below.
Traditionally, Bamya - like almost every stew - is served with rice or bulgur as a side dish. But it also tastes fantastic with fresh pita bread or butter bulgur. Just try it out!
---
Recipe for okra stew with butter rice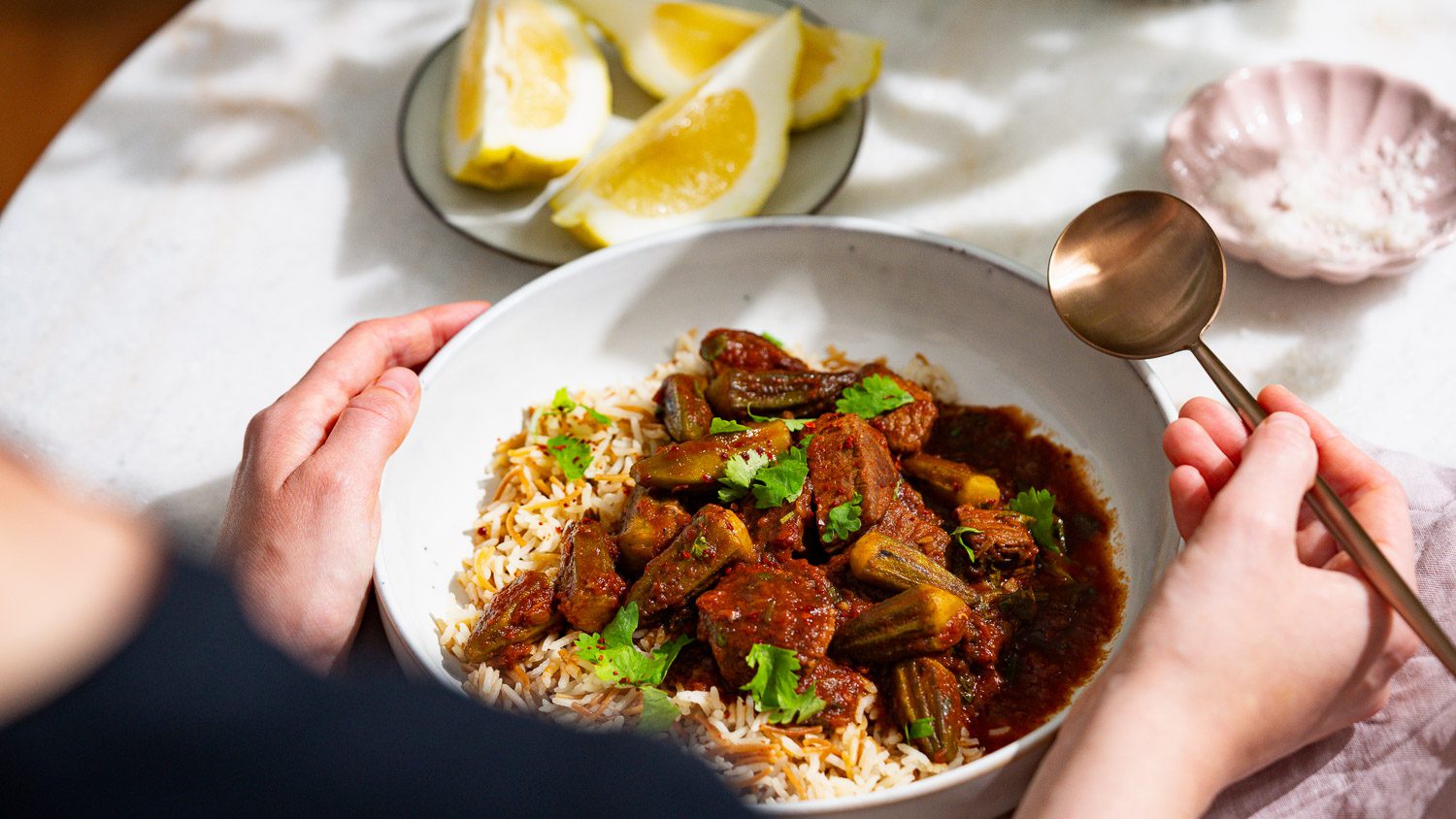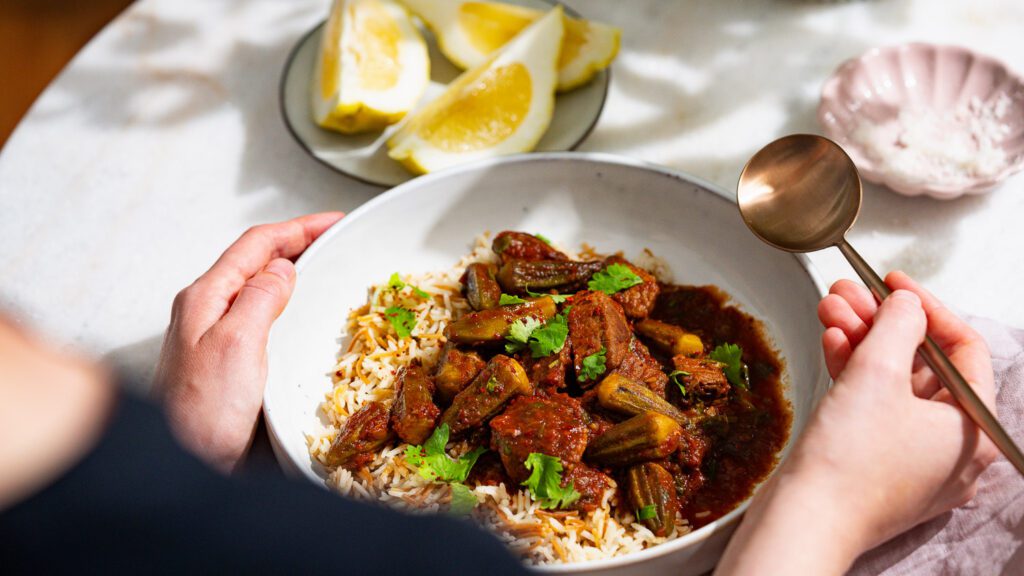 Print recipe
Save recipe
Saved!
Ingredients
1

Onion

4

Garlic cloves

6

Tablespoon

Olive oil

400

g

small okra (green, available in Turkish or Arabic supermarkets)

500

g

Beef goulash

1

tablespoon

Tomato paste

250

ml

Vegetable broth

400

ml

Strained tomatoes

1

tablespoon

Pomegranate syrup or lemon juice

1/2

teaspoon

Cinnamon

15

g

fresh coriander

Salt, pepper
To serve
1

Lemon (cut into wedges)
Preparation
Peel and chop the onions and garlic.

Heat half of the oil in a large pot and fry the okra in it for about 3 minutes - please stir carefully, otherwise the pods will burst open. Remove the pods from the pot and set aside.

Heat the remaining oil in the same pot and sear the meat in it for about 5 minutes on all sides.

Add the onions and garlic and sauté.

As soon as the onions are slightly translucent, add the tomato purée and stir in a little.

Add broth, strained tomatoes, pomegranate syrup or lemon juice and cinnamon and bring to a boil briefly.

Season with salt and pepper and simmer for about 80 minutes with the lid closed over medium heat.

Meanwhile, prepare the butter rice according to the recipe.

Wash and chop the coriander.

Add chopped cilantro and okra to the pot and simmer on low heat for another 10 minutes.

Serve okra stew with butter rice and lemon wedges.
Nutritional values
Calories:
343
kcal
|
Carbohydrates:
33
g
|
Protein:
33
g
|
Fat:
9
g
|
Saturated Fat:
2
g
|
Polyunsaturated Fat:
1
g
|
Monounsaturated Fat:
4
g
|
Cholesterol:
78
mg
|
Sodium:
466
mg
|
Potassium:
1100
mg
|
Fiber:
6
g
|
Sugar:
8
g
|
Vitamin A:
1326
IU
|
Vitamin C:
36
mg
|
Calcium:
156
mg
|
Iron:
5
mg
If you want to get through the cold days well, I also recommend Lebanese flower charcoal stew | Yakhnit Arnabit or "Fasolia" - Lebanese bean stew.