Lebanese potato stew with kafta
A good stew can save the whole day, don't you think? When I think of dishes that instantly lift me up, warm me up and make me feel good, it's usually stews. A good example is the Lebanese bean stew Fasolia or this delicious potato stew with little kafta meatballs.
A stew for the whole family
Good home cooking is often not expensive, relatively quick to make and makes the whole family happy. And especially in my family, who are real despisers (absolute philistines!) of healthy food, this potato stew still goes down very well. But that's no wonder: no one can resist potatoes and meatballs in a super tasty tomato sauce, right? Well, if you don't eat meat, you can of course leave out the meatballs and increase the amount of potatoes - or use vegan meat for the stew. Tastes just as good 😉
The potato stew is then accompanied by a good portion of steaming butter rice. Wait a minute! Carbohydrates served with carbohydrates? Oh yes! It really is absolutely delicious and really fills you up. Usually you even take some pita bread with it... No kidding!
Perfect also for the next day
The really nice thing about stews is that you can still eat them perfectly the next day. Often they taste even better than on the first day. So potato stew is also great for taking a soul warmer to work and enjoying real home cooking there. So simply prepare potato stew and rice in the evening and take it with you the next day. Then even the most annoying meeting can't do you any harm if your heart is with your family.
---
Recipe for Lebanese potato stew with kafta balls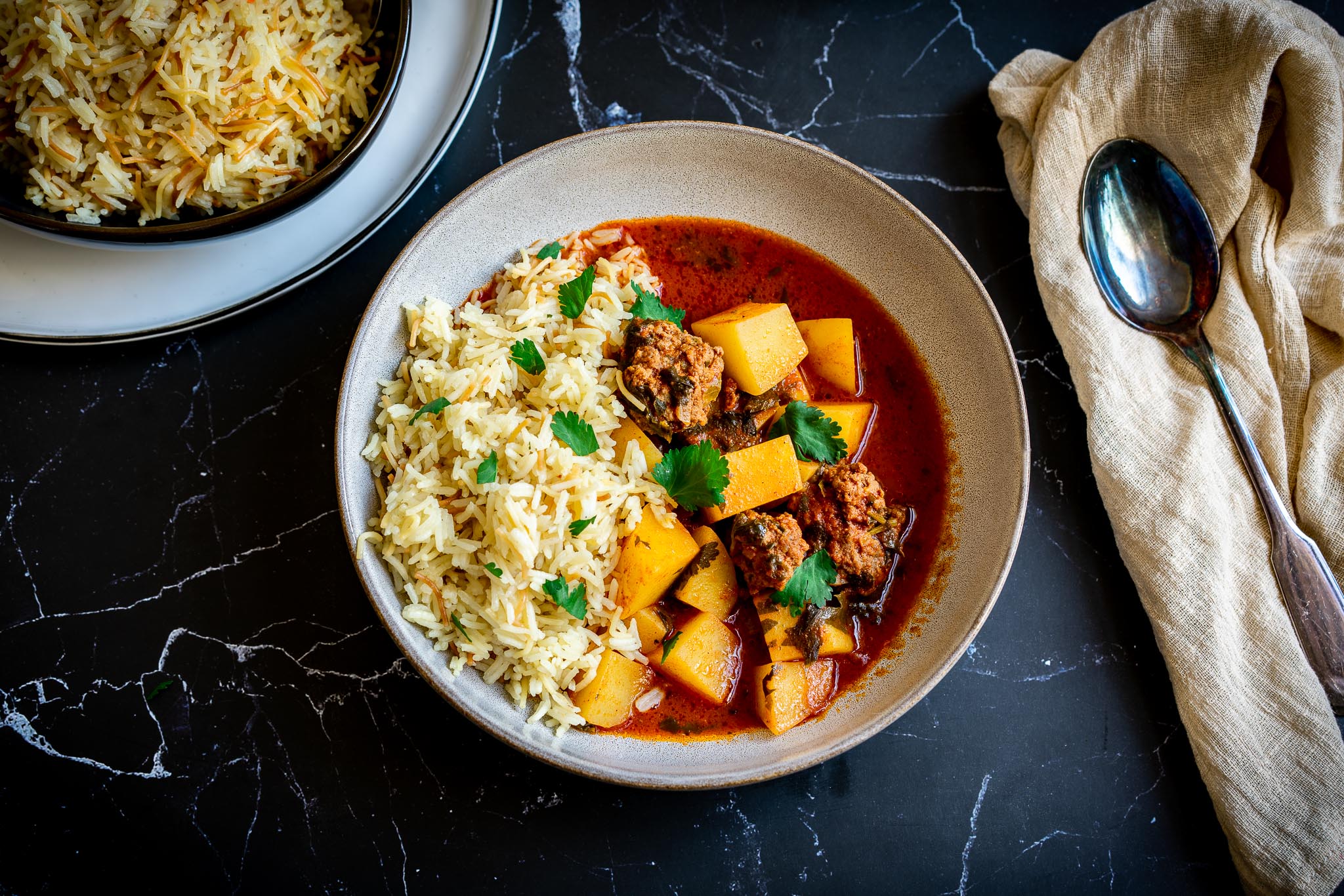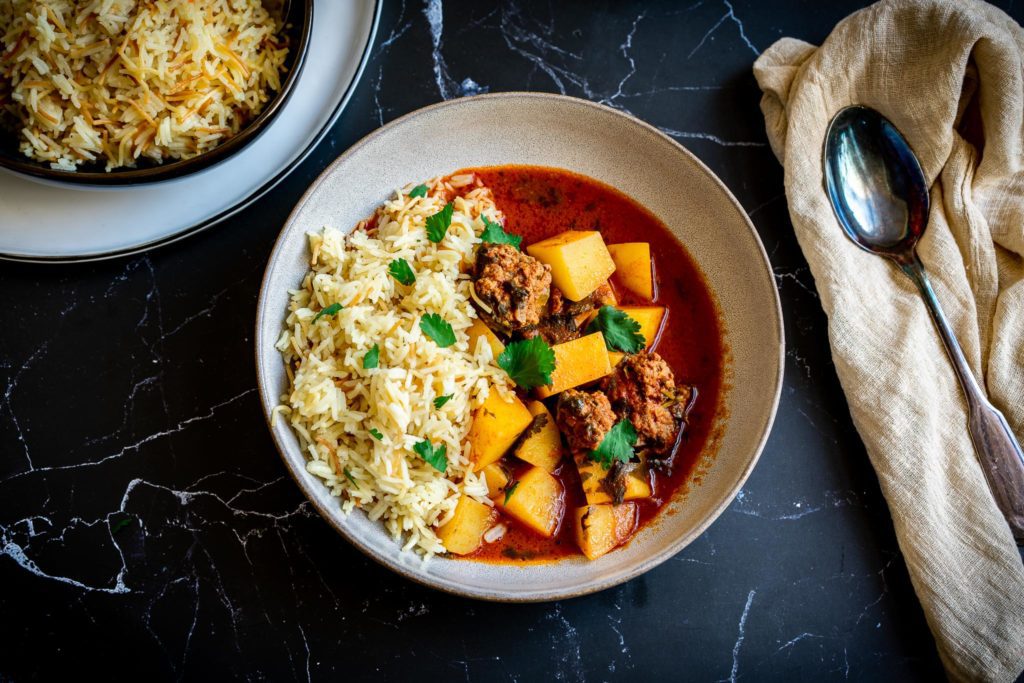 Print recipe
Ingredients
600

g

Potatoes

mainly waxy

500

g

Kafta

raw, according to this recipe

5

TBSP

Olive oil

2

Garlic cloves

500

ml

Strained tomatoes

300

ml

Water

2

TBSP

Tomato paste

50

g

Coriander

2

Bay leaves

1

TSP

Cinnamon

Salt, pepper

1

X

Butter rice

according to this recipe
Preparation
Prepare the kafta mixture according to the recipe and shape into small meatballs. Do not cook the kafta yet!

Peel the potatoes and cut into bite-sized pieces.

Coarsely chop the coriander including the stalks.

Peel the garlic and crush it well with a little salt in a mortar.

Heat the olive oil in a pot and fry the raw potatoes for approx. 2 - 3 minutes, stirring. Add the tomato paste and fry for another 2 minutes.

Add the strained tomato, water, cinnamon and bay leaves, stir and bring to the boil. Let everything simmer for about 10 minutes.

Add the coriander, crushed garlic and the kafta balls and stir gently. Simmer with the lid closed on medium heat for about 20 minutes. Season to taste with salt and pepper.

Prepare the butter rice according to the recipe and serve with the potato stew.
Notes
*Recipe contains affiliate links. 
If you liked the recipe, I am very happy about a small tip. You are helping me to bring more great recipes to the blog. Thank you so much 🙂
Donate here: continue to Paypal