Marble Cake with Tahini and Cardamom Dust
Marble cake - an absolute classic all over the world. Look at the photo: The cake looks like any other cake baked in a Guglhupfform. And also quite classic: the topping with the icing sugar. But this cake here hides a small but fine secret.
The marble cake is full of oriental flavours. While experimenting, we wondered what 2 or 3 tablespoons of tahini could do. The experiment was a success. The tahini gives the cake its typical nutty character without putting itself in the foreground. Add a little cinnamon and the classic dough is spiced up. Only one thing is missing ... the crowning glory!
Icing sugar with cardamom! I don't know how I came up with it, but I'm very glad I had this flash of inspiration. Before your taste buds hit the cake, the scent of cardamom already enters your consciousness and says: HELLOOO MY FRIEND!
So if you want to surprise your friends with a time-honoured classic, then go for it 😉
---
Recipe for Tahini Marble Cake with Cardamom Dust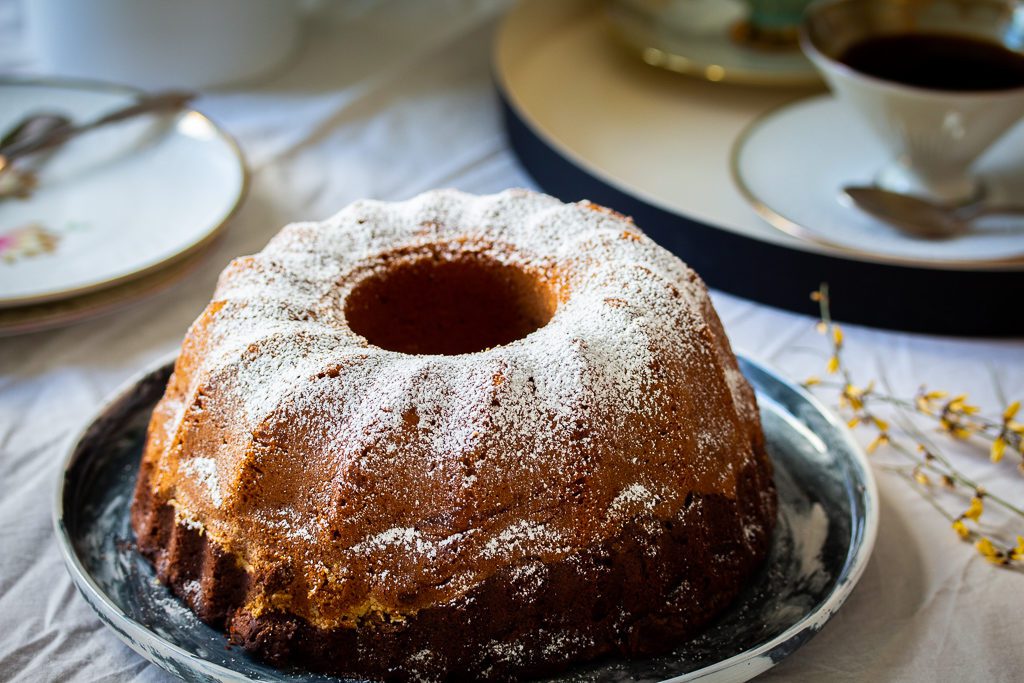 Print recipe
Save recipe
Saved!
Ingredients
Preparation
Preheat the oven to 180 °C.

Grease the cake tin with a little butter.

Mix flour with baking powder and cinnamon.

Beat the butter with the sugar and vanilla sugar until creamy.

Add the eggs and continue to stir.

Gradually stir in the milk and flour/baking powder mixture.

Transfer 2/3 of the batter into the greased tin.

Melt the chocolate in a bowl over a water bath.

Mix the remaining 1/3 batter with cocoa and melted chocolate.

Spread the chocolate batter over the light batter in the cake tin.

Now make swirls in the dough with a fork or wooden skewer. To do this, simply dip the fork/skewer into the dough and make circular movements. For an extreme pattern, you can also take a spoon and press the dough down from above and vice versa.

Now bake everything in the preheated oven for approx. 45 minutes. Before you take the cake out, please check that it is cooked: pierce the cake with a skewer or knife. If something is still stuck to it, it needs a little longer. If there is nothing left, take it out.

Allow the cake to cool completely and then turn it out of the tin.

Mix the icing sugar with the cardamom and spread over the cake in a small sieve.
Nutritional values
Calories:
201
kcal
|
Carbohydrates:
25
g
|
Protein:
4
g
|
Fat:
10
g
|
Saturated Fat:
6
g
|
Polyunsaturated Fat:
1
g
|
Monounsaturated Fat:
3
g
|
Trans Fat:
0.3
g
|
Cholesterol:
44
mg
|
Sodium:
81
mg
|
Potassium:
88
mg
|
Fiber:
1
g
|
Sugar:
10
g
|
Vitamin A:
273
IU
|
Vitamin C:
0.03
mg
|
Calcium:
25
mg
|
Iron:
2
mg
Be sure to try the date cake too.