Marinate feta - quick and easy
What could be better than a richly filled pantry full of delicacies, from which you can easily and quickly help yourself? Exactly, nothing! What must not be missing in my stash in any case is marinated feta! Marinated in olive oil, the feta keeps nice and long and you can refine it super easily and quickly with other flavors. Here I show you how you can marinate feta yourself.
Marinated feta is the crowning glory of delicious white cheese!
As the name suggests, marinated feta is nothing more than just feta marinated in olive oil and herbs or aromatics of your choice. By marinating in oil, the feta is also made more durable and you have not only more flavor, but generally a little longer what of the delicious cheese.
I really love feta! A friend of mine once summed it up by saying "Feta is like ketchup - it has to be on everything!" - She is so right about that! So for me, a pickled feta like this is really the crowning glory of an already delicious cheese.
Quick and easy: marinated feta in just 5 minutes!
Marinating feta is really super easy and also quickly done. Basically, you just need to put the cheese in a sterile jar and cover it with olive oil. That would be the basic version. But since we want to bring in more flavors, you can add herbs and spices.
Before I put the feta in a jar, I roughly dice it. So I always have directly the right snack size in the jar. For my marinated feta I chose garlic, fresh thyme and dried oregano. You can really go all out with your taste there, though. A few other ideas for marinating are:
Chili or chili flakes
Lemon slices / lemon peel
Rosemary
Sage
Mint, fresh or dried
Paprika powder
Cinnamon
Fresh parsley
Fresh coriander
Za'atar, the delicious spice mixture from the Levant
You can expand this list to your heart's content. Just see what tastes best to you. Then simply put these aromatics in a jar with the feta and fill it up with the best olive oil. Make sure both the feta and the olive oil are good quality for the best results.
Give the feta some time
Even though the feta tastes great on its own with a few herbs on top, I would give the cheese a few hours while marinating so that the flavors disperse and the feta can absorb them.
In any case, leave the feta in the refrigerator for about 24 hours after preparation, so that it has time to infuse. After that you can enjoy the marinated feta. In the refrigerator, the feta in olive oil will keep for about 2 weeks. The pickled feta should always be stored in the refrigerator.
Perfect for snacking and refining
You can do a lot with marinated feta. You can offer the flavored cheese, for example, simply as a snack and enjoy this, for example, next to grapes and some bread. The flavor of the feta becomes even more intense and versatile. So just put a small bowl of pickled feta on the table.
But you can also add the marinated feta perfectly to salads. I'm thinking of a salad with fresh cucumber, tomato, onion and mint. If you like, you can also sprinkle the marinated feta over pasta or even add it to casseroles.
Now I wish you first a lot of fun trying and a good appetite!
---
Marinate feta - quick and easy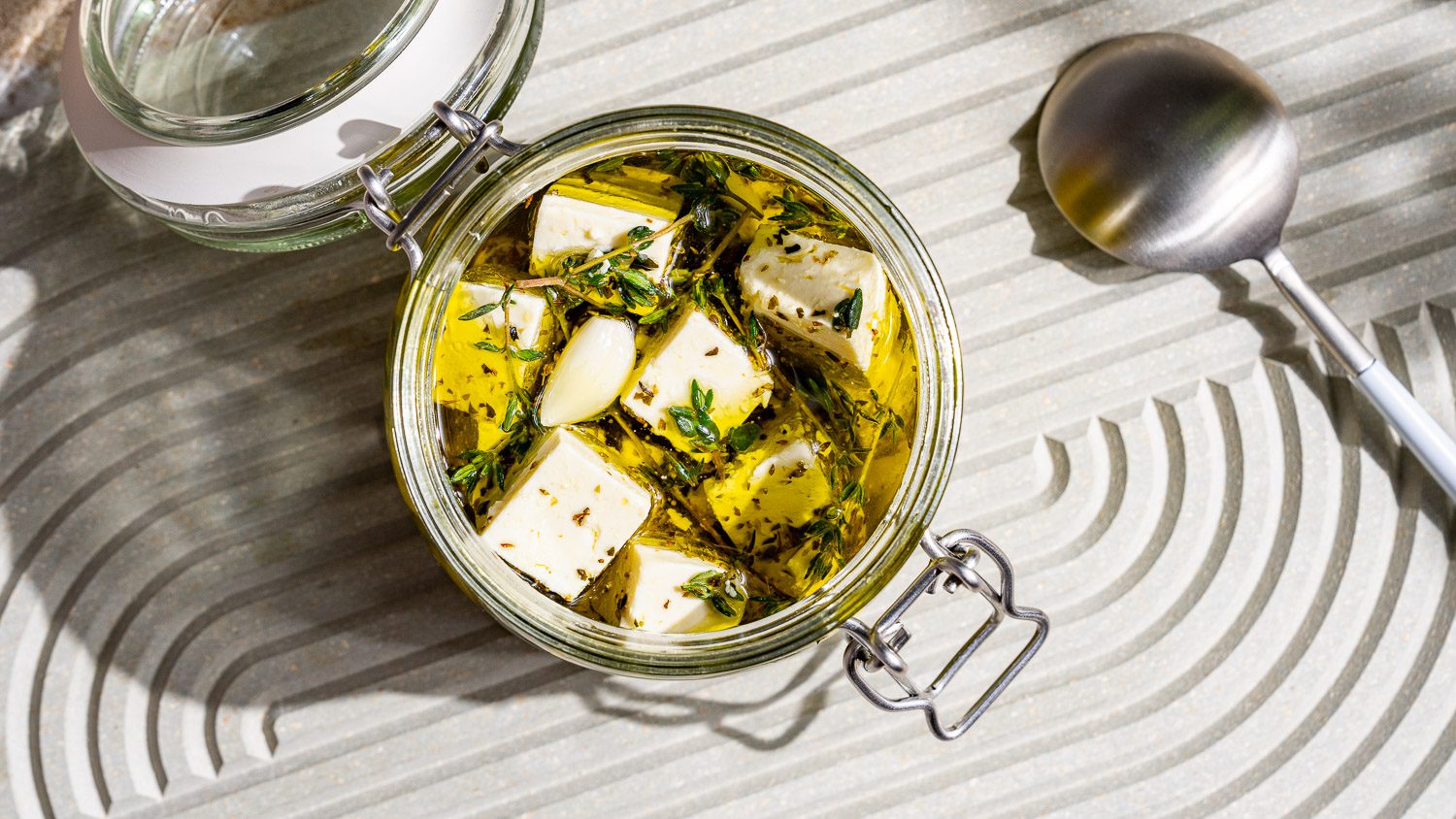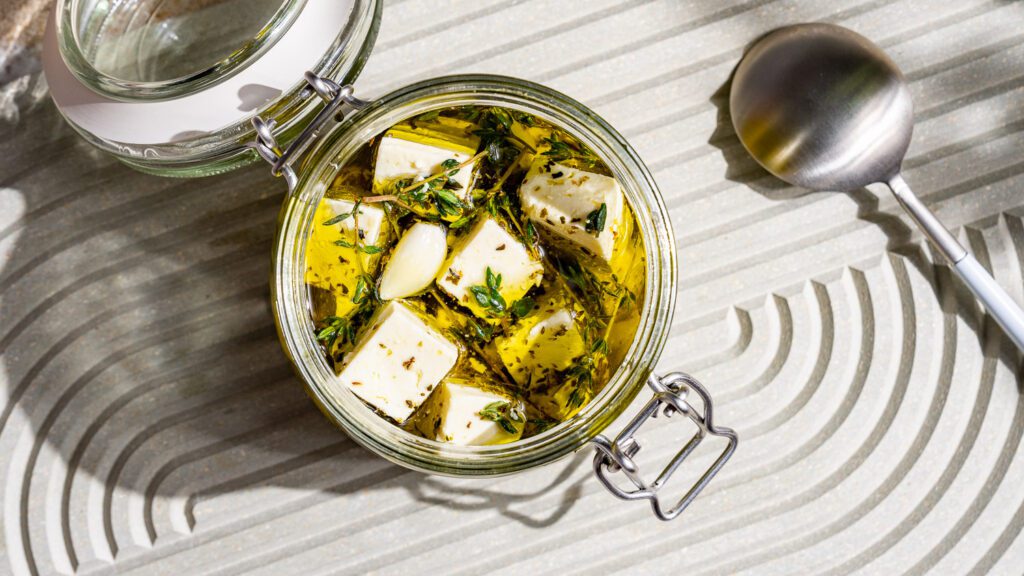 Print recipe
Save recipe
Saved!
Ingredients
360

g

Feta

5

g

Garlic cloves

8

g

Fresh thyme sprigs

2

teaspoon

Oregano

Olive oil to fill
Preparation
Place feta cubes, garlic cloves, fresh thyme sprigs and dried garlic in a sterilized jar and fill with olive oil.

Leave pickled feta to infuse for at least a day so that it takes on the flavors.
Notes
Recipe contains affiliate links.
Nutritional values
Calories:
483
kcal
|
Carbohydrates:
9
g
|
Protein:
26
g
|
Fat:
39
g
|
Saturated Fat:
24
g
|
Polyunsaturated Fat:
1
g
|
Monounsaturated Fat:
8
g
|
Cholesterol:
160
mg
|
Sodium:
2053
mg
|
Potassium:
134
mg
|
Fiber:
0.5
g
|
Sugar:
0.1
g
|
Vitamin A:
777
IU
|
Vitamin C:
1
mg
|
Calcium:
908
mg
|
Iron:
2
mg
Fancy more feta? Then try the delicious feta dip with pumpkin or the feta dip with za'atar.