Potato wedges with dukkah | quick and easy from the oven
Sometimes it just has to be a really tasty snack. And when it's as quick and easy to prepare as these delicious potato wedges with dukkah from the oven, it's twice as enjoyable.
Potato wedges from the oven
Potatoes are a really great vegetable. You can mash them, smash them, roast them, boil them, deep-fry them and do a million other things with them. But sometimes it has to be particularly simple and tasty, which is why we're now talking about potato wedges.
Potato wedges are, as the name suggests, potatoes cut into wedges or wedges. You can then either boil, bake, deep-fry or roast them. For this recipe, I baked the potato wedges in the oven with the wonderfully aromatic spice mix called dukkah.
Incidentally, dukkah is a mixture of aromatic spices, hazelnuts, pistachios and sesame seeds. So you can already imagine how good this combination will taste with the potato wedges.
By the way: What you can prepare in the oven or deep fryer is usually also very successful in an airfryer. So you can also prepare your potato wedges in the airfryer without any problems. You can find the steps below in the recipe card.
If you're wondering what kind of potatoes you can use for the potato wedges: I mainly use waxy potatoes. They stay nice and soft on the inside and get nice and crispy on the outside.
If you have washed the potatoes well, you can also cut them directly into wedges with the skin on and then mix them well with the oil and dukkah in a bowl and then spread them on a baking tray lined with baking paper.
Bake the potato wedges in the oven at 200 °C for approx. 20 - 25 minutes. If you like, you can make a delicious dip in the meantime.
One dip, two dips, three dips ...
If you don't have any ideas yet, take inspiration from the following dip recipes:
You can also make your own flavored mayo for your potato wedges from the oven. You can either make the mayo yourself or flavor ready-made mayo from the supermarket. I like to add a little sumac or za'atar to the mayonnaise and it gives me a completely different taste experience. You can also try these flavorings:
Chilli flakes
Lemon zest
Fresh coriander or parsley (finely chopped)
Paprika powder or smoked paprika powder
These are just a few quick ideas. You can get really creative and create your very own mayo.
But you don't have to eat the delicious potato wedges on their own with a dip. They also make an excellent side dish with a tasty steak, fish or well-marinated and fried tofu. Here too, the possibilities are endless.
In any case, I wish you lots of fun trying them out and bon appétit!
---
Recipe for potato wedges with dukkah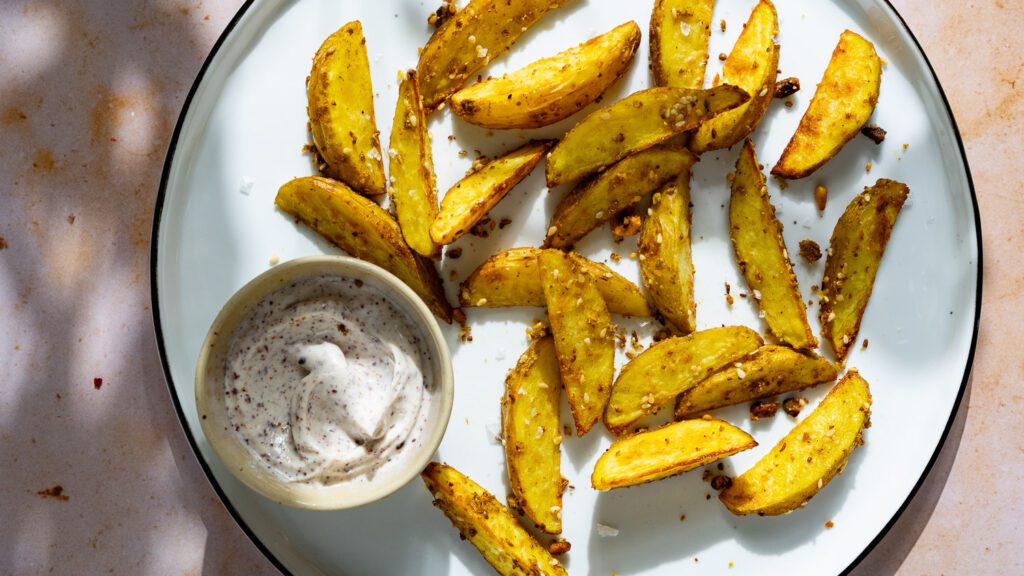 Print recipe
Save recipe
Saved!
Preparation
Wash the potatoes and cut into finger-thick wedges. 

Mix the potato wedges with the olive oil and dukkah and spread on a baking tray. 
Preparation in the oven
Preheat the oven to approx. 200 °C fan oven.

Bake the potato wedges in the oven for approx. 20 - 25 minutes until crispy.

Serve the potato wedges with a dip of your choice.
Preparation in the Airfryer
Preheat the Airfryer to 195 °C.

Bake the potato wedges in the cooking basket of the Airfryer for approx. 25 - 30 minutes until crispy. Turn or shake halfway through. (Please note the size of the cooking basket of your Airfryer. You may need to divide the quantity).

Serve the potato wedges with a dip of your choice.
Notes
Recipe contains affiliate links.
Nutritional values
Calories:
206
kcal
|
Carbohydrates:
45
g
|
Protein:
5
g
|
Fat:
1
g
|
Saturated Fat:
0.3
g
|
Polyunsaturated Fat:
0.2
g
|
Monounsaturated Fat:
1
g
|
Sodium:
16
mg
|
Potassium:
1062
mg
|
Fiber:
6
g
|
Sugar:
2
g
|
Vitamin A:
9
IU
|
Vitamin C:
50
mg
|
Calcium:
40
mg
|
Iron:
2
mg