Okra in tomato sauce - Bamyeh Bzeit
Whenever there used to be okra in tomato sauce, it was clear to us that Badia either had no time or no desire to cook. (This is, of course, an absolutely impertinent and untrue insinuation)
Of course, my siblings and I didn't care - because we loved these little pods so much as children that our plates looked like they had been freshly washed afterwards. There's nothing better than taking the last bit of aromatic tomato sauce with a piece of pita bread - it's absolute comfort food.
Okras in tomato sauce - a shortcut to (vegan) gourmet paradise!
When I'm in a hurry after work today, but I don't want to miss out on cooking something really tasty (when do I want to?!?), I like to cook this classic of Levantine cuisine. And the best thing is always: when I eat, I always feel like the little brat who sat on the kitchen bench and cleaned the plates. These kinds of dishes are always a little journey back in time for me and a really nice soul warmer.
In oil or tomato sauce?
To be honest, the dish is called Bamyeh Bzeit, which actually means okra in oil. This does not mean that the okra swim in olive oil (which would be nice), but are served without meat. With oil in a tomato sauce (I know, it's kind of confusing). By the way, this also applies to the delicious runner beans in tomato sauce. There are two versions of many dishes in the Levant: One with meat(okra stew) and one with oil (i.e. in tomato sauce).
Strictly speaking, okra in tomato sauce is not only meatless, but even vegan. Sautéed onions, garlic, fruity tomatoes, a hint of cinnamon, a few okra pods and about 30 minutes of your time - that's all you need. The result is an incredible soul-soother. Once I start, I don't stop eating until the plate is clean.
But what am I talking about - why don't you try it for yourself 😉
A little tip at the end
There are okra that become a little "slimy" during preparation. This does not have to be the case. You can prevent this by either marinating the okra with lemon juice or vinegar about 30 minutes beforehand or by frying it hot during preparation. I use the second option here.
I prefer small okra, by the way, as they are more tender and easier to work with. I recommend small okra from the freezer. You can get them in Turkish or Arab supermarkets.
---
Recipe for okra in tomato sauce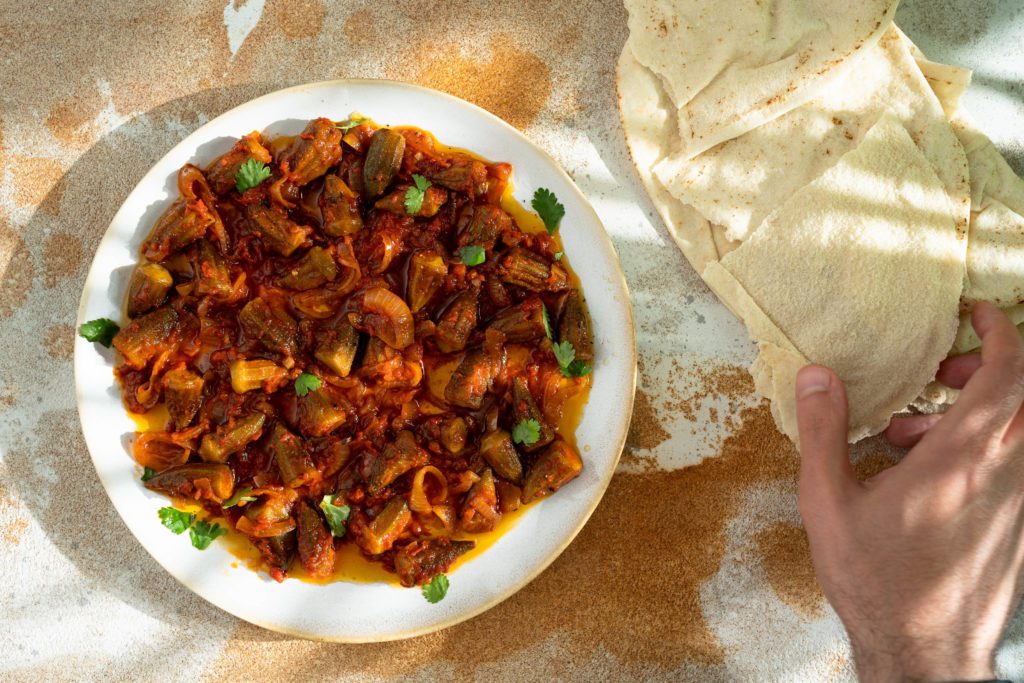 Print recipe
Ingredients
Preparation
Peel the onions and garlic.

Halve the onions and cut into half moons.

Press the garlic lightly.

Heat the olive oil in a saucepan over medium heat and fry the onions for about 5 minutes until translucent.

Increase the heat and add the okras, tomato paste and garlic to the onions and fry for about 5 minutes.

Add the tomatoes and the water. Stir everything together and turn the heat to medium.

Season with cinnamon, salt and pepper and simmer for about 15 minutes. (I also like to crush the peeled tomatoes, then they spread better).
Serve the okra in tomato sauce with pita bread or baguette. You can enjoy the dish warm or cold.
Notes
*Recipe contains affiliate links. 
If you liked the recipe, I am very happy about a small tip. You are helping me to bring more great recipes to the blog. Thank you so much 🙂
Donate here: continue to Paypal
Nutritional values
Calories:
120
kcal
|
Carbohydrates:
23
g
|
Protein:
5
g
|
Fat:
3
g
|
Saturated Fat:
0.4
g
|
Polyunsaturated Fat:
0.4
g
|
Monounsaturated Fat:
2
g
|
Sodium:
147
mg
|
Potassium:
725
mg
|
Fiber:
7
g
|
Sugar:
9
g
|
Vitamin A:
937
IU
|
Vitamin C:
39
mg
|
Calcium:
142
mg
|
Iron:
2
mg