Pasta Muhammara - You've never had pesto like this!
I really don't know a single person who doesn't turn straight into a heart-eyed emoji when delicious pasta is served. Pasta is love! And pasta with a pesto is absolutely divine! I am an absolute fan of homemade pestos. It's super quick and you decide what goes in. And you can only get pasta muhammara at home, guaranteed.
Muhammara Pesto is made in no time at all
If you make your own pesto, you should definitely pay attention to the quality of the ingredients. For me, nothing is more disappointing than a great dish that doesn't live up to its potential. I developed the muhammara pesto from the recipe for muhammara: Peppers, garlic and walnut are the main actors here. You just add a good extra portion of olive oil and your pasta muhammara is ready.
You can either make the basic recipe for the paprika-walnut dip with raw paprika or you can roast the paprika in the oven or grill (pan) to bring out the nice roasted aromas. I personally love roasted flavours and recommend the roasting option. But even with roasting the peppers, the recipe takes no longer than 30 minutes. While you're making the pesto, cook the pasta and then put everything together.
Perfectly balanced
To balance the flavour of the pasta muhammara, I always crumble a good portion of feta over the finished plate. The feta adds a slightly acidic note, which really rounds off the taste of the pasta beautifully. And as icing on the cake, I also like to add fresh parsley - it gives the pasta muhammara another fresh layer of flavour.
So, now it's time to turn you into a heart-eyed emoji. 😍
---
Recipe for Pasta Muhammara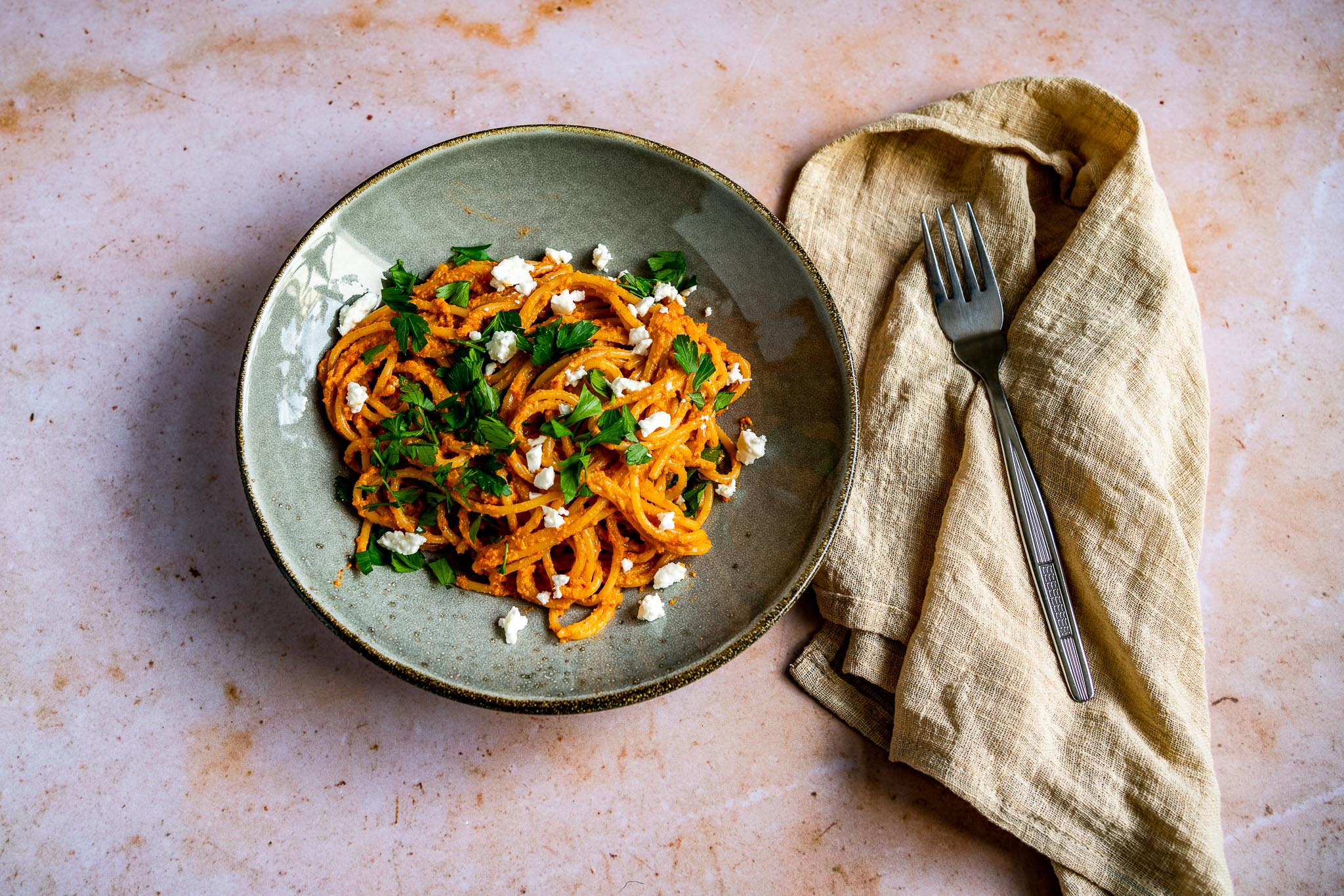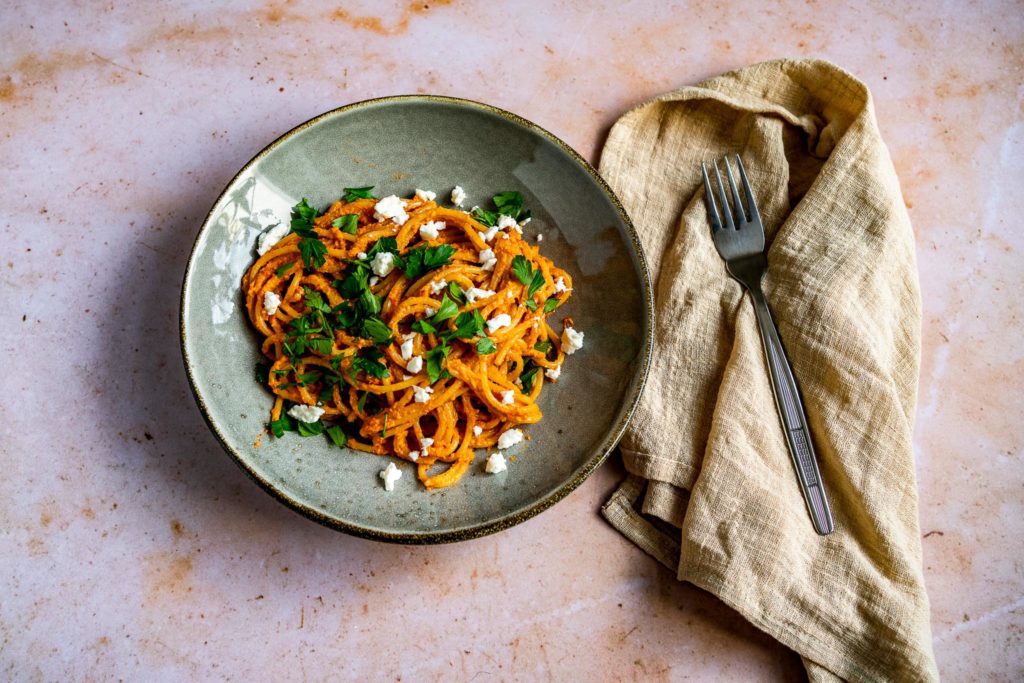 Print recipe
Ingredients
70

ml

Olive oil

or more if desired

500

g

Pasta

e.g. spaghetti

30

g

Flat leaf parsley

150

g

Feta
Preparation
Prepare the muhammara according to the recipe with the additional olive oil. (I recommend the version where the paprika is roasted.) Season the muhammara pesto with salt.

Coarsely chop the parsley.

Cook the pasta according to the instructions on the packet and strain. Immediately mix the pasta with the muhammara pesto and parsley. Crumble the feta over the pasta to taste.
Notes
*Recipe contains affiliate links. 
If you liked the recipe, I am very happy about a small tip. You are helping me to bring more great recipes to the blog. Thank you so much 🙂
Donate here: continue to Paypal
If you want to learn more about the cuisine of the Levant, check out my guide.