Muhammara: Spicy dip made from walnut & paprika
Everyone knows hummus and baba ghanoush by now - and rightly so! But in oriental cuisine there are still one or two insider tips that do not have to hide behind the big dip stars. Muhammara is a perfect example. Click here for the recipe!
A spicy paprika walnut dip
If you haven't heard of Muhammara yet, you're missing out, but that can be changed pretty quickly. Muhammara is a vegan, spicy dip made from roasted peppers and walnuts. Garlic, cumin, lemon juice and some breadcrumbs for texture are added.
Muhammara is really great for dipping with baguettes or pita bread. You can even use it as a kind of pesto for a pasta.
Muhammara comes from "roasting
Muhammara can be roughly translated as roast or much more roast. The dip gets its name from the roasted peppers, of course, which get the best roasted flavor on the grill. You don't necessarily have to roast the peppers on the grill for this delicious dip, though. The oven or a grill pan also work.
I roast for Muhammara not only the red peppers, but also the walnuts, so that they can really develop their aroma. And together with the garlic and the spices, a real firework of flavors ignites. If you like it really spicy, mix in a good portion of the Levantine chili paste harissa.
The paprika-walnut dip you can make yourself very quickly and easily. Actually, you only have to puree all the ingredients to a cream and ready is Muhammara. I let the dip sit for a few minutes and then serve it directly.
You can also prepare Muhammara the day before and take it to a barbecue or party the next day. The dip keeps in a fresh box for about 5 - 7 days in the refrigerator.
I wish you a lot of fun trying and of course a good appetite!
---
Recipe for Muhammara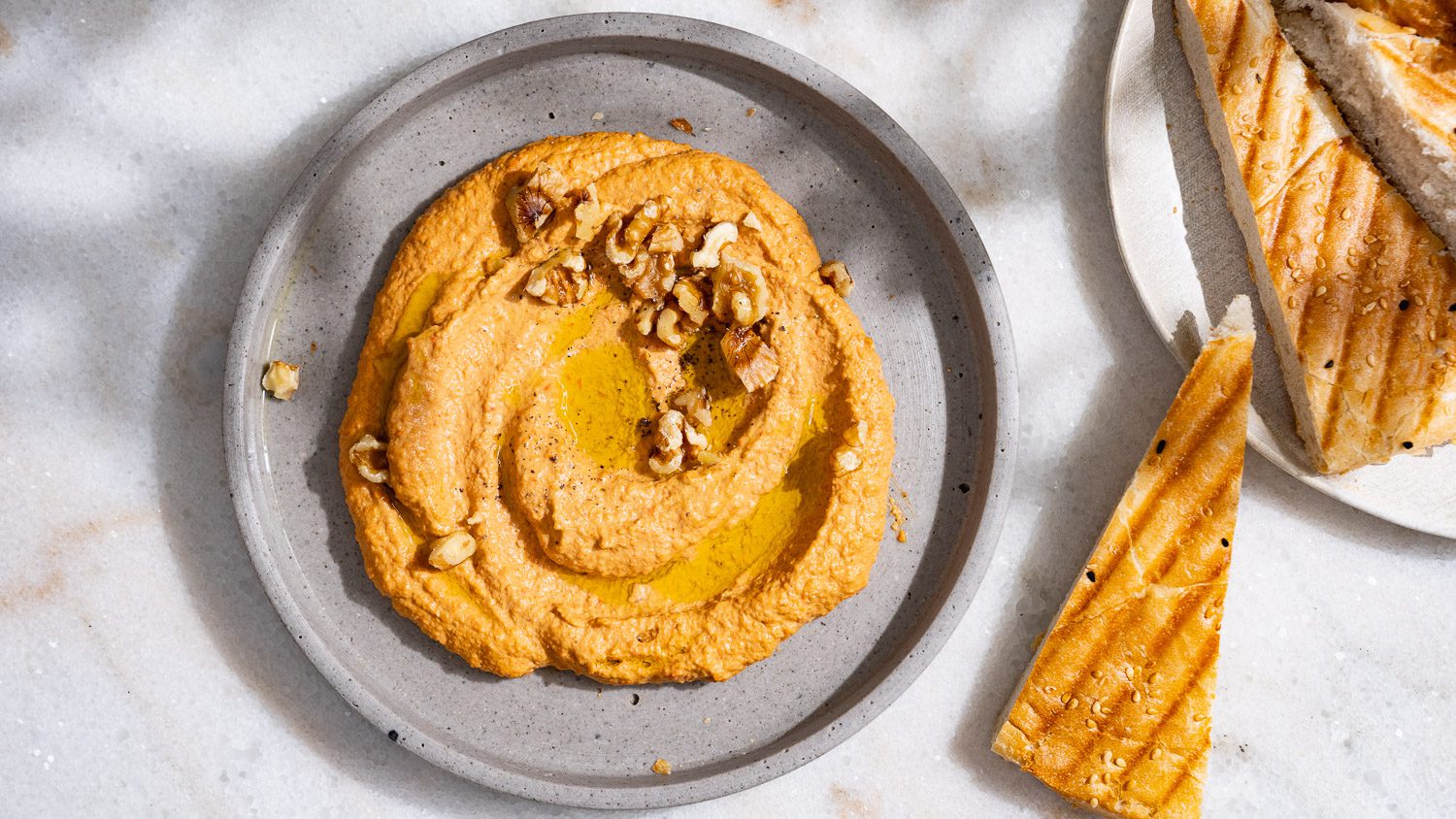 Print recipe
Save recipe
Saved!
Ingredients
Preparation
Preheat the oven to approx. 250 °C. / Heat the grill.

Wash, halve and seed the peppers.

Roast the peppers at approx. 250 °C in the oven or on the grill / grill pan for approx. 10 minutes. Allow them to really catch fire. Then allow the peppers to cool briefly and lightly scrape off any burnt areas.

Roast the walnuts in a pan without oil for approx. 5 minutes and then chop coarsely.

Puree all ingredients with a blender until a cream is formed.

Leave the muhammara to infuse for about 15 minutes and then mix. (This does not apply if you are making a pesto ).
Notes
Tip: Depending on your taste, you can make the dip finer, creamier or coarser. For a coarser consistency, add the walnuts later and don't blend too much.
If the dip is too runny, you can add more breadcrumbs - but wait 30 minutes until after the dip has set and then decide.
Muhammara is perfect as a dip for batata harra.
*Recipe contains affiliate links. 
Nutritional values
Calories:
126
kcal
|
Carbohydrates:
5
g
|
Protein:
3
g
|
Fat:
11
g
|
Saturated Fat:
1
g
|
Polyunsaturated Fat:
8
g
|
Monounsaturated Fat:
2
g
|
Sodium:
8
mg
|
Potassium:
163
mg
|
Fiber:
2
g
|
Sugar:
2
g
|
Vitamin A:
1248
IU
|
Vitamin C:
51
mg
|
Calcium:
22
mg
|
Iron:
1
mg