Muhammara: Spicy dip made from walnut & paprika
Hummus and Baba Ghanoush everyone knows by now - and rightly so! But there are still a few insider tips in oriental cuisine that don't have to hide behind the big dip stars. Muhammara is a perfect example of this.
Honestly? I hadn't eaten muhammara for ages until recently and had completely forgotten about this lovely dip...
I was in Holland with my friends and we went to a supermarket to stock up on lots of delicacies for a decadent picnic. So I was standing there in front of the refrigerated section and my eyes wandered around until they stopped on a package labelled "Muhammara". I stood in front of it for quite a while, staring at this packet - I have no idea what it must have looked like. Somewhere, deep in my subconscious, it bubbled and brought up a memory. "Oh my God, where have you been all these years!!!" I thought to myself and immediately grabbed it. Along with hummus, fresh bread, sweet grapes and cheese, muhammara was the perfect accompaniment for a perfect picnic. You can also use it to make a really delicious pesto for pasta.
How could this delicacy made of red peppers and walnuts have been forgotten by me? I called Badia and asked her for the recipe - and her answer was: "Muhamma-WAAAAAS?". I was shocked!
"Mum, I mean this red cream made of walnuts and peppers" ... her answer took a while. I think she felt like me in front of the refrigerated section. "Oh, M'hamm'ra! I haven't made that for ages. Now I'm all M'hamm'ra, though." - "What are you?" - "Flushed, red in the face, I'm ashamed ... Never mind, grab some writing, here's the recipe ... "
---
Recipe for Muhammara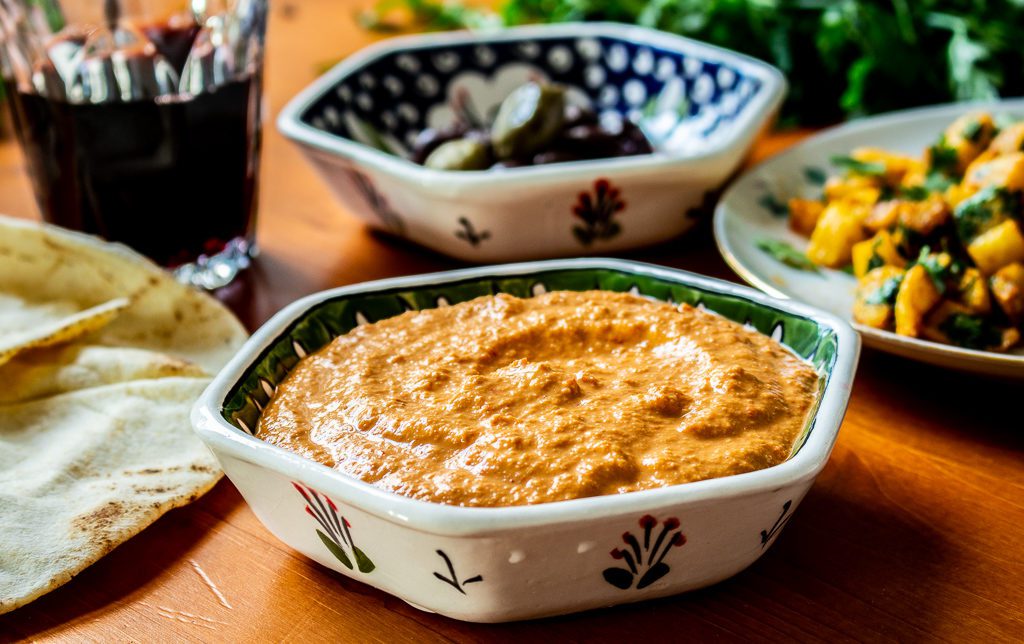 Print recipe
Ingredients
Preparation
Preheat the oven to approx. 250 °C. / Heat the grill.

Wash, halve and seed the peppers.

Roast the peppers at approx. 250 °C in the oven or on the grill / grill pan for approx. 10 minutes. Allow them to really catch fire. Then allow the peppers to cool briefly and lightly scrape off any burnt areas.

Roast the walnuts in a pan without oil for approx. 5 minutes and then chop coarsely.

Puree all ingredients with a blender until a cream is formed.

Leave the muhammara to infuse for about 15 minutes and then mix. (This does not apply if you are making a pesto ).
Notes
Tip: Depending on your taste, you can make the dip finer, creamier or coarser. For a coarser consistency, add the walnuts later and don't blend too much.
If the dip is too runny, you can add more breadcrumbs - but wait 30 minutes until after the dip has set and then decide.
Muhammara is perfect as a dip for batata harra.
*Recipe contains affiliate links. 
If you liked the recipe, I am very happy about a small tip. You are helping me to bring more great recipes to the blog. Thank you so much 🙂
Donate here: continue to Paypal