Pastitsio - macaroni casserole
Pastitsio is a Greek pasta casserole that I tried for the first time at a friend's birthday party. I was totally in love with it. And that's despite the fact that the macaroni casserole was cold - because I'm more of a warm food person. It may well be due to the spices and different textures that Pastitsio is a highlight even as a cold dish.
Lasagna or pastitsio?
When you read through the recipe like this, you immediately think "Ah, this is sort of like lasagna - pasta, minced tomato sauce and bèchamel sauce".
How do the recipes differ? Definitely in the pasta. For pastitsio you use long macaroni and not pasta sheets. The minced meat sauce is refined with aromatic spices and the bèchamel is cooked down especially creamy and rather thick.
Our recipe of the Greek classic is based on the Cypriot version. What that means? Eggs come into play and more cheese too! This pasta bake is just so delicious that I would actually always rather choose it over lasagna!
What is special about this macaroni casserole
Original recipes are always difficult to find, because everyone thinks his recipe is the original. Therefore, here you get the "original Bistro Badia recipe" - modified according to our gusto. For this we have mentally traveled to the west of the Levant and made ourselves comfortable on the Turkish part of the island of Cyprus.
While the macaroni is taking a short and hot salt bath, the ingredients for the tomatoey minced meat sauce are already hopping into the pot. The special ingredient that goes into the sauce is cloves. You can add the cloves whole or ground.
I recommend the ground ones, because otherwise you'll have to fish out the whole ones again, or even worse: you'll bite on them! If you have decided, let everything simmer down nicely, so that the pasta casserole is not watered down later.
Now you have time to work on the macaroni and the bèchamel. To prevent the pasta from breaking apart when you cut it and take it out of the baking dish, separate a few eggs and grate some cheese.
I tried a version with grated halloumi and one with crumbled feta. It tastes both quite fantastic! Egg whites and grated cheese are now mixed and poured over the quenched pasta in the baking dish. Mix everything briefly so that the mixture sticks everywhere.
And then it's on to the creamy favorite and absolute must for this magical oven feast: the bèchamel sauce.
You can prepare them in the classic way or pimp them a bit by adding some cheese like halloumi, feta, kefalotyri or pecorino and stirring in the egg yolks that you have left over anyway. So you also have no leftovers and use all the ingredients.
After you have layered everything: Macaroni, egg-white-cheese mixture, minced meat sauce and bèchamel sauce, of course, some cheese comes on top at the end. Actually, for this you take the Kefalotyri, a cheese made from goat's or sheep's milk, but it is not found in every supermarket.
For this reason, you can just use Pecorino, it is the closest in taste to Greek cheese and also conjures up a golden and crispy cheese crust.
I wish you a good appetite.
---
Recipe for pastitsio - macaroni casserole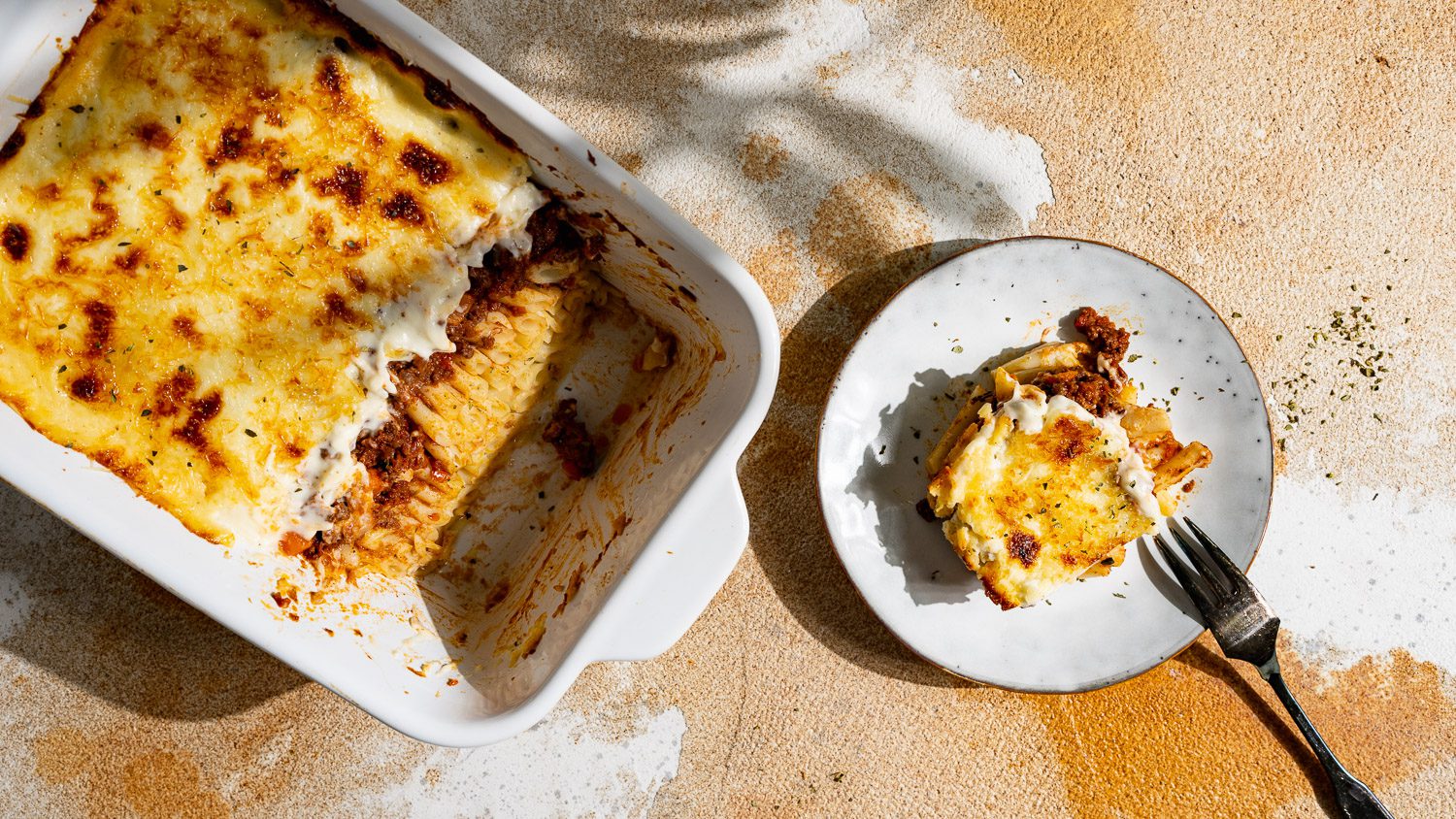 Print recipe
Ingredients
For the minced meat sauce
For the bechamel sauce
60

g

Butter

60

g

Flour

800

ml

Milk

1/2

teaspoon

Nutmeg

Salt, pepper
For the casserole
500

g

Macaroni

2

Protein

100

g

Halloumi

85

g

Pecorino
Preparation
Preparation minced meat sauce
Peel and finely chop the onion and garlic.

Peel the carrot and cut into small cubes.

Heat oil in a saucepan and sauté onions for about 2-3 minutes until translucent. 

Add chopped garlic, diced carrots and minced meat and fry for about 5 minutes.

Add tomato paste and spices and also fry briefly.

Deglaze with red wine, bring to the boil briefly and add chunky tomatoes.

Simmer sauce for approx. 30 minutes over medium heat without lid. Season to taste with salt and pepper.
Preparation bechamel sauce
Melt butter in a saucepan

Add flour and stir with a whisk of low heat until no lumps are visible.

Add milk gradually, continuing to stir.

Always add the milk back in when the sauce has been stirred until smooth.

Let the sauce simmer for about 10 minutes until it has become nice and creamy. Stir again and again. Season to taste with salt, pepper and nutmeg.
Preparation casserole
Preheat oven to 200°C top/bottom heat.

Cook macaroni in boiling salted water until very al dente, about 5 minutes, then drain.

Grate halloumi. Grate the pecorino. Separate the egg whites from the yolks.

Whisk half of the grated halloumi with the egg whites.

Place macaroni in baking dish and top with cheese and egg mixture.

Spread the minced meat sauce over the macaroni.

Spread the béchamel sauce over the minced meat sauce.

Sprinkle the pecorino and remaining halloumi over the casserole and bake for about 25 minutes, until the cheese is golden brown and crisp.
Notes
Recipe contains affiliate links.
If you liked the recipe, I am very happy about a small tip. You are helping me to bring more great recipes to the blog. Thank you so much 🙂
Donate here: continue to Paypal
Nutritional values
Calories:
916
kcal
|
Carbohydrates:
91
g
|
Protein:
43
g
|
Fat:
40
g
|
Saturated Fat:
20
g
|
Polyunsaturated Fat:
2
g
|
Monounsaturated Fat:
13
g
|
Trans Fat:
1
g
|
Cholesterol:
112
mg
|
Sodium:
750
mg
|
Potassium:
1120
mg
|
Fiber:
6
g
|
Sugar:
16
g
|
Vitamin A:
2533
IU
|
Vitamin C:
15
mg
|
Calcium:
584
mg
|
Iron:
5
mg
---
Want to discover more Levant classics? Then be sure to try the Musaka'a or the creamy Lebanese potato casserole with minced meat - Siniyeh Batata.