Lebanese potato casserole with minced meat | Siniyeh Batata
Okay, the title of the recipe does not sound like a dish from Lebanon or the Levant. Potato casserole sounds rather European. You have to add the keyword "Lebanese" to avoid confusion. A friend of mine even asked me in all seriousness what the potato had lost "down there" anyway ... so really! But honestly? "Down there" (still can't figure it out!) people go crazy for the great tuber. There is actually hardly a day when there is no homemade fries - no kidding! Even with buttered rice and yogurt, people like to have homemade fries!
Levantine home cooking - regional & seasonal feasible!
But here we are not talking about fries, but about a delicious potato casserole made of mashed potatoes with minced meat and pine nuts - and served with a delicious red cabbage salad with dried mint. "Red cabbage?!? What do Arabs have to do with red cabbage!!!?" Yes, sometimes I wonder if the world is all prejudice. Okay, that was probably a little too much for him. But after tasting the casserole and salad, he could taste the Levant in the potato and red cabbage after all. The mince is very finely seasoned with a little cinnamon and cumin. And if you also use ghee instead of butter, the taste becomes really round.
"Always get some of both parts on your fork!" The casserole and the salad belong together and should go in your mouth together. The flavors of cinnamon and cumin, and the delightful tartness of the apple cider vinegar mingle with the creamy texture of the potatoes and crunchy red cabbage. Creamy-crunchy - a real firework in the mouth! Oh yeah: as much as I love cheese, you'll look in vain for it on this casserole. Instead, a thin crumbly blanket of breadcrumbs comes on top, adding another interesting texture to the Lebanese potato casserole in your mouth. So, now it's your turn - bon appétit!
---
Recipe for Lebanese potato casserole with minced | Siniyeh Batata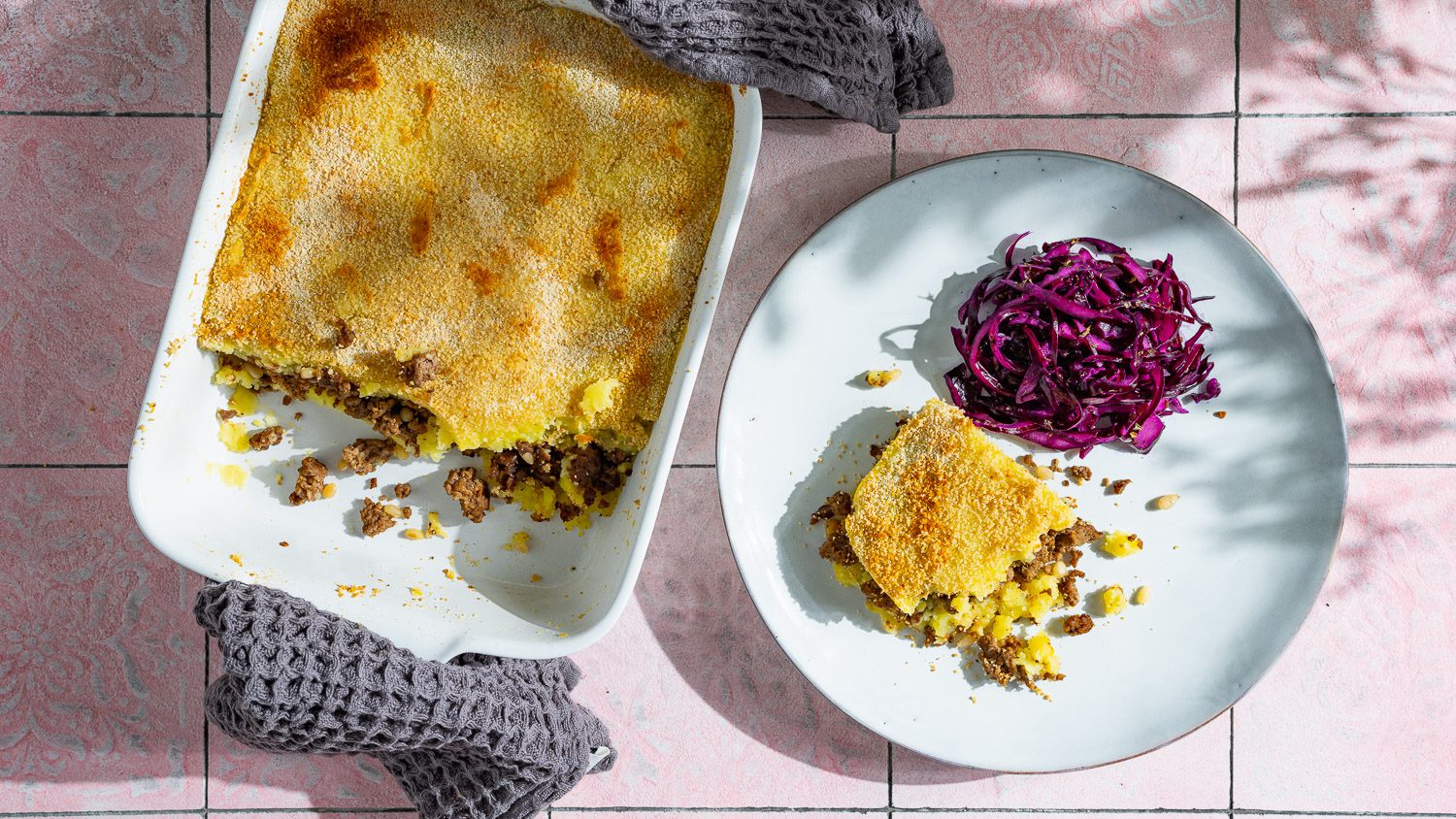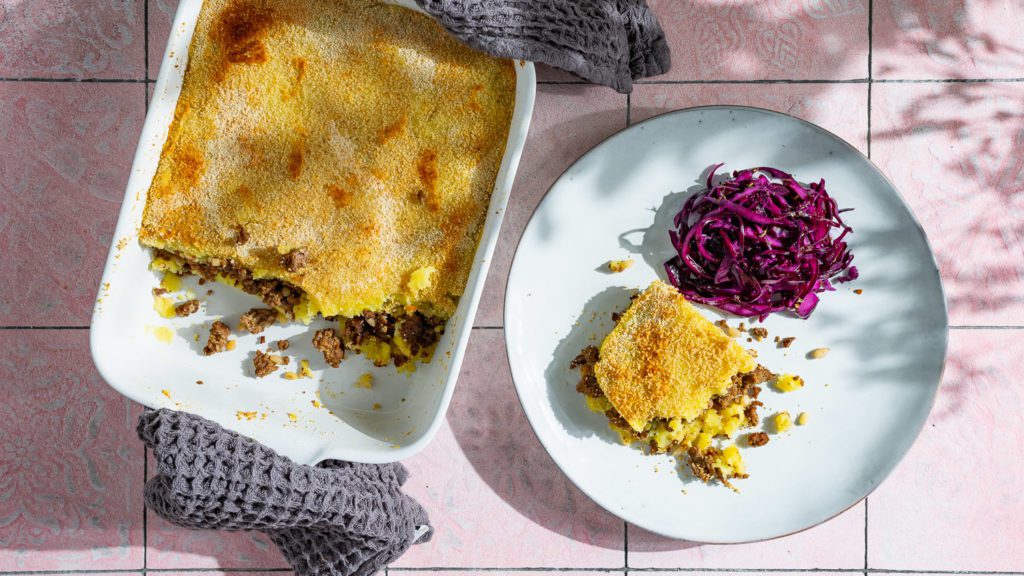 Print recipe
Save recipe
Saved!
Ingredients
1

Kg

Potatoes (mainly waxy)

1

Onion

2

Garlic cloves

2

tablespoon

Ghee (or butter)

30

g

Pine nuts

500

g

Ground beef or vegetable mince

1,5

teaspoon

Cinnamon

1

teaspoon

Cumin

Salt, pepper

25

g

Breadcrumbs

4

tablespoons

butter (+ a little to grease the baking dish)
Supplement
Preparation
Potato casserole with minced meat
Peel the potatoes and boil them in salted water until done.

Preheat oven to 190° top/bottom heat.

Peel and dice or chop the onion and garlic.

Heat ghee in a frying pan. Fry onions and garlic over medium heat until translucent.

Add the minced beef to the pan and fry until hot.

Add pine nuts and fry briefly.

Season mince with cinnamon, cumin, salt and pepper and set aside.

Drain potatoes, mash with butter and season with salt, pepper and a pinch of cinnamon.

Grease the baking dish with a little butter.

Line the bottom of the baking dish with a thin layer of potato mixture.

Spread mince mixture on top of potato layer.

Carefully cover the mince mixture with the remaining potato mixture and sprinkle with breadcrumbs.

Spread butter flakes on the casserole and bake in the oven for about 20 minutes until golden.
Notes
Recipe contains affiliate links.
Nutritional values
Serving:
550
g
|
Calories:
825.8
kcal
|
Carbohydrates:
55.6
g
|
Protein:
34.6
g
|
Fat:
49.5
g
Want more recipes with this great tuber? Then try Batata Harra or the Lebanese potato stew.