Shakshuka or pita bread pasta? On the one hand, there is no better dish than Harr Usbah to turn your old, shredded pita bread into a delicious pita pasta. Just make a quick fruity tomato sauce and fold in the shredded flatbread. The "pasta" happiness is ready. It works so well that I sometimes even manage it after a long night with a hangover. Yes, it still works quite well despite my crumpled state 😉 Fortunately, I very rarely have a hangover.
But sometimes it needs to be a little more than pita bread in tomato sauce. A little more power! A fried egg would be good for the whole thing. That's often done at Harr Usbah anyway. But why should I have to wash a second pan when I can poach the eggs directly in the tomato sauce, as I do with shakshuka? No sooner said than done - and the result is phenomenal!
The birth of a new classic
The idea was spontaneous and so simple, but the result so enduring that my family cooked the pita bread shakshuka over and over again. And the taste? A little different from the regular shakshuka. Here, the garlic and the fine dried mint dominate more. You already have the bread on board and it looks like wide pasta strips in it. When you hit an egg while eating, the yolk flows out and you have it all on your fork at once... believe me, it will make you very happy.
When I served the pita shakshuka to a friend, he briefly thought of lasagne sheets and looked at me irritated. "What did you do with the lasagne!!?" I enlightened him that it was pita bread. I've had this shakshuka variation more often since then. The dish is incredibly tasty, makes you fit and goes very quickly. Whether you make it for breakfast, lunch or dinner, you won't be disappointed with this dish - even if you're hungover in the kitchen 😉 It's a great dish!
---
Recipe for pita bread shakshuka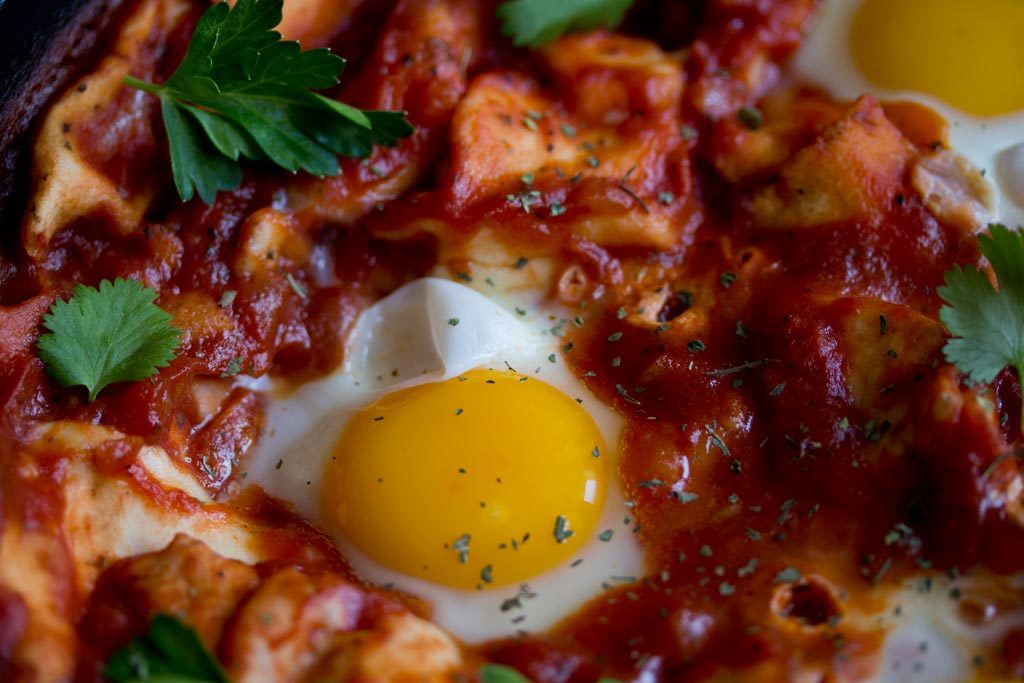 Print recipe
Ingredients
4

Eggs

500

ml

Tomato pulp

or strained tomatoes

1

Onion

1

Garlic clove

1,5

TSP

dried mint

3

TBSP

Olive oil

1

handful

flat leaf parsley

1

Handful

Coriander

1/2

TSP

Cinnamon

1/2

TL

Harissa

Salt
Preparation
Break the pita bread into medium sized pieces and set aside for now.

Chop the onion into fine cubes and sweat them with the olive oil in a deep pan or pot until they are golden and soft.

Deglaze the onions with the strained tomatoes.

Now season the sauce with salt, harissa and cinnamon. Let everything simmer a little on a low heat.

In the meantime, crush the garlic clove to a pulp in a mortar and then stir it into the sauce.

Now add the dried mint to the sauce.

Now fold in the shredded flatbreads and let them steep briefly.

Use a spoon to make 4 wells and crack an egg into each one.

Now let the egg set on a low heat.

Chop or pluck some parsley and coriander and sprinkle the herbs over the pita shakshuka.
Notes
Das Rezept zur original Shakshuka findest du >hier<
*Recipe contains affiliate links.
If you liked the recipe, I am very happy about a small tip. You are helping me to bring more great recipes to the blog. Thank you so much 🙂
Donate here: continue to Paypal
Also be sure to try the eggplant shakshuka or the ratatouille shakshuka.