It's a sunny day and you celebrate the warm rays of the sun on your face. You tear off a piece of fresh baguette and enjoy the crunching sound the bread makes. The aroma of braised vegetables wafts through the air and you dip the baguette into the deliciously fragrant sauce before you go straight for the rest. A totally simple meal can really be so incredibly good! Ratatouille, for example. But this ratatouille I have remixed a little! Hiding in the middle of the ratatouille are some lovely poached eggs, making this probably one of the best fusion food recipes I have here on the blog: Ratatouille Shakshuka!
Add a little harissa to your ratatouille!
Personally, I love ratatouille and like to add a little fire to the classic by stirring in a diabolical portion of harissa. No, you can also use less harissa or leave it out altogether if you don't tolerate spicy food so well 😉 I'm not a fan of harissa.
Of course, my recipe is not classic ratatouille, but the basic components are all there: Aubergine, tomatoes, courgettes and peppers. All together in a pan with some delicious caramelised onions alone makes my heart beat faster, but the shakshuka drive with the poached eggs gives it that extra zing!
By the way, you don't need cutlery for the Ratatouille Shakshuka. You can simply eat everything with fresh baguette or pita bread. Eating with your fingers is simply more fun and more sensual.
Rosemary & Cinnamon, Sesame & Black Cumin
I usually always add a pinch of cinnamon to hearty dishes. Not only at Christmas 😉 Tomato sauces or cooked vegetables in particular are made a whole lot heartier. However, cinnamon and rosemary together are the absolute hammer! The fresh, ethereal flavour of rosemary goes perfectly with the somewhat heavier cinnamon. Both together give the ratatouille shakshuka a really special spice.
The delicious pan-fried dish is then topped with a little sesame and black cumin. For some time now, I've been sprinkling black cumin on almost everything. The little black seeds not only add a varied texture to the food with every bite, but also develop their very special flavour with every crunch.
You can see it for yourself: A number of flavours and textures come together in this ratatouille shakshuka. Your palate will be pleased, I'm sure.
---
Recipe for Ratatouille Shakshuka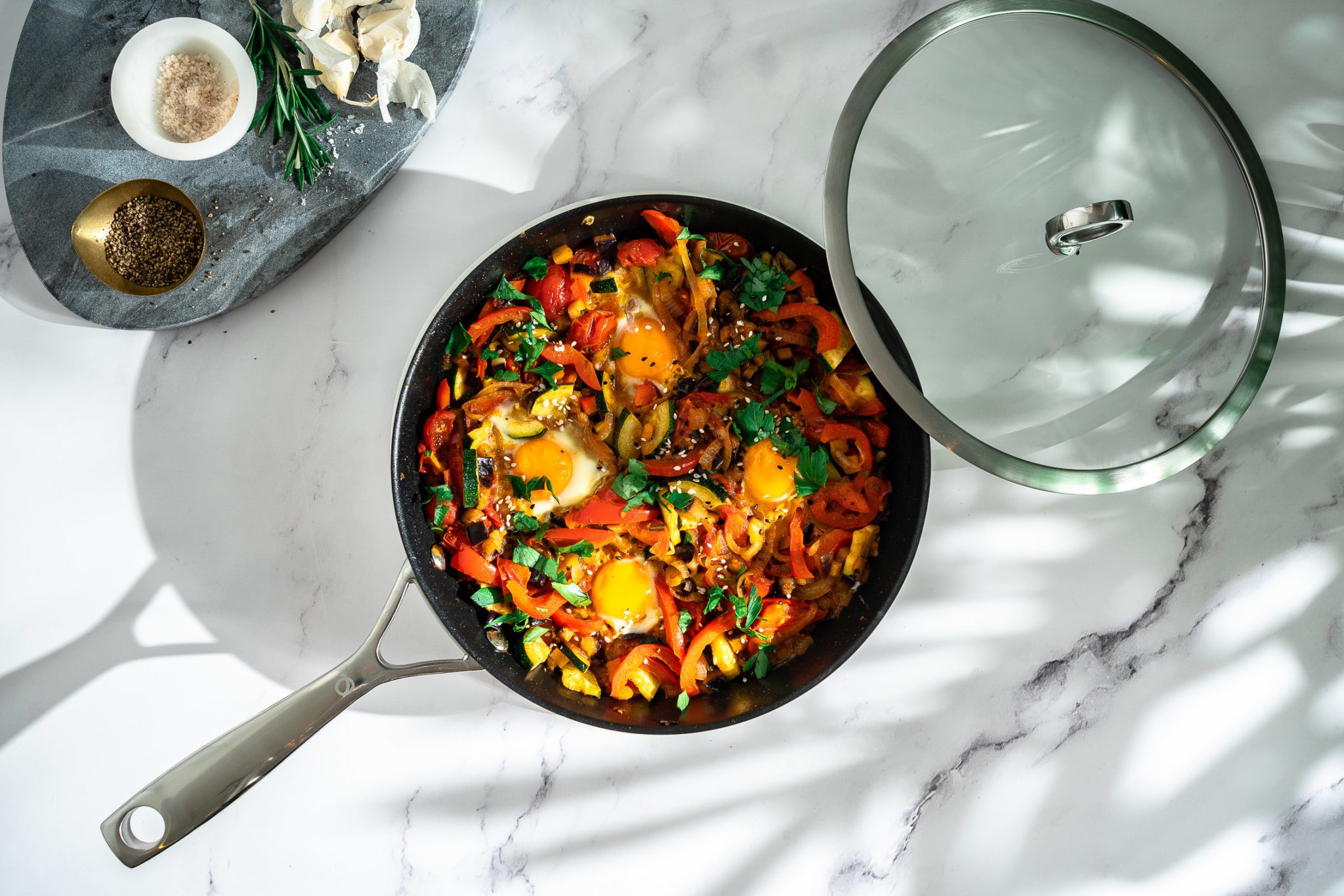 Print recipe
Save recipe
Saved!
Ingredients
Preparation
Peel the onion, halve it and cut it into half rings.

Peel and chop the garlic.

Cut the aubergine into small cubes.

Cut the courgettes, peppers and tomatoes into bite-sized pieces.

Heat the olive oil in a pan and fry the onions for about 3 minutes.

Add the garlic and aubergine and sauté for another 5 minutes.

Add the remaining vegetables and sauté for 8 minutes.

Add the harissa and remaining spices, mix together and season with salt and pepper.

Make four wells in the ratatouille vegetables with a spoon. Beat the eggs and pour them into the cavities.

Cook the eggs in the ratatouille for about 10 minutes (or until the desired doneness). You can also put a lid on the pan to shorten the cooking time).
Notes
Recipe contains affiliate links. 
Nutritional values
Calories:
269
kcal
|
Carbohydrates:
25
g
|
Protein:
16
g
|
Fat:
13
g
|
Saturated Fat:
3
g
|
Polyunsaturated Fat:
3
g
|
Monounsaturated Fat:
5
g
|
Trans Fat:
0.04
g
|
Cholesterol:
327
mg
|
Sodium:
161
mg
|
Potassium:
1119
mg
|
Fiber:
8
g
|
Sugar:
14
g
|
Vitamin A:
3194
IU
|
Vitamin C:
130
mg
|
Calcium:
139
mg
|
Iron:
4
mg
Also be sure to try the pita bread shakshuka or the eggplant shakshuka!