Harissa Lemon Pasta with shrimp and artichoke
Every now and then I have to venture a look beyond the Levant and get inspired by recipes from all over the world. Sometimes this happens quite subconsciously. So it was with this delicious Harissa Lemon Pasta with shrimp and artichokes. I happened to have all the ingredients at home and just went for it. The recipe is really very simple and quickly made.
When life gives you lemons, make lemon pasta out of them!
I love to cook spontaneously. Just from the gut and with the ingredients that I just have at home. Of course, not everyone has artichoke hearts and shrimp at the ready. But as luck would have it, I still had a good portion of the small crustaceans in the freezer. The keep there also not forever, so they had to be consumed.
I actually always have artichoke hearts pickled in water in the pantry. Lemons and at least one package of spaghetti I also always have there. I somehow thought directly of Lemon Pasta - but with a twist.
I like it spicy and decided to refine the delicious and simple pasta dish with a good portion Harissa. Harissa is a spicy seasoning made from chili, garlic and a few spices. You can get it in the delicatessen section of the supermarket, at the oriental supermarket or online. But you can also easily make harissa yourself. Here I show you how it works.
For the Harissa Lemon Pasta you will need the following ingredients. Here is an overview:
Spaghetti
Shrimp (or vegetable shrimp)
Artichoke hearts from the jar in water
Garlic
Lemons
Garlic
Cream (or vegetable cream)
Parmesan
Za'atar
As always, you'll find the quantities and step-by-step instructions below in the recipe card.
Pasta: made quickly and easily!
The Harissa Lemon Pasta is ready in about . 30 minutes and is hot and delicious on the table. Perfect as a quick lunch or after work. While the sauce is prepared, you can actually already directly heat the pasta water and cook the spaghetti.
First, I fry the shrimp in olive oil directly with harissa. So they also take directly the spiciness of the chili paste with. Then I add the garlic, which flavors the oil and the shrimp.
Then I deglaze everything with lemon juice, which then absorbs nicely and gives the lemon pasta its name. I love the fresh acidity of lemons, it just again neatly lifts the taste of the other ingredients and also fits anyway always to fish and seafood. Then the halved artichoke hearts are added, which partially separate during preparation.
For the creaminess of the Harissa Lemon Pasta, I add a good dollop of cream and let grated Parmesan melt in it and also grate the zest of a whole untreated lemon into the sauce. Then season with salt and pepper and watch the sauce bubble while the pasta is still cooking.
I then add the spaghetti to the sauce immediately after straining, mix everything together and then let the Harissa Lemon Pasta sit for about 3 minutes before serving. If you like, you can then grate more parmesan on top of the pasta and sprinkle a pinch of za'atar. Za'atar is a delicious spice blend of thyme, toasted sesame seeds and sumac. You can get it at any good spice store or online.
Tip for all who want to do without meat / animal products: The pasta also works perfectly with e.g. oat cream and the shrimp you can either omit or you fall back on the vegetable alternatives from e.g. soy. Or you can try my delicious pasta with vegetables.
In fact, just writing I get hungry again and can hardly concentrate ... I wish you in any case already a lot of fun cooking and a good appetite!
---
Recipe for Harissa Lemon Pasta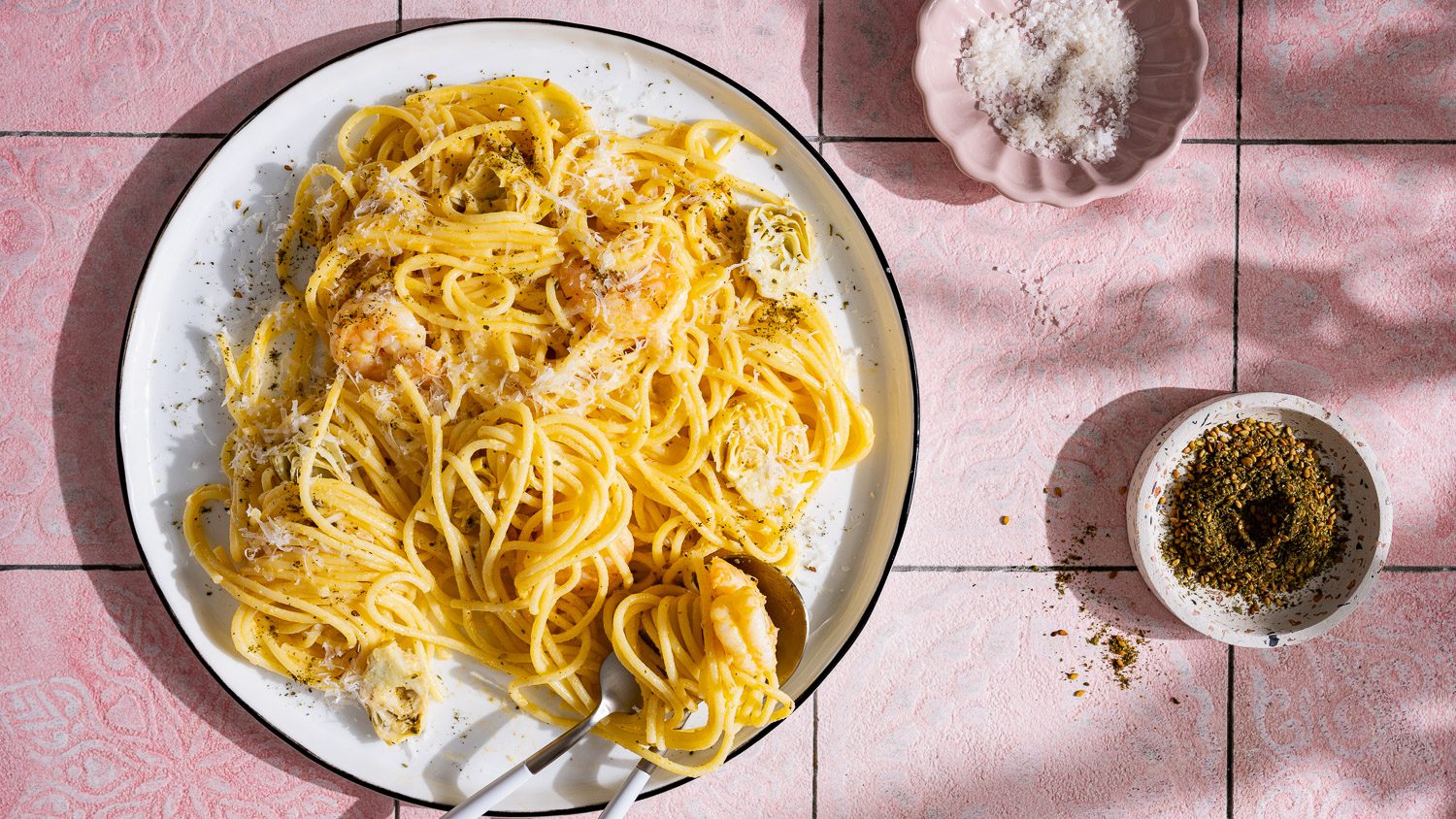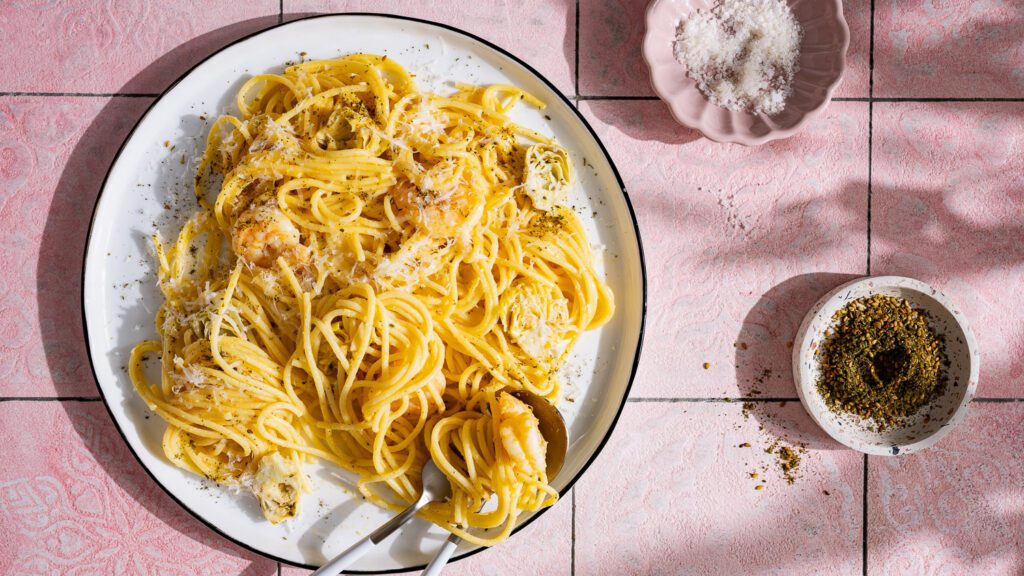 Print recipe
Save recipe
Saved!
Ingredients
Preparation
Peel the garlic and cut into thin slices.

Lemon wash well, dry, finely grate the peel and squeeze the juice.

Drain artichoke hearts and cut in half.

Finely grate the Parmesan cheese.

Heat olive oil in a pan over medium-high heat and sauté shrimp with harissa in it for about 2 minutes and turn stove to medium.

Add garlic and sauté for another 2 minutes.

Add lemon juice and artichoke hearts, stir and deglaze with cream.

Add grated Parmesan cheese and grated lemon zest and season with salt and pepper. Simmer gently for another 5 minutes.

Cook spaghetti al dente according to package directions.

Strain the spaghetti and mix with the sauce while still hot. Let stand for about 3 minutes, mix again and serve.

Garnish with more grated Parmesan and za'atar, if desired.
Notes
Recipe contains affiliate links.
Nutritional values
Calories:
749
kcal
|
Carbohydrates:
82
g
|
Protein:
38
g
|
Fat:
30
g
|
Saturated Fat:
16
g
|
Polyunsaturated Fat:
2
g
|
Monounsaturated Fat:
7
g
|
Trans Fat:
0.003
g
|
Cholesterol:
191
mg
|
Sodium:
581
mg
|
Potassium:
538
mg
|
Fiber:
5
g
|
Sugar:
5
g
|
Vitamin A:
1300
IU
|
Vitamin C:
24
mg
|
Calcium:
366
mg
|
Iron:
3
mg
Another really tasty harissa pasta you can find here: To the Harissa Carbonara.