Vegetable stew with tender chickpeas
"Good afternoon, Mr Halabi. My name is Aubergine and I would like to talk to you about your..." Stop right there! Before that happens and my vegetables start to live and try to sell me insurance, I'd rather whip up a freshly cooked vegetable stew. It's always good for me and then I don't have to have a tomato bubbling in my ear.
Everything just goes into the pot!
I admit: a vegetable stew like this usually smiles at me, especially in the cold season. When the weather outside is really disgusting, this quickly made stew really perks me up every time. Just thinking about it warms my heart.
I usually look at what vegetables I still have in the fridge and store cupboard and just chop everything up and throw it into a big pot. Back then, my mother would have liked to throw us children into the pot with the vegetables because we were "soooo sweet and cheeky, like vegetables". I think she actually wanted to tell us that we were stupid, like vegetables. Anyway, I don't hold grudges.
You can find my "best of vegetables" here in the recipe: aubergine, courgettes, tomatoes, peppers and potatoes definitely have to be included. Stir briefly, season to taste and the rest takes care of itself.
Cloves for the vegetable stew
The combination of vegetables is already top notch, but with the right amount of spices and roasted flavours, you can really bring out the best. When I sauté the onions briefly, I also add a good portion of ground cloves, cinnamon and bay leaf. If you like, you can also use some harissa for spiciness (love it!), but you don't have to. I like a bit of spiciness in my vegetable stew though.
After the spices, the vegetables are added to the pot and sautéed briefly. Then add tomato pulp and a little water and the rest goes on autopilot. For a special kick, I like to add crushed garlic cloves. The garlic is not fried, but cooked with it. It tastes completely different. The vegetable stew is then crowned with tenderly cooked chickpeas. This also makes it a filling dish. For me, a stew like this is a real all-rounder and can be conjured up relatively spontaneously. It's a taste feast every time. So, does anyone want to buy insurance now?...
---
Recipe for vegan vegetable stew with tender chickpeas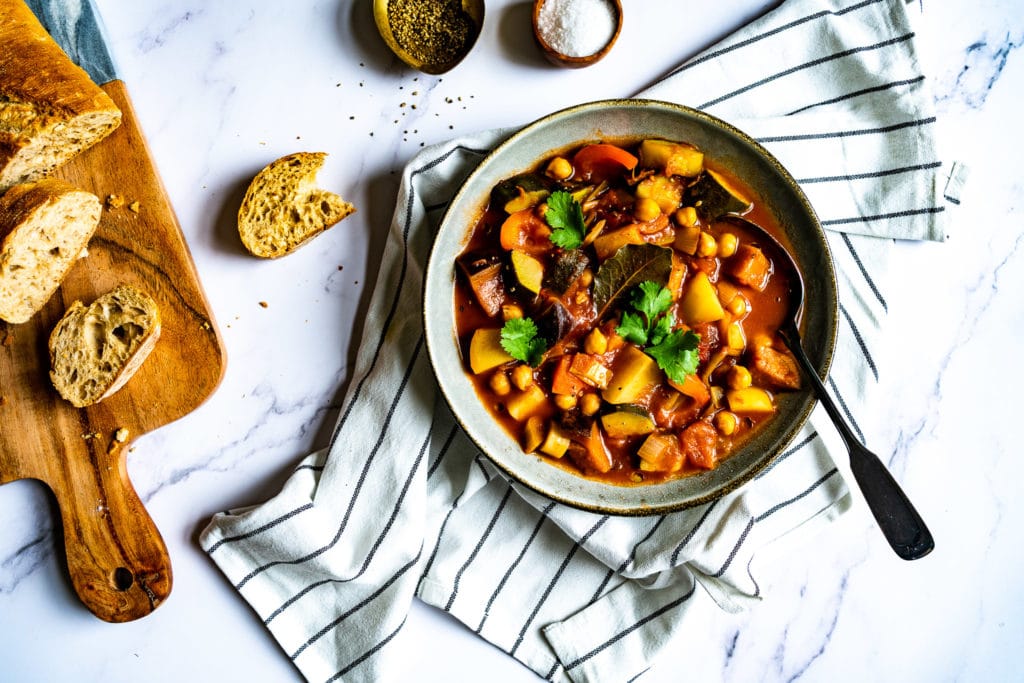 Print recipe
Ingredients
1

Leek

2

Tomatoes

1

Bell bell pepper (red)

1

Zucchini

1

Eggplant

4

Potatoes

1

Onion

4

TBSP

Olive oil

2

TBSP

Tomato paste

250

g

cooked chickpeas

(1 can)

400

g

Tomato pulp / strained tomatoes

700

ml

Water

2

Garlic cloves

2

Bay leaves

1/2

TL

Cloves

ground

1

TSP

Cinnamon

2

Branches

Thyme

alternatively: 1 tsp dried

Salt, pepper

1

TSP

Harissa (optional)
Preparation
Remove any unsightly leaves and spots from the leek, cut into rings, wash and drain.

Peel the garlic and crush it with a pinch of salt in a mortar.

Core the peppers and cut into bite-sized pieces.

Cut the aubergines, courgettes and tomatoes into bite-sized pieces.

Peel the potato and cut into bite-sized pieces.

Heat the olive oil in a large saucepan over a high heat and sauté the diced onion in it for about 30 seconds.

Turn the heat to medium and add the tomato paste, bay leaves, harissa (optional), cinnamon and cloves and fry briefly.

Add the aubergine and tomatoes and stir-fry for about 3 minutes.

Add the remaining vegetables and sauté for another 3 - 5 minutes, stirring occasionally.

Add the tomato pulp / strained tomatoes, thyme, crushed garlic, chickpeas and water and simmer for approx. 20 - 25 minutes on medium heat with the lid closed.

Season to taste with salt and pepper.

If necessary, remove fresh thyme sprigs and bay leaves before serving.
Notes
Recipe contains affiliate links. 
If you liked the recipe, I am very happy about a small tip. You are helping me to bring more great recipes to the blog. Thank you so much 🙂
Donate here: continue to Paypal
If you like stews, try my spinach stew, the bean stew Fasolia.