Chicken wings with yoghurt-harissa dip
Let me put it this way: as soon as the first rays of sunshine tickle my family's noses, we get bugs in our butts and have to get out - we have to barbecue! As befits a large family from the Levant, the Aldi bags have to be packed with all kinds of vegetables, barbecue food, grill and charcoal. Next stop is some innocent park or riverbank. While the men set up the barbecue, light the charcoal and throw the first chicken wings on the grill, the girls chop the vegetables for taboulé and co. Oh yes, those were the days ... by now we are domesticated and barbecue on the balcony 😛
At the big family BBQ on the balcony, my mother is now the grill master and coordinates the process in a very determined way. The chicken wings marinated in yoghurt are always particularly important to her. They have to go first so that she can eat them again and again during the barbecue. She simply knows what's good: the chicken wings are made for snacking in between meals.
Marinade & garnishes?
The marinade for the chicken wings is very similar to the marinade for the shish taouk: yoghurt, lots of garlic and a lot of spices. However, the chicken wings get a slightly spicier note with a small portion of harissa. If we want to barbecue in the evening, we marinate the wings in the morning. That way everything can marinate properly. We serve either taboulé or fattoush with our BBQ. In addition, the classics hummus and baba ghanoush are a must. My mother always raises a sceptical eyebrow when I suggest changes.
That's how it was when I came around the corner with the yoghurt-harissa dip. "Why do the chicken wings need an extra dip?" - fair question. The little things are super delicious without the dip, but sometimes I want to try something new. So I quickly mixed yoghurt and harissa into something that calmed the nervous eyebrows of my mother and sister. Dip approved! Yaaay!
But whether with or without dip, the chicken wings are an absolute classic of Levantine BBQ and should never be missing from a barbecue. And grilling on the balcony with gas instead of charcoal doesn't cause my family's neighbours to twitch their eyes any more 😉 I'm sure they'll be happy to see me!
---
Recipe for chicken wings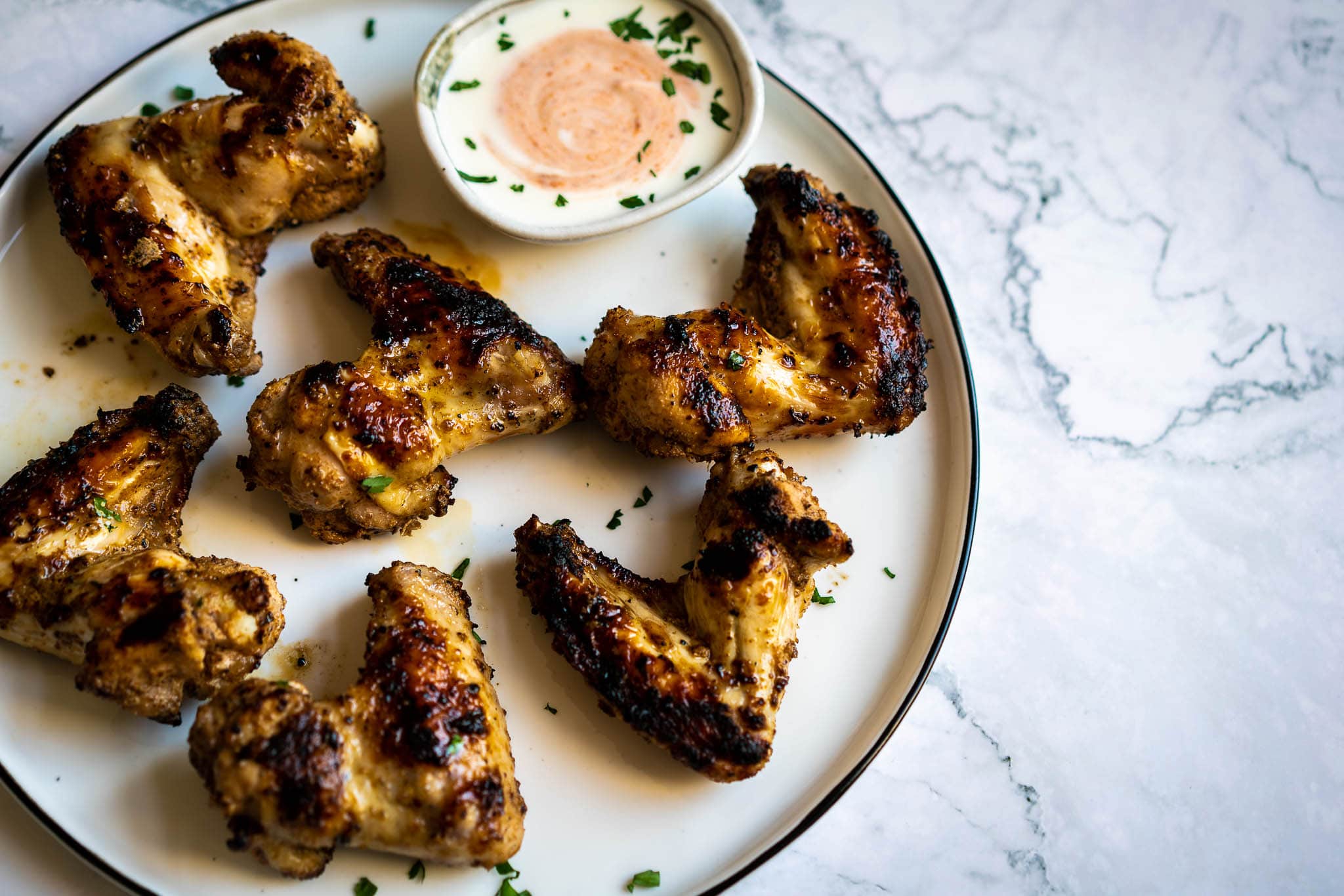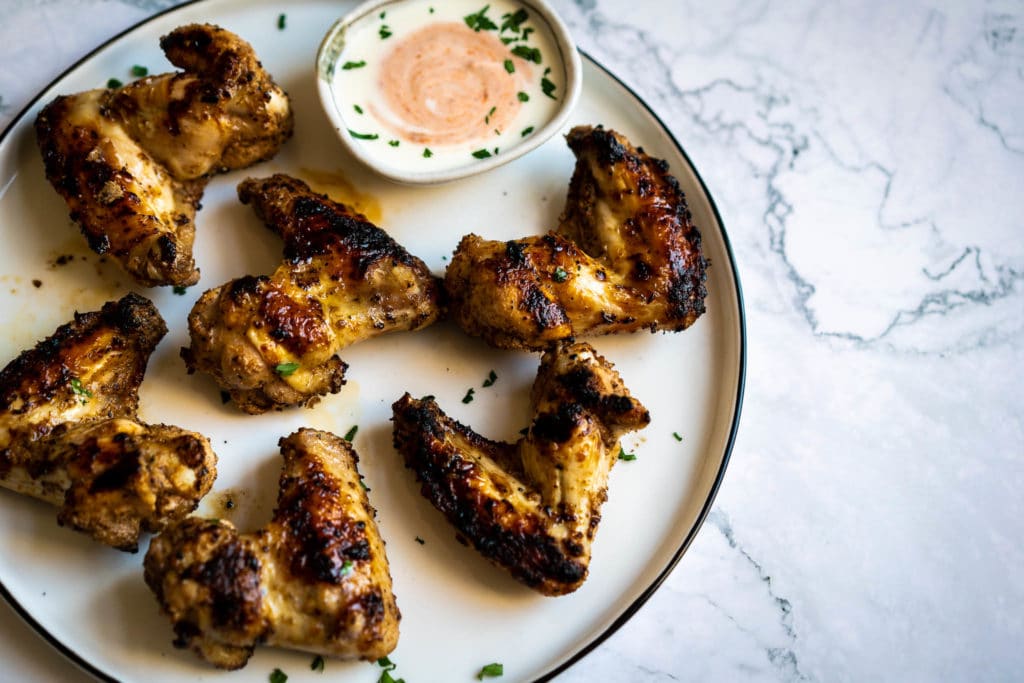 Print recipe
Preparation
Peel the garlic and crush it finely in a mortar.

Mix all the ingredients for the marinade together and turn the chicken wings thoroughly in the marinade and leave to marinate in the fridge for at least 2 hours.

Cook the wings on the grill or in the oven at 200 °C.
Dip
Mix the yoghurt with the harissa and season with salt.
Notes
*Recipe contains affiliate links. 
If you liked the recipe, I am very happy about a small tip. You are helping me to bring more great recipes to the blog. Thank you so much 🙂
Donate here: continue to Paypal