Taboulé is one of the key recipes of my life. As a child, I always looked forward to when the parsley salad was finally served. And if it took longer, it was actually my fault. I just had to give the final "go".
The reason: I tasted critically and decided whether the ratio between salt and acid was right, whether there were enough tomatoes in it and whether the bulgur still had the right bite ... what can I say? Of course, everything always fit. For me, Mama's taboulé is simply the best in the world!
At some point, taboulé found its way onto the shelves of the local supermarkets. It was cruel. What was advertised as "taboulé" looked more like a couscous salad. And it tasted like ... And quite honestly: couscous does not belong in this salad! We use bulgur.
Couscous is a type of pasta. It is made from semolina and rubbed into mini mini mini balls. Bulgur, on the other hand, is wheat meal. And bulgur is only allowed in small portions in the salad. The main ingredient is parsley.
Now that we've got that out of the way, let me explain how to eat taboulé. No, not with a fork! You take a long lettuce leaf (romaine lettuce) and fill it with taboulé. Look here:
Like a taco... The trick to getting everything into your mouth unharmed is revealed by the matrix: It's not the spoon that bends, it's you. Move your head sideways towards the device and it will all end up in your mouth.
In the end, it really doesn't matter how you eat your taboulé: the main thing is that it tastes good 🙂
---
Recipe for taboulé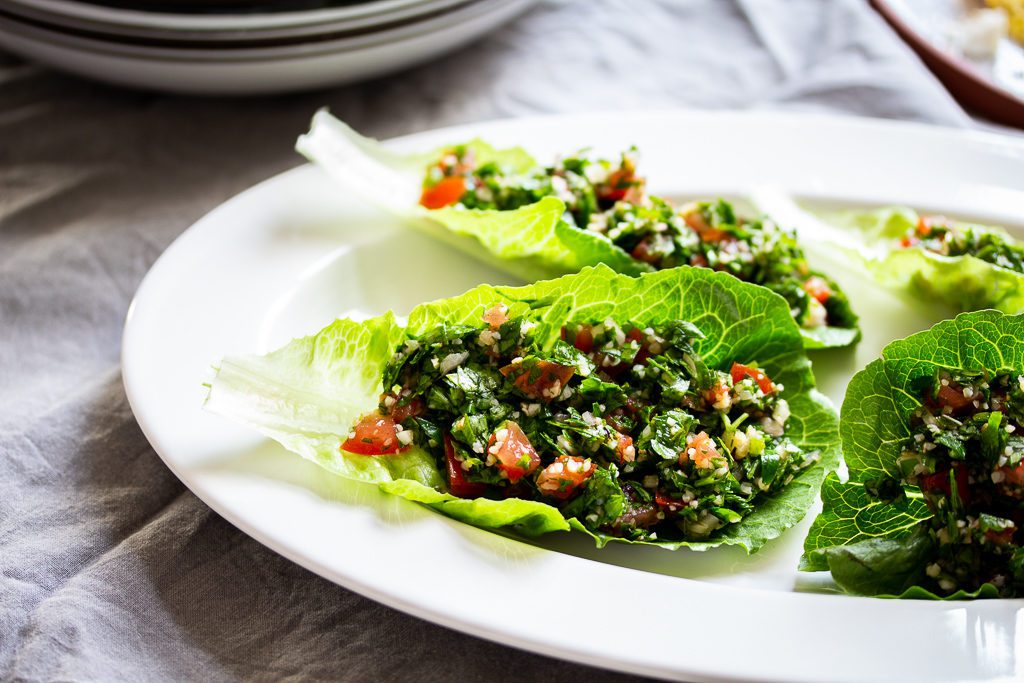 Print recipe
Save recipe
Saved!
Ingredients
To serve: Romaine lettuce
Preparation
Finely chop the parsley and mint.
- How finely you chop the parsley is up to you. Personally, I wouldn't puree it, because otherwise the salad lacks bite.

Chop the onion very finely.

Extra tip: add salt, pepper and a touch of cinnamon directly when chopping the onion and chop the spices as well. The result is an onion-spice mixture.

Finely dice the tomatoes and add to the mint and parsley with the onions.

To cook the bulgur, pour warm water over it and let it steep briefly. Make sure that it does not become too soft. The bulgur should be slightly "al dente". Pour off the rest of the water and then add the bulgur to the parsley.

Add the lemon juice and olive oil and mix all the ingredients together.

Then taste whether you like the balance between acid and salt. If necessary, season again with salt, pepper, cinnamon and lemon.
Notes
*Recipe contains affiliate links.
Nutritional values
Calories:
202
kcal
|
Carbohydrates:
17
g
|
Protein:
4
g
|
Fat:
14
g
|
Saturated Fat:
2
g
|
Polyunsaturated Fat:
2
g
|
Monounsaturated Fat:
10
g
|
Sodium:
36
mg
|
Potassium:
582
mg
|
Fiber:
5
g
|
Sugar:
4
g
|
Vitamin A:
5004
IU
|
Vitamin C:
82
mg
|
Calcium:
92
mg
|
Iron:
4
mg