Chicken skewers - Shish Taouk
Spring is finally here and I'm getting more and more into the grilling mood every day. Luckily, the Lebanese are a barbecue-mad people and therefore there are also some recipes that I don't want to deprive you of. After the smoky aubergine salad, this week I would like to introduce you to a Lebanese classic from the grill: Shish Taouk.
These delicious chicken skewers are marinated in yoghurt, a little vinegar, lemon and spices. The name Shish Taouk (or Shish Tawook) originally comes from the Turkish şiş tavuk. Tavuk means chicken in Turkish - and şiş means skewer. I have absolutely no idea how and why the name was adopted - but one thing is certain: this grilled delicacy is an absolute classic in Lebanon, Syria and Israel and should not be missing from any barbecue adventure.
The acid makes the meat tender and keeps it wonderfully juicy when grilled. I always find it particularly nice to hold the chicken skewers against a piece of flat bread and dab them with it while grilling. That way, some of the marinade and barbecue juices end up in the bread. The flavoured flatbread is then passed around as a snack before the grilled meat is done.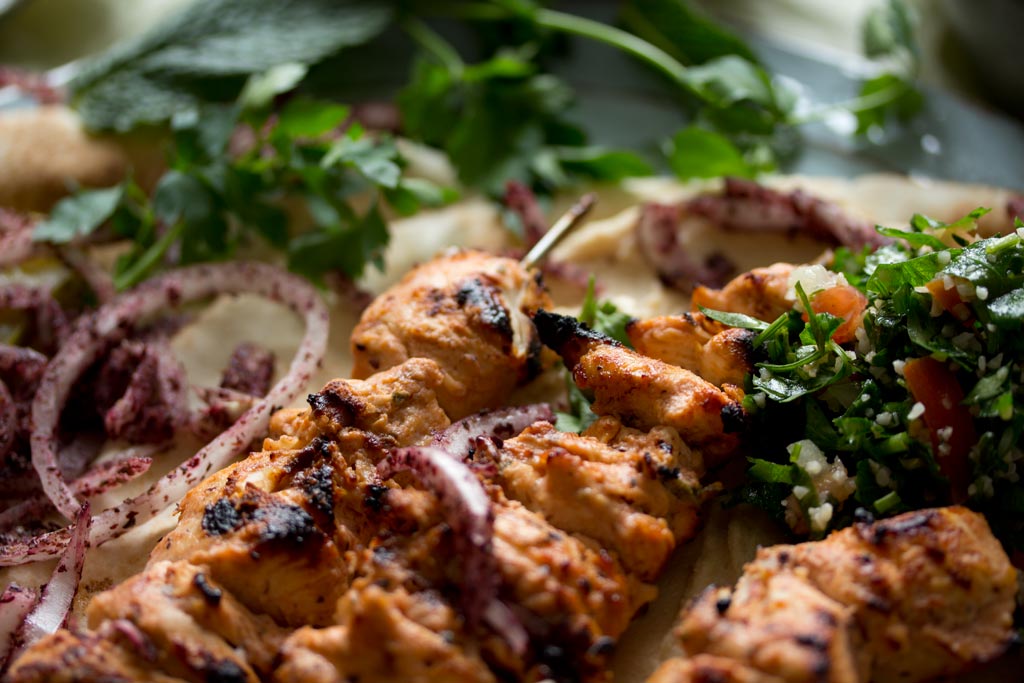 And because Lebanese flatbread has such a great round shape, you can also make it into a kind of plate or barbecue mitt. The skewers, which are still hot, can be wrapped in a flatbread and transported - and when you arrive at the place, you simply unroll the bread again, have your skewers in it and add some purple sumac onions, some hummus and taboulé on top. If you don't want to eat at the place, just wrap it all up and have a brilliant barbecue wrap - but don't forget to pull the meat off the skewers first before you bite into it 😉
Sumac onions - the perfect companion
What are sumac onions? They are raw onion rings that have been rubbed with a generous amount of sumac, giving them their beautiful purple colour and a strong tangy flavour. This goes perfectly with shish taouk.
Other delicacies from the grill are kafta and kafta in pita bread.
What are your absolute barbecue classics?
---
Recipe for Shish Taouk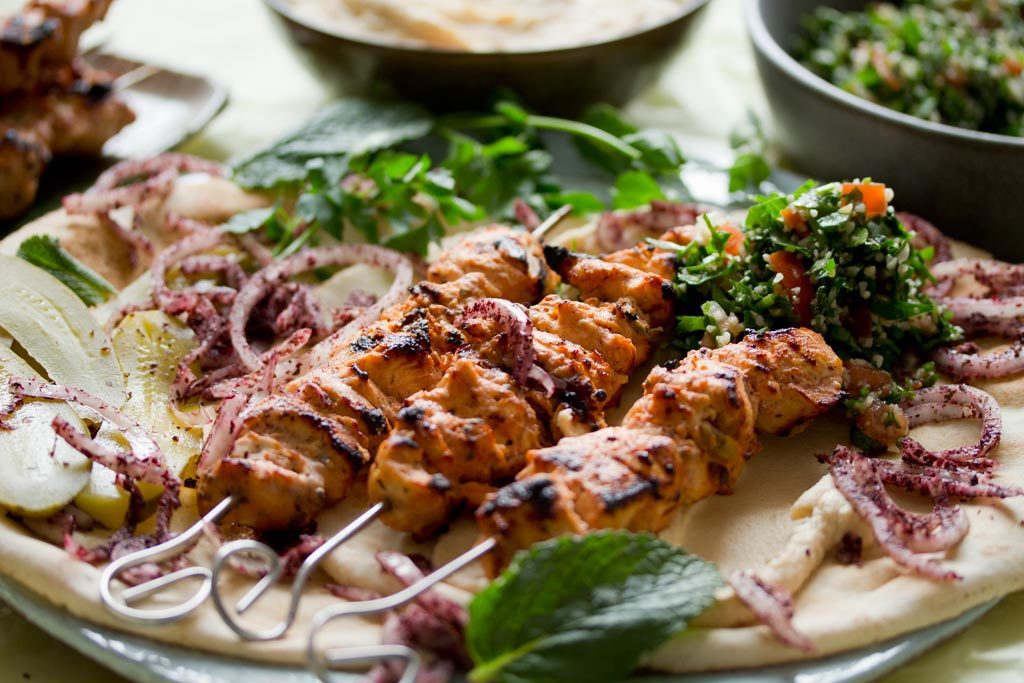 Print recipe
Ingredients
500

g

Chicken breast fillet
For the marinade
For the purple sumac onions
Preparation
Shish Taouk
Cut the chicken breast fillets into cubes.

Peel the garlic and crush it in a mortar.

Stir all the ingredients together to make a marinade, add the chicken cubes and mix everything thoroughly.

The chicken should marinate for at least 2 hours.

Now put the chicken cubes on skewers and grill them all around on the barbecue.
Sumac onions
Peel the onion, cut it into rings and mix in the sumac.
Serve shish taouk and onions on a pita bread with hummus and taboulé.
Notes
*Recipe contains affiliate links.
If you liked the recipe, I am very happy about a small tip. You are helping me to bring more great recipes to the blog. Thank you so much 🙂
Donate here: continue to Paypal