Hummus Fatteh | Warm chickpeas with bread chips and tahini yoghurt
So, children, we're going to review the lesson material today. What does chickpea mean in Arabic? Correct! Chickpea in Arabic means hummus. That's how the delicious cream got its name. Here, however, we don't turn the good pulses into a creamy goddess, but leave them whole and cover them with a delicious sauce made of tahini and yoghurt and bed them on crusty bread. A breakfast unlike any other! Ladies and Gentlemen: Hummus Fatteh!
Plucked, not cut!
Fatteh is a dish that is traditionally served for (late) breakfast. There are various ways to make fatteh, for example with fried aubergine or with chicken. Hummus fatteh is the basic version. The name comes from the Arabic word for plucking or tearing. This refers to the plucking of the pita bread that serves as the basis for the delicious veggie dish. The bread is usually deep-fried, but you can also toast it in the oven. So, now we've ticked off the basics, it's finally time to move on to the epic part of the text ... "My fre....e is that yummy! Yeah, baby, yeah!" Okay, let's calm down here.
Hummus Fatteh is for those who love a hearty breakfast. Step away from bacon and eggs and indulge in these warm, tender chickpeas on crispy pita bread with a yoghurt and tahini sauce and a good hint of garlic. On top, there are pine nuts roasted in butter. Personally, I roast the kernels until they darken a little and the butter has turned slightly brown. Finally, add freshly chopped parsley, some dried mint and paprika powder on top. And if you don't like it so savoury for breakfast, Hummus Fatteh is also perfect for lunch or dinner. Your choice.
---
Recipe for Hummus Fatteh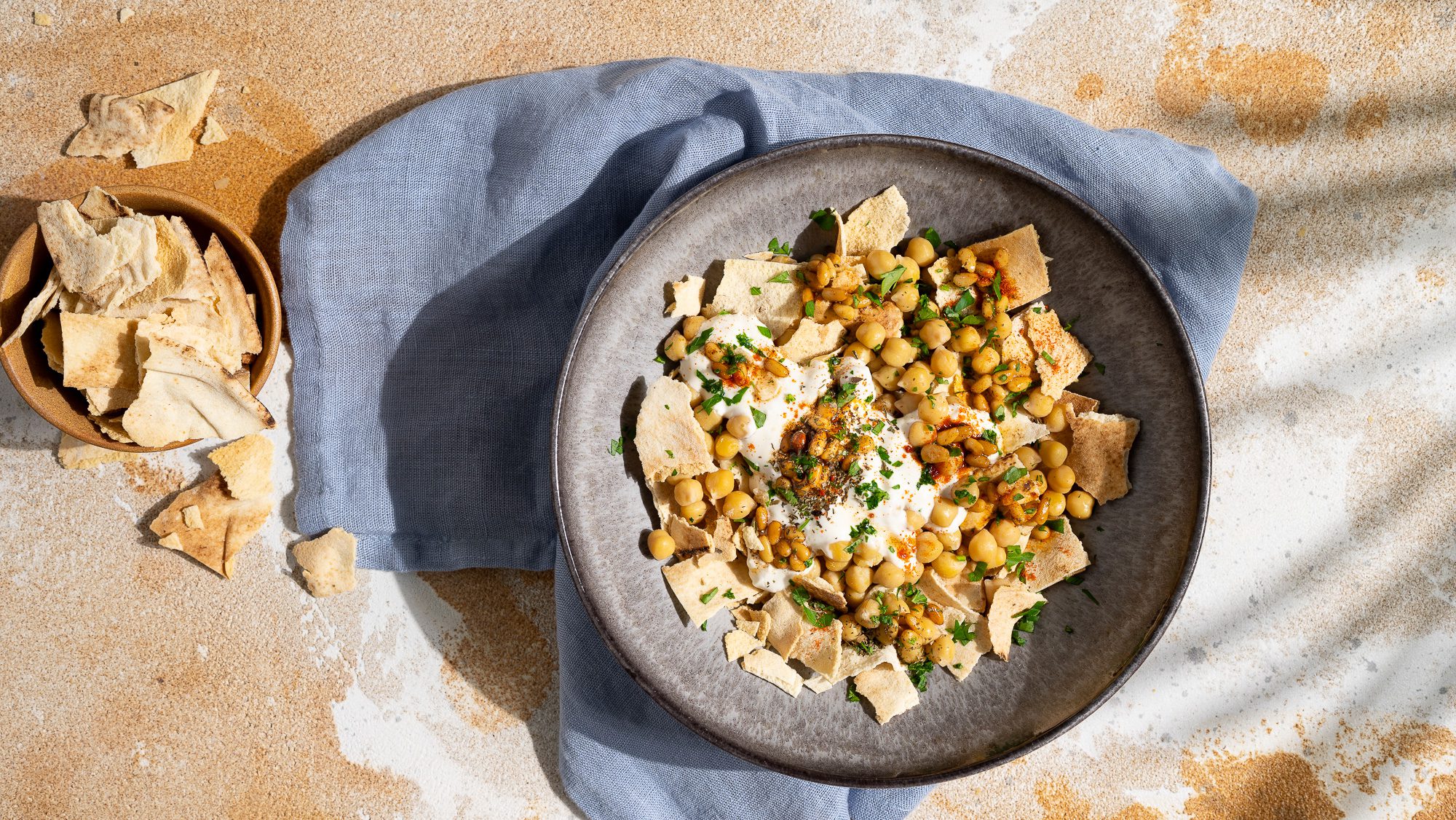 Print recipe
Save recipe
Saved!
Ingredients
For the sauce
150

g

Yogurt (10%)

2

EL

Tahini

1

TBSP

Lemon juice

1

Garlic clove

2

El

Water

1/2

TSP

Cumin

Salt, pepper
Also
15

g

Pine nuts

1

TBSP

Butter

1

Handful

Parsley

1

pinch

dried mint

1

pinch

paprika powder

oil for frying (optional)

if the bread is not to be toasted in the oven
Preparation
Heat the chickpeas covered with water in a pot and keep warm.

Preheat the oven to approx. 170 °C top/bottom heat.

Tear or cut the pita bread into small bite-sized pieces and toast in the oven for approx. 10 - 13 minutes until they are nice and crispy. (Alternatively, the pita bread can be deep-fried briefly in oil). Then set the pita chips aside.

For the sauce, peel the garlic and crush it very finely with a little salt. Mix the garlic, yoghurt, water, tahini, lemon juice and cumin and season with salt and pepper.

Heat the butter in a frying pan and toast the pine nuts for a few minutes on medium heat until golden brown. Then put them to one side. I sometimes even toast them a little over so that they become a little darker. The butter also gets a nutty flavour from the roasting.

Drain the warm chickpeas. Divide the pita bread between bowls and top with the chickpeas and sauce. Then spread the butter with the pine nuts on top and sprinkle with fresh parsley, dried mint and some paprika powder.

It's best to enjoy hummus fatteh immediately after assembling it, so that the components are still fresh, crunchy and warm.
Nutritional values
Calories:
165
kcal
|
Carbohydrates:
22
g
|
Protein:
10
g
|
Fat:
5
g
|
Saturated Fat:
0.4
g
|
Polyunsaturated Fat:
2
g
|
Monounsaturated Fat:
1
g
|
Trans Fat:
0.003
g
|
Cholesterol:
2
mg
|
Sodium:
298
mg
|
Potassium:
209
mg
|
Fiber:
4
g
|
Sugar:
2
g
|
Vitamin A:
185
IU
|
Vitamin C:
1
mg
|
Calcium:
90
mg
|
Iron:
2
mg
Also be sure to try Fuhl Medammas and Musabaha.