Baked cod fillet with lemon-coriander crust on potato-garlic mash
Just at the thought of a baked cod fillet with the super aromatic lemon-cilantro crust my palate already celebrates a small party! And when the juicy baked fish is then also bedded on a creamy fluffy bed of mashed potatoes with garlic, the party really gets going!
So simple, but so aromatic: the crust
Baked cod fillet in itself is already incredibly delicious, but with a crispy crust full of flavors it becomes a real spectacle! Personally, I like the fillet of cod very much, because it has an almost sweet taste and a great, firm texture.
The delicious crust is made super fast! The main ingredients are good organic lemons, fresh cilantro, almonds and panko. The latter is a coarser breadcrumbs, with which the crust gets its wonderful crunch.
For the crust, just grate the lemon zest, quickly chop the almonds and cilantro and mix everything with the panko and some butter. I definitely like to add a pinch of chili in there as well. This makes the baked cod fillet really aromatic!
Once the mixture is ready, just put it all on the cod fillet and the oven will do the rest for you. Meanwhile, you can take care of the mashed potatoes.
Potato mash with garlic
I personally love boiled potatoes very much! But even more I love mashed potatoes! Quite classically, the cooked potatoes are mashed with a little butter, milk or cream and some nutmeg. In my version, a good portion of garlic comes in with it - namely baked garlic.
Don't worry, the garlic is a very simple thing! You just add a few cloves of garlic wrapped in aluminum foil to the baked cod fillet in the oven and let it cook for about 30 minutes. Meanwhile, the potatoes can cook.
Once the garlic is cooked, you can simply squeeze the individual cloves out of their skins and add them to the strained potatoes. Then the mashing can begin. Just add butter, milk and garlic to the potatoes and mash with a masher until you reach the desired consistency.
You can, of course, make it into a really creamy mashed potato or leave it still slightly chunky. Personally, I like it when the mashed potatoes for the baked cod fillet are still slightly chunky.
Baked cod fillet - it is served!
Baked cod fillet with delicious crust is ready - check! Potato mash with garlic is ready - check! Then it's time to prepare the fish. Somehow it seems to be a question of faith whether you put the fish directly on the mash or only half on top or both separately next to each other.
Of course, you can do this the way you like it best. Garnish your plate with some freshly chopped cilantro and lemon wedges. Enjoy your meal!
---
Recipe for baked cod fillet with lemon and coriander crust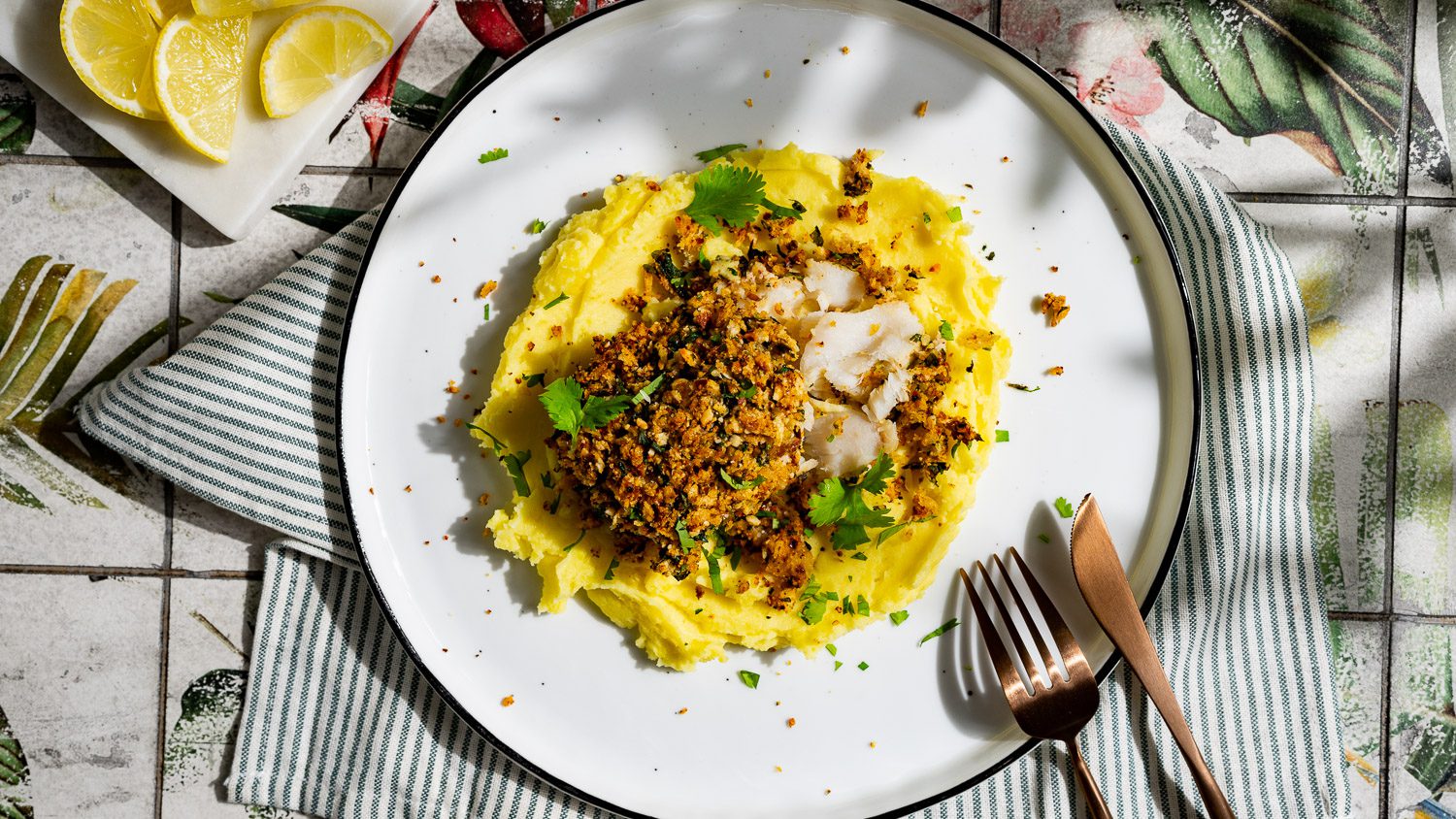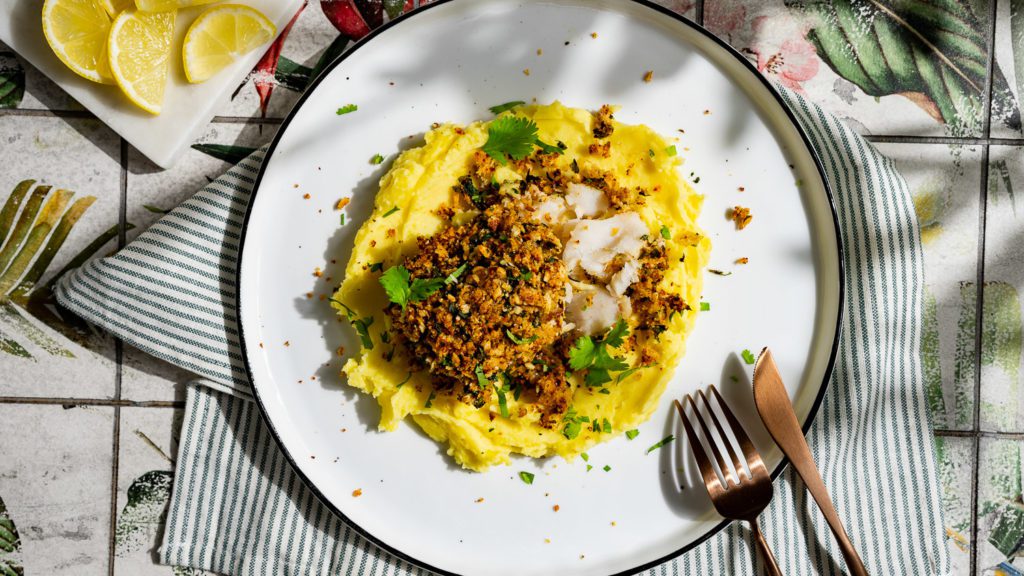 Print recipe
Save recipe
Saved!
Cooking utensils
Casserole dish

Aluminum foil
Ingredients
For the cod
4

Cod fillets

30

g

Coriander

2

Organic lemons

2

Tablespoon

Lemon juice

50

g

Almonds

50

g

Butter

50

g

Panko

2

teaspoon

Chili flakes

Salt, pepper
For the tamp
1

Kg

Potatoes (mainly waxy)

1/2

Garlic bulb

40

g

Butter

50

ml

Milk

Salt, pepper
Preparation
Baked cod fillet with lemon coriander crust
Preheat oven to 180°C convection oven.

Wash cod and pat dry with a paper towel.

Wash and finely chop the coriander.

Wash the lemons, grate the peel and squeeze the juice.

Finely chop almonds with a knife or a chopper.

Melt butter in a small saucepan.

Mix panko in a bowl with chopped coriander, lemon zest, lemon juice, melted butter, chili, salt and pepper until well blended.

Place the cod in a baking dish. Spread the panko mixture on top and press down lightly.

Bake cod with crispy crust in oven for about 40 minutes.

Meanwhile, prepare the mashed potatoes.
Potato garlic mash
Wrap garlic bulb in aluminum foil, place in oven with fish and cook for about 30 minutes.

Peel and chop the potatoes and cook them with a good pinch of salt.

Cut the garlic bulb in half horizontally and squeeze out the cloves. Add one half to the potatoes, the other half you can mash, fill with oil and use as garlic paste.

Using a masher, mash the potatoes and garlic.

Add butter and milk and mix everything. Season to taste with salt and pepper.

Spread potato-garlic mash on plates. Place baked cod fillet with lemon-coriander crust on the mash and serve.
Notes
Recipe contains affiliate links.
Nutritional values
Calories:
1241
kcal
|
Carbohydrates:
62
g
|
Protein:
171
g
|
Fat:
32
g
|
Saturated Fat:
14
g
|
Polyunsaturated Fat:
5
g
|
Monounsaturated Fat:
10
g
|
Trans Fat:
1
g
|
Cholesterol:
437
mg
|
Sodium:
747
mg
|
Potassium:
5035
mg
|
Fiber:
10
g
|
Sugar:
6
g
|
Vitamin A:
1599
IU
|
Vitamin C:
89
mg
|
Calcium:
272
mg
|
Iron:
7
mg
You are in the mood for more fish? Then try the rice with fish "Sayadieh" or the couscous salad with tuna.