Pasta salad with chickpeas and sumac onions
"Marcarrrroooonaaaaa!!!" That used to be the answer when my mother asked us four siblings what we liked to eat. We meant noodles, no matter what kind and in whatever form. So at some point, the age of multifunctional pasta salads began for us, too. Here we could not only indulge our love of noodles, but also really let off steam creatively. One variation that came along and even turned out super tasty is this pasta salad with chickpeas and sumac onions.
Sumac onions
The super aromatic sumac onions are characteristic of this pasta salad. Sumac is a spice that is used a lot in the Levant and tastes slightly sour and tangy. If you season fresh onion rings with it, the result is a real flavour bomb. Sumac onions are usually served with grilled kafta or barbecue skewers. For me, it was no surprise that they add a lot of flavour to a fresh pasta salad.
Chickpeas and noodles?
Do chickpeas and pasta go together? And how! The combination is an absolute dream. Both components create a really great mouthfeel and of course taste mega good. By the way, this mixture is also quite common in Italian cuisine. Google Pasta e Ceci. 😉
So, if you're also calling out for "Marcarrrroooonaaaaaaa!!!" then why not try the pasta salad with chickpeas and sumac onions? A dream not only as a side dish at the barbecue.
By the way, take a look at my chickpea guide and learn everything about the delicious pea.
---
Recipe for pasta salad with chickpeas and sumac onions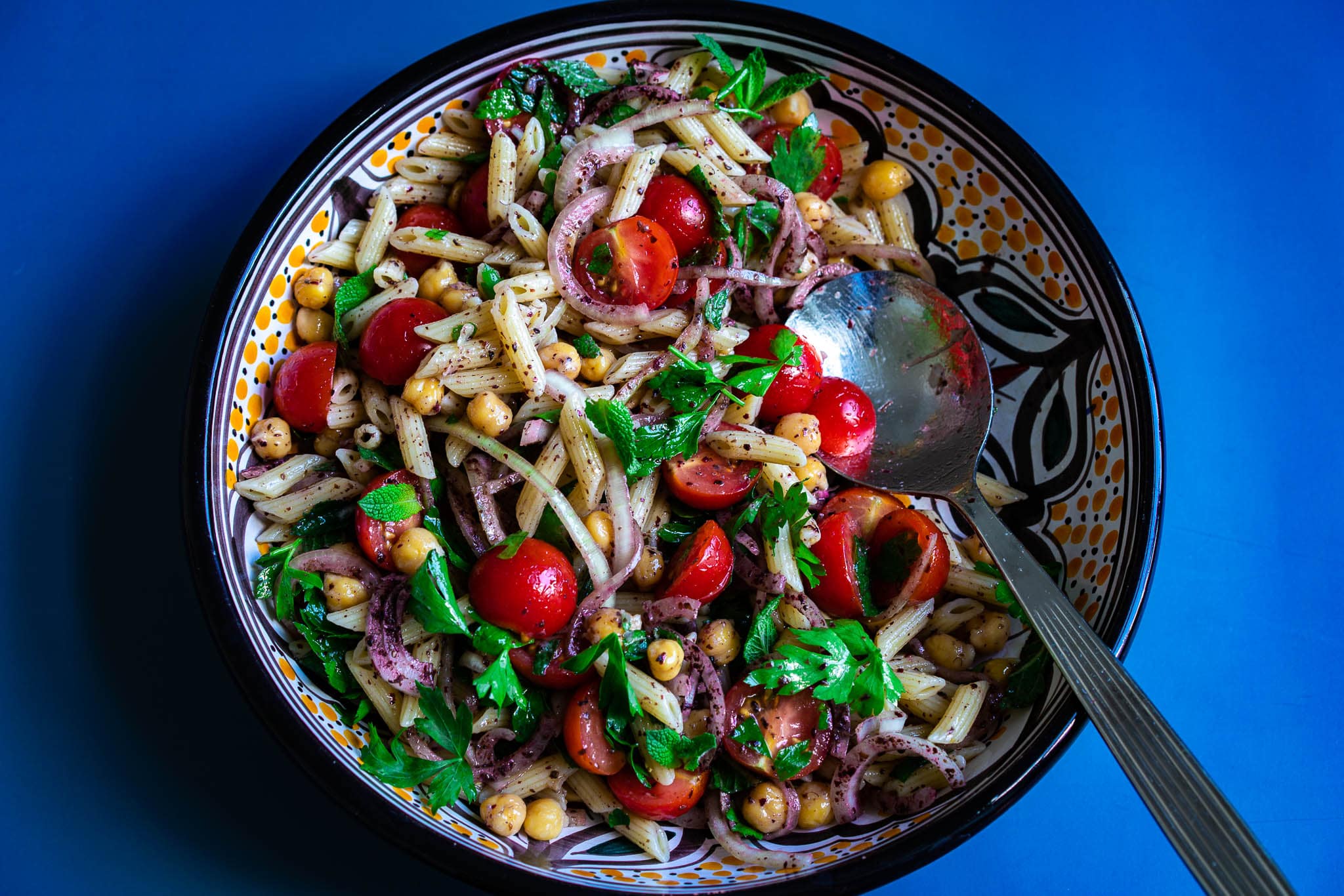 Print recipe
Ingredients
Preparation
Cook the pasta according to the instructions on the packet, strain and rinse with cold water.

Peel the onion and cut into half rings. Mix the sumac, onions and 2 tbsp water together properly with your hands and leave to stand for 10 minutes.

Halve the cherry tomatoes. Roughly chop the herbs.

Mix all the ingredients together to make a pasta salad and season with salt and pepper.
Notes
*Recipe contains affiliate links.
If you liked the recipe, I am very happy about a small tip. You are helping me to bring more great recipes to the blog. Thank you so much 🙂
Donate here: continue to Paypal
Be sure to try the pasta salad with grilled aubergine and confit cherry tomatoes.