Baked feta in tomato sauce with eggplant & chickpeas
Baked feta in tomato sauce with eggplant and chickpeas is an incredibly delicious fusion of the idea of shakshuka and the classic Lebanese musaka'a. The recipe is quick to make and absolute comfort food for me. Just thinking about it puts me in a comforting mood. The problem with it is that the thought of it also makes me really hungry every time!
What comes together here is an absolute explosion of flavor!
Baked feta has recently triggered a really big hype, especially on social media. Suddenly everyone had to pack feta with raw tomatoes, other stuff and pasta in a casserole dish and then bake it in the oven.
This can also be really delicious if you have the right combination and the cooking times fit together. But I can also imagine that there has been one or two disappointments in this regard. Especially when you're already really hungry waiting in front of the oven.
I can assure you that this recipe for baked feta in tomato sauce with eggplant and chickpeas will not only cause a taste explosion in you, but also works quickly and easily.
For the baked feta in tomato sauce I was inspired by the classic Lebanese Musaka'a. There slumber in an aromatic tomato sauce freshly fried eggplant slices and chickpeas. As the name in Arabic says, one is usually Musaka'a cold (Musaka'a = "the cold").
But so as a kind of casserole, hot and with feta baked in it, it becomes actually again quite another thing! The sauce thickens a little more and the flavors contained therein intensify again clearly! This is a bit like shakshuka, when the eggs then poach directly in the sauce.
Baked feta: For now or even later
The beauty of the recipe for baked feta in tomato sauce is that it is incredibly easy to prepare. If you like, you can prepare the sauce with the eggplant a day in advance and the next day just add the feta and let the whole thing roast nicely in the oven.
When the baking dish is then in the oven and the feta gets its browning, it already smells quite wonderful and the anticipation rises. After the baked feta in tomato sauce is then ready, I then top the dish with fresh coriander and black cumin.
I then tear off a piece of fresh pita bread directly and hastily dip it into the aromatic sauce with cumin and cinnamon and take a bit of everything: roasted feta, fried eggplant and tender chickpeas. All in one bite, a comforting feeling spreads directly. Bon appetite!
Extra tip: If you don't like cilantro, you can of course use parsley. And if you want a vegan version, just use vegan feta.
---
Recipe for baked feta in tomato sauce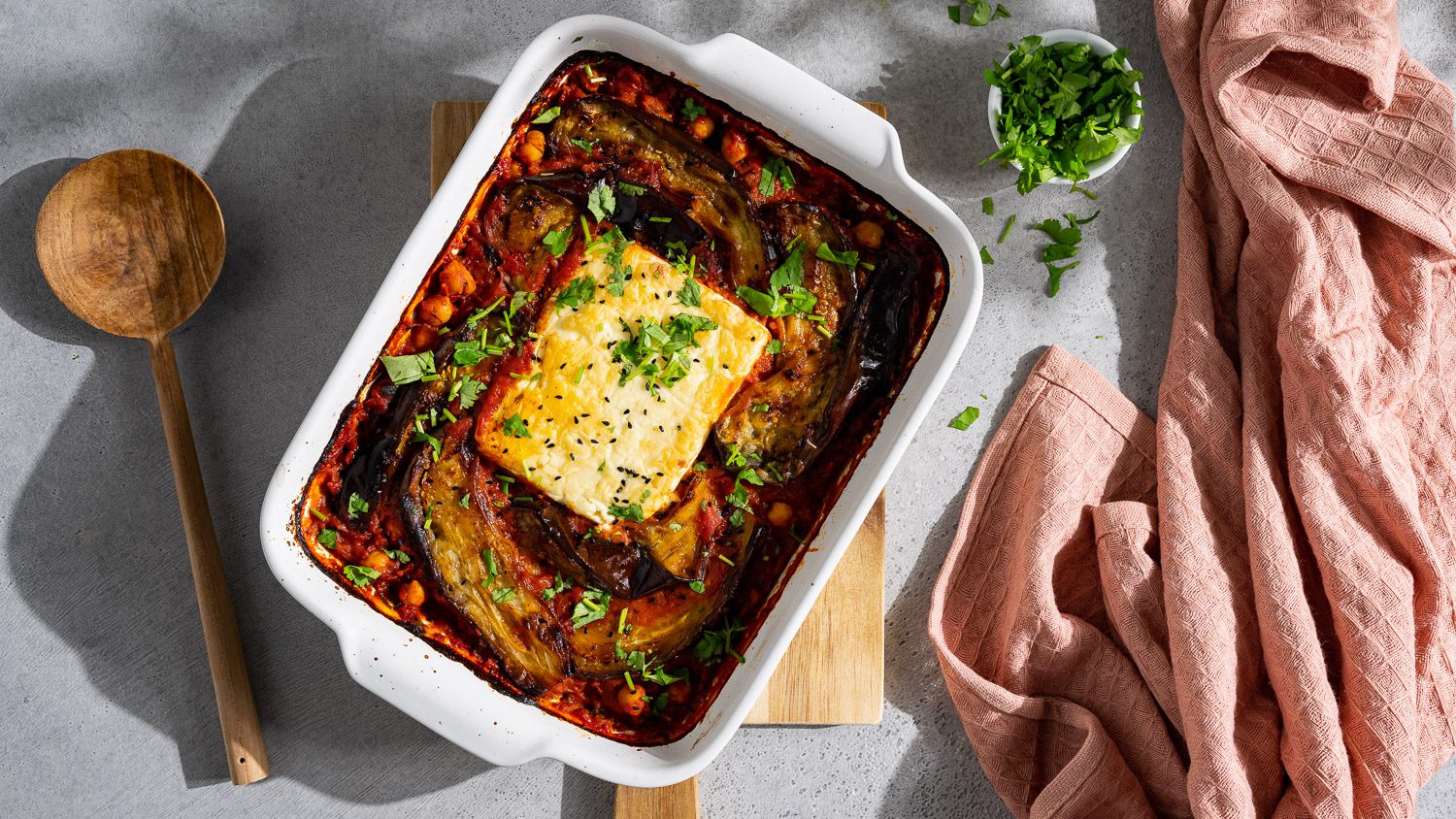 Print recipe
Save recipe
Saved!
Ingredients
200

g

Feta

400

g

Strained tomatoes

250

g

Chickpeas, cooked

1

Eggplant

1

Garlic clove

1

Onion

1/2

teaspoon

Chili flakes

1/2

teaspoon

Cumin

1

teaspoon

Black cumin

1/2

teaspoon

Cinnamon

15

g

Coriander, fresh

Salt
Preparation
Preheat oven to 200°C top/bottom heat.

Eggplant wash and cut into wedges.

Sprinkle eggplant wedges with salt and drain in a colander.

Meanwhile, peel and finely dice the onion and garlic.

Heat oil in a frying pan and sauté onions until translucent.

Add garlic and spices and fry briefly. 

Add chickpeas and strained tomatoes and simmer over medium heat for about 5 minutes.

While sauce is simmering, rinse eggplant with water and pat dry.

Heat enough oil for frying in a pan and fry eggplants in it for about 10 minutes on all sides until soft.

Wash and chop the coriander. Put some aside for garnish, stir the rest into the sauce.

Pour tomato sauce into a baking dish. Place feta in the center and spread the fried eggplant around it.

Place casserole dish in oven and bake for about 15 minutes until feta is golden brown.

Sprinkle baked feta in tomato sauce with chickpeas and fried eggplant with black cumin and remaining coriander and serve with pita bread or baguette.
Notes
Recipe contains affiliate links.
Nutritional values
Calories:
527
kcal
|
Carbohydrates:
55
g
|
Protein:
27
g
|
Fat:
25
g
|
Saturated Fat:
14
g
|
Polyunsaturated Fat:
2
g
|
Monounsaturated Fat:
5
g
|
Cholesterol:
89
mg
|
Sodium:
1763
mg
|
Potassium:
1490
mg
|
Fiber:
18
g
|
Sugar:
19
g
|
Vitamin A:
1501
IU
|
Vitamin C:
30
mg
|
Calcium:
656
mg
|
Iron:
6
mg
Try the oven feta with figs on salad or the incredibly delicious eggplant shakshuka.