Bulgur salad with za'atar and pomegranate
When I was a child, bulgur was only ever served as a properly seasoned side dish or with vegetables and meat as a main course. I really can't remember a bulgur salad. In the meantime, however, the tide has turned. As with couscous salads, I usually just open the fridge and see what's hiding inside. So bulgur salad always tasted a little different to me. Until I came across this combination.
Since then, crunchy radishes, fruity cherry tomatoes, fresh cucumber, peppers and sweet and sour pomegranate seeds have been hiding more and more frequently in my bulgur salad. What I can't do without are fresh herbs. Lots of fresh mint and preferably a whole sea of coriander. I love coriander and could roll around in a whole field of it. I know cilantro divides minds. Some love it, others wish not so nice things for the herb. Of course, if you belong to the second group, you can also use parsley 🙂
Preparing bulgur salad is super easy!
The dressing is very simple: lemon juice, the best olive oil and a good portion of za'atar. Now that we have the components, all we have to do is prepare the bulgur. Preparing bulgur is super easy. Most of the time it says on the package what you have to do. And if not, you can already remember the ratio 1:2. 1 part bulgur to 2 parts water. Then boil the bulgur with a little salt in a pot, put the lid on, turn the heat down to low and let everything cook for about 15 minutes. Easy, isn't it? But make sure you know which grain you bought. The very fine bulgur is not suitable for this salad, but rather for taboulé.
While the bulgur is cooking, quickly chop the vegetables and before you know it, your bulgur salad is on the table. You can serve it as a side dish or as a filling meal. The great thing about bulgur salad is that it's also perfect to include in your meal prep plan. Simply prepare it the night before and put it in the freshness box. The salad still tastes good even after 2 days in the fridge.
By the way, the salad tastes particularly good with halloumi skewers and hummus.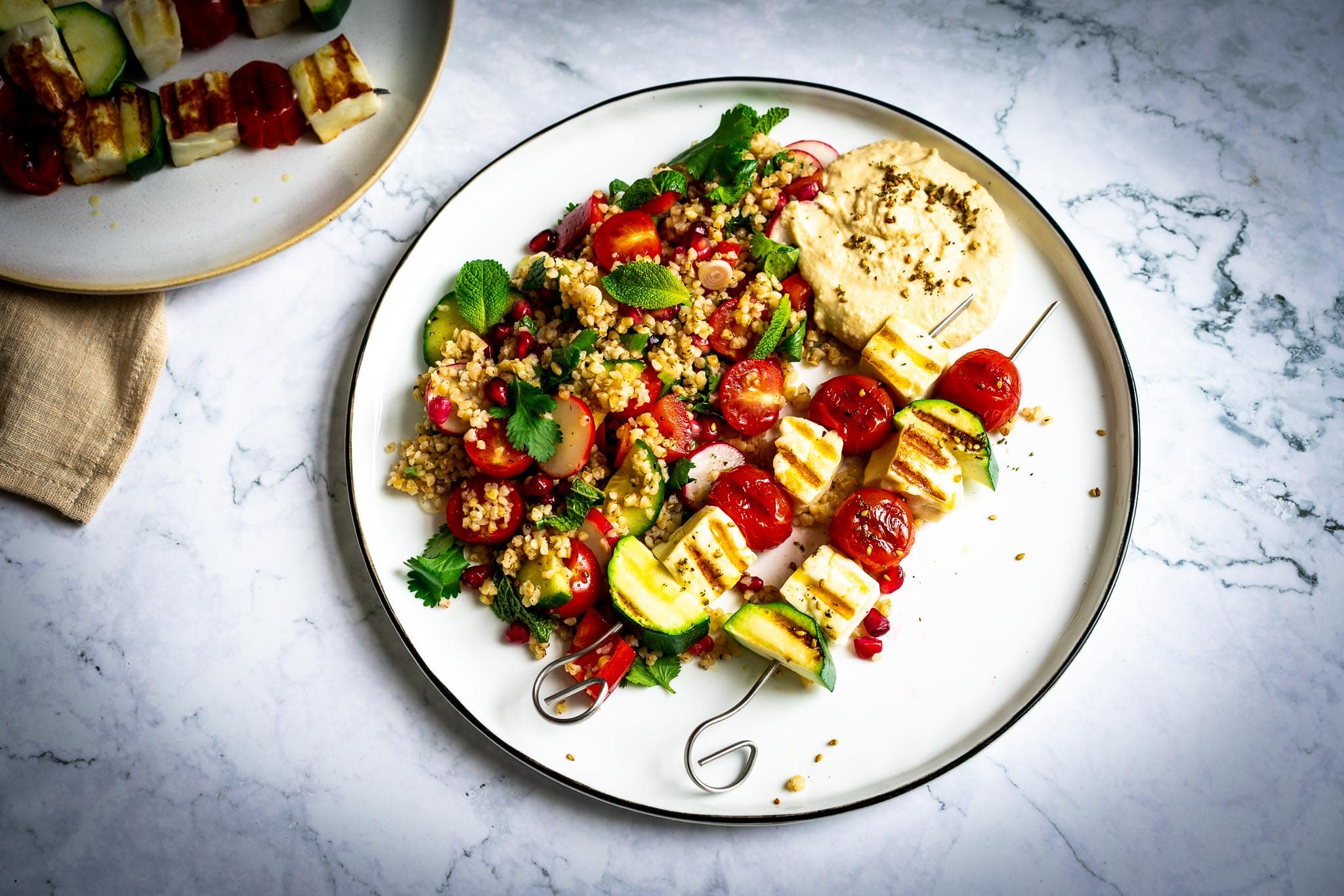 ---
Recipe for bulgur salad with za'atar and pomegranate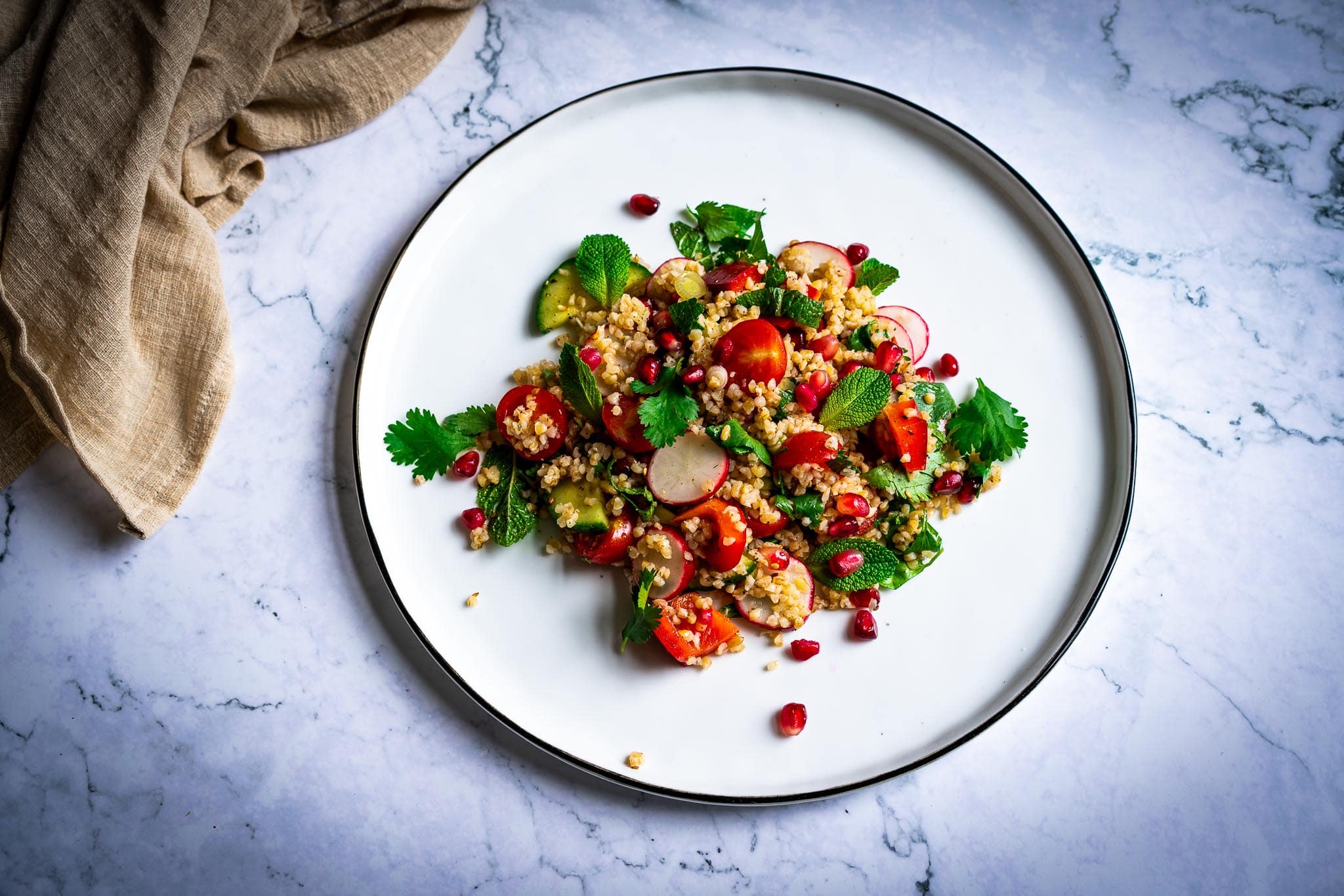 Print recipe
Save recipe
Saved!
Ingredients
Preparation
Cook the bulgur according to the instructions on the packet and leave to cool.

Mix all the ingredients together and season with za'atar, salt and pepper.

Leave the bulgur salad to stand for approx. 10 minutes and stir again before serving.
Notes
Recipe contains affiliate links. 
Nutritional values
Calories:
141
kcal
|
Carbohydrates:
30
g
|
Protein:
5
g
|
Fat:
2
g
|
Saturated Fat:
0.2
g
|
Polyunsaturated Fat:
0.3
g
|
Monounsaturated Fat:
1
g
|
Sodium:
9
mg
|
Potassium:
234
mg
|
Fiber:
7
g
|
Sugar:
2
g
|
Vitamin A:
321
IU
|
Vitamin C:
8
mg
|
Calcium:
28
mg
|
Iron:
1
mg