Labneh with caramelized grapes
Labneh with caramelized grapes is an absolute dream of an appetizer! Creamy, fresh, fruity - and if you want, slightly spicy.
Outrageously good!
Supercalifragilisticexpialidocious (Supercalifragilisticexpialigetic)!!! I know, I'm going way, way out on a limb with that statement. But once you've tried labneh with caramelized grapes, you'll at least be able to understand my enthusiasm.
If you do not know Labneh yet: This delicious cream is easily made from yogurt by simply letting it hang out in a straining cloth for a few hours. In the process, the yogurt loses whey and becomes firmer in consistency and more intense in flavor. Wonderfully creamy!
Even if Labneh is classically served pure with a lake of olive oil and Za'atar, the cream cheese from yogurt is so incredibly versatile that I could fill a small cookbook with it alone. (Maybe I should really tackle that one day ...)
Labneh provides a perfect base for versatile dip enjoyment! Labneh with caramelized grapes is my newest favorite combination. It's like lighting a big flavor match with each dip. Once the flame is lit, it goes quickly and ignites a real flavor fireworks display.
Time for the caramelized grapes
Of course, this is not only due to the creamy base, but also the aromatic topping. For this, I simply halved bright and red grapes lengthwise and sautéed them with a little olive oil in a pan over medium heat. Grapes are not only sweet, but also bring a pleasant acidity. This rounds off the taste later so right!
For even more flavor, I grated the zest of an organic lemon and added some honey to the pan. The smell when the grapes in the pan then caramelize with the lemon zest and honey is great! The pistachios, which I threw directly with the grapes in the pan, of course, I do not want to underestimate.
After a few minutes, the topping is ready. Then simply spread the creamy labneh on a plate and add the caramelized grapes on top. By sautéing them in the pan, a kind of broth has been created. A fantastic reduction of the different flavors! Be sure to add this stuff to the yogurt cream as well!
As a final touch, I add finely chopped spring onion and chili. The spring onion adds another hearty note to the whole thing. It may sound strange, but it's really delicious!
For the finish on the labneh with caramelized grapes, I then sprinkle a fine pinch of sea salt flakes over it. Add crusty baguette and the dip fun can go. Bon appetit!
---
Recipe for labneh with caramelized grapes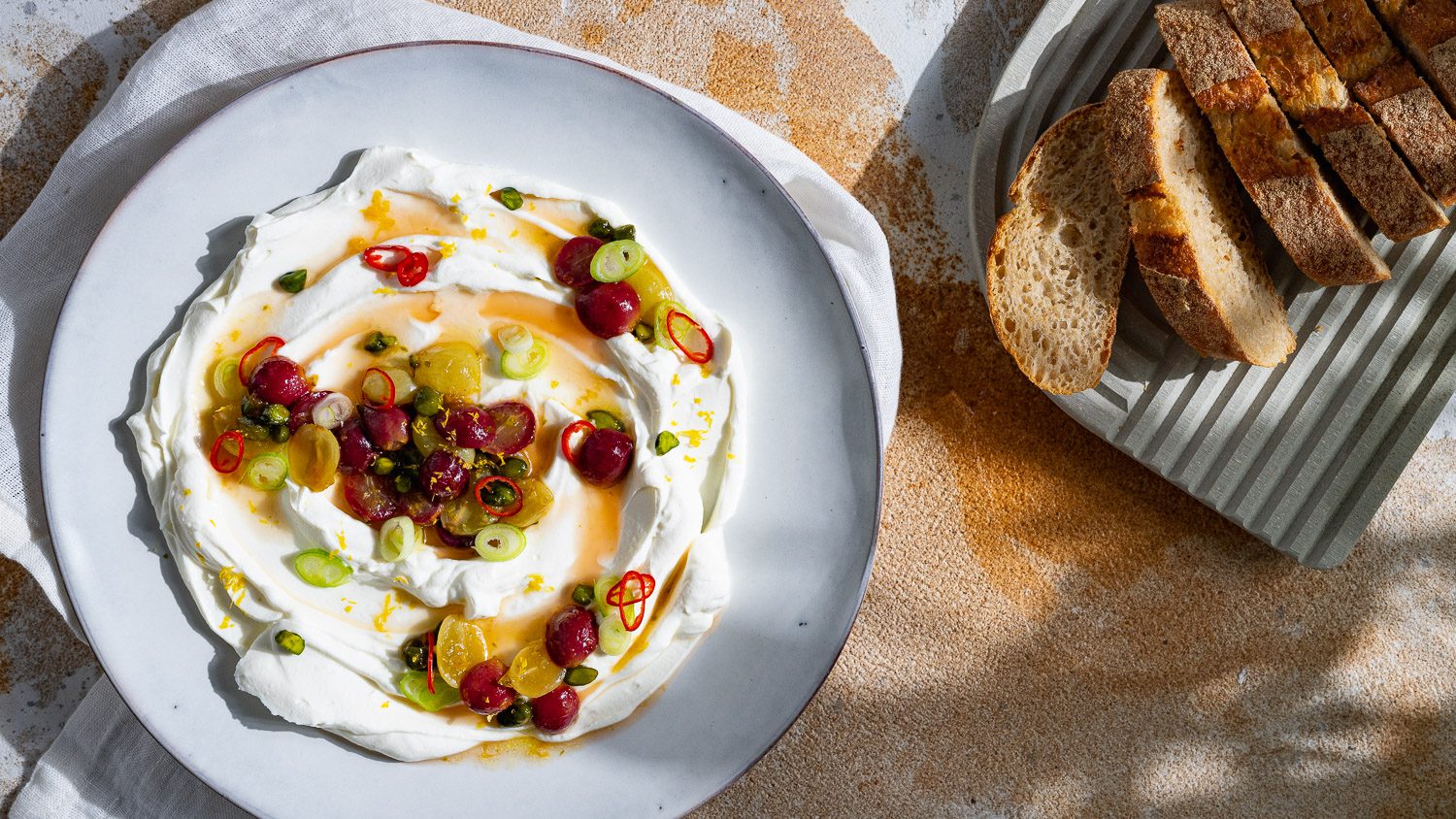 Print recipe
Save recipe
Saved!
Ingredients
Preparation
Prepare labneh according to recipe

Cut grapes in half lengthwise.

Lemon wash well, dry and grate the peel. 

Coarsely chop the pistachios.

Cut the spring onion into fine rings. 

Heat olive oil in a pan on medium heat and add the grapes and pistachios. Sauté everything for about 3 minutes.

Add grated lemon zest and honey and let caramelize for another 2 - 3 minutes while tossing.

Spread labneh on a plate and top with caramelized grapes. 

Then garnish the plate with the fine spring onions and optionally with some chili. Sprinkle with a pinch of salt flakes.

Serve with pita bread or crusty baguette. 
Notes
Recipe contains affiliate links. 
Nutritional values
Calories:
122
kcal
|
Carbohydrates:
15
g
|
Protein:
12
g
|
Fat:
3
g
|
Saturated Fat:
0.4
g
|
Polyunsaturated Fat:
1
g
|
Monounsaturated Fat:
1
g
|
Trans Fat:
0.01
g
|
Cholesterol:
5
mg
|
Sodium:
38
mg
|
Potassium:
297
mg
|
Fiber:
2
g
|
Sugar:
10
g
|
Vitamin A:
84
IU
|
Vitamin C:
16
mg
|
Calcium:
128
mg
|
Iron:
1
mg
Also be sure to try labneh with granola, labneh with stewed tomatoes, labneh with beet or labneh with crispy latkes.