Hummus Guacamole Style - The pinnacle of creaminess!
If you're into hummus and guacamole, your pupils will have jumped tenfold just reading the headline. If not, you'll feel the same way when you dive into this creamy dream of hummus and avocado. You won't be able to stop any time soon. Believe me, Hummus Guacamole Style is the most perfect fusion since creamy dips were invented!
Hummus and avocado: "Why didn't we meet before?"
I have firmly resolved not to write this text on an empty stomach. The stomach is full, I am actually full. Nevertheless, I'm sitting here shakily at my notebook while I'm writing and I WANT TO EAT THIS NOW! Ok, I'm going to take a deep breath and start all over again.
I've been spoon-fed hummus since I was a baby and I can't imagine my life without it. But why the hell didn't I discover this incredibly delicious fusion with avocado a few years earlier? Once again, it was my sister who dared to alter our sacred classic and draped an avocado on top. The faces were long, but when we tasted it, the eyes got big and happy.
Pretty tasty!
Hummus in itself is a feast for the eyes: creamy, spread with a spoon in a bowl and drizzled with olive oil, it's like a pretty picture I can't get enough of. But top it all off with diced avocado and some lime juice, chopped tomatoes, some coriander and a few sumac onions and you've turned one of the best Levant classics into an absolute fusion-mezze-artwork-spectacle-SCHRASTGLEICHAUS!
To add a little extra flavour, I highly recommend topping the plate with sesame seeds and black cumin. Serve with fresh pita bread or baguette for dipping, or go all out. I can't wait to see if you love hummus guacamole as much as I do 🙂
---
Recipe for Hummus Guacamole Style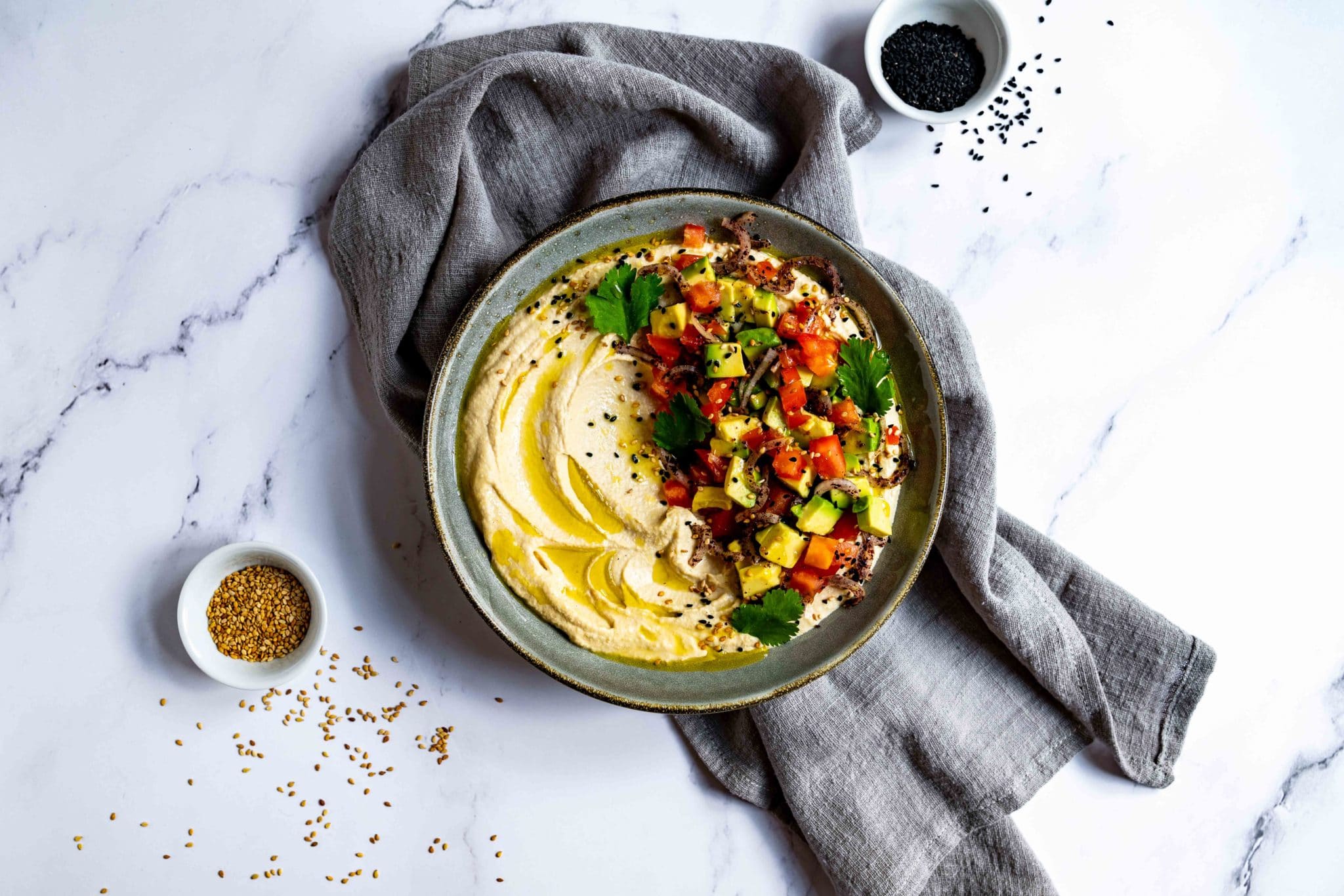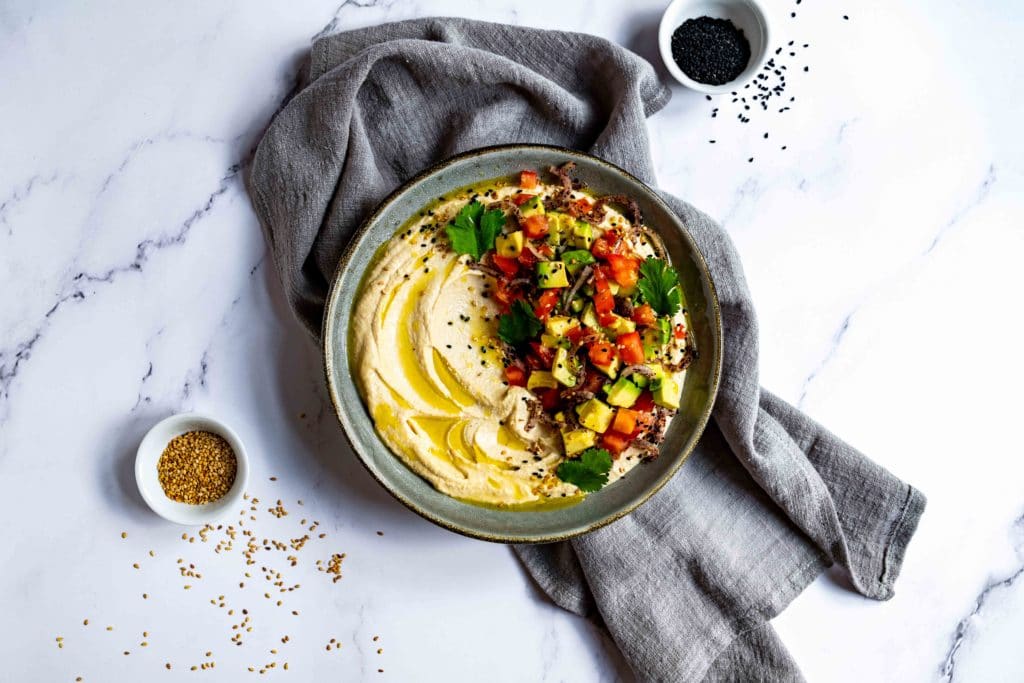 Print recipe
Preparation
Pit and peel the avocado, cut into cubes and mix with lime juice.

Cut the tomato into cubes.

Wash the coriander, remove the stems and roughly chop the leaves.

Peel the onion and cut into fine half-rings. Mix the half-rings with the sumac.

Spread the hummus on a large platter or small plates and top with avocado, tomatoes, sumac onions and coriander.

Garnish the Hummus Guacamole Style with sesame seeds, black cumin and olive oil and season with salt and pepper.
Notes
Recipe contains affiliate links. 
If you liked the recipe, I am very happy about a small tip. You are helping me to bring more great recipes to the blog. Thank you so much 🙂
Donate here: continue to Paypal
Also be sure to try hummus with roasted Brussels sprouts and hummus with mushrooms and sumac onions.