Hummus with minced meat and pine nuts
When I first posted this recipe, there was no real alternative for mince. Hummus with a deliciously savoury topping of minced meat, onions and pine nuts is an absolute Levant classic and can actually be found on every mezze. But there are now a whole range of minced alternatives that are, firstly, better for the climate and, secondly, don't have any animals on their consciences. I'm not vegan or vegetarian, but I try to use as many alternatives as possible. And quite honestly: for me personally, the new alternatives to minced meat make the original obsolete. And so the vegan hummus may remain vegan even with this fantastic topping.
Perfect as a mezze or even as a main course!
I know: as if you had to make hummus even better. As if you couldn't eat your fill of pure hummus as it is. But believe me, this topping is the absolute crowning glory! You can turn hummus into a real main course in no time at all. And you don't even have to plan much more time. Hummus with minced meat and pine nuts is a real filling dish with fresh pita bread. Of course, you can also divide it into several portions and share it with friends as a mezze starter.
For me, by the way, this dish is a real lifesaver. Especially after work, when my stomach is growling and nagging at me, I treat myself to a double portion of hummus with minced meat and pine nuts. I always have cooked chickpeas at home and hummus is really super quick to make. All that's missing is fried minced meat with onions, seasoned with a pinch of cinnamon. I then put that on top of the chickpea cream and top it all off with a good drizzle of olive oil - sometimes a lake of it. I don't need cutlery here, by the way. I eat everything with fresh pita bread and close my eyes with pleasure. For me, this is really good soul food.
- The original publication date of the post was 5 June 2016 -
---
Recipe for hummus with minced meat and pine nuts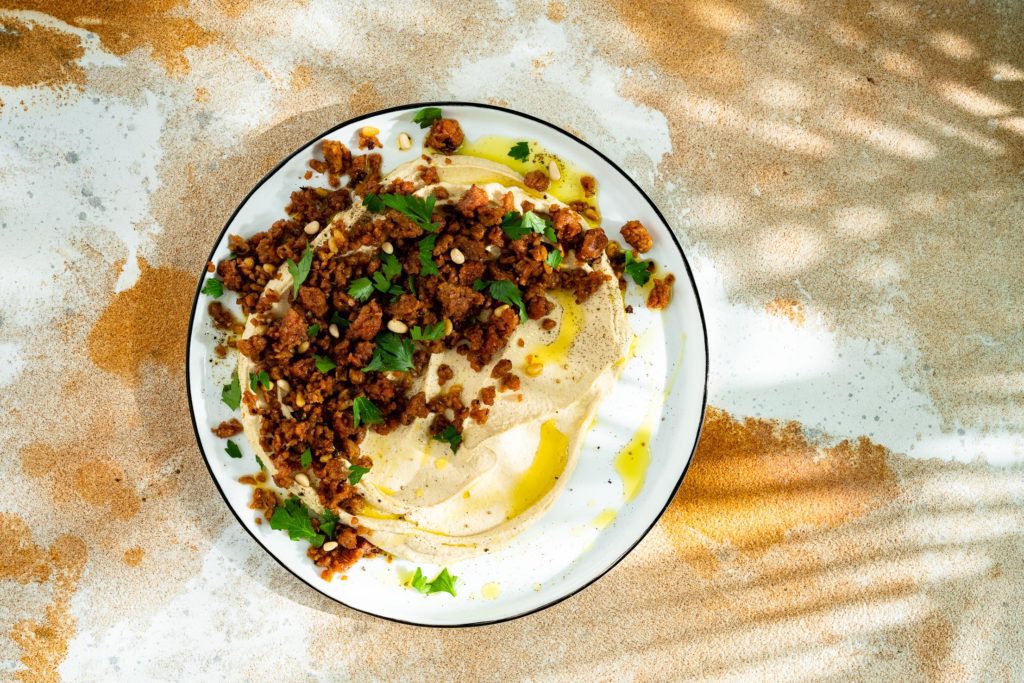 Print recipe
Ingredients
250

g

vegan minced meat (raw) or ground beef

1

Onion

5

TBSP

Olive oil

1/2

TSP

Cinnamon

15

g

Pine nuts

Salt, pepper

Olive oil for garnish
Preparation
Prepare the hummus according to the recipe.

Peel the onion, chop finely and fry with olive oil in a pan until translucent.

Add the minced meat to the onions and fry. Season the mince with salt, pepper and cinnamon.

Lightly toast the pine nuts in a small pan without oil and then add to the mince.

Divide the hummus between plates, top with the minced pine nut mixture and drizzle with a little olive oil to taste.

Serve with Lebanese pita bread.
Notes
*Recipe contains affiliate links. 
If you liked the recipe, I am very happy about a small tip. You are helping me to bring more great recipes to the blog. Thank you so much 🙂
Donate here: continue to Paypal
Also be sure to try hummus guacamole style, hummus with mushrooms or hummus with cauliflower.