Olive bread with halloumi
Crispy crust, soft and juicy crumb - that's how I like bread. And this aromatic olive bread not only meets the above requirements, but also contains all the culinary delights of the Levant. Well, not quite - but halloumi, olives and dried mint are at the top of the list of ingredients in Levantine cuisine. And from these ingredients we bake a Hellimli Bitta!
Halloumi - Cyprus cheese
Halloumi is the cheese for which Cyprus is known and loved around the world. For the olive bread from Cyprus called Hellimli Bitta, the cheese is indispensable! The squeaky cheese has been produced on the Mediterranean island since ancient times and is one of the most important exports, along with olives and citrus fruits. The white gold of the island can be made from the milk of cows, goats or sheep.
The ph value is higher than that of normal semi-hard cheese and is the reason why Halloumi does not melt. For this reason, it often ends up on our grill and is more commonly known here as grilled cheese. Note, however, that not every grilled cheese is a true halloumi! In addition, the ph value is responsible for the firm consistency of the cheese and also for the squeak. It gets its characteristic slit in the middle of the cheese wheel by folding before pressing.
The main features of good halloumi briefly summarized:
Halloumi is the culinary emblem of Cyprus (and at best you buy the original)
Halloumi is made from goat, sheep and/or cow milk.
Halloumi has an elastic texture and squeaks when chewed.
Halloumi does not melt at high heat due to the manufacturing process.
Halloumi has a slit in the middle due to the folding and pressing process.
Halloumi tastes spicy and is very salty.
Halloumi is not vegetarian because it is produced (like Parmesan) with the addition of rennet. However, there are now processes that do not require animal rennet.
Hellimli Bitta: Bake juicy olive bread
Now you know in any case what conditions should meet the halloumi for your olive bread. Besides halloumi, olives are an important ingredient. I recommend Kalamata olives, because they taste especially spicy and fruity. Since I like to save myself a few steps, I always buy the pitted ones. The third important ingredient is dried mint. Make sure the dried mint is of good quality so that it is also nicely aromatic.
Let's move on to the baking of the olive bread. The dough is quite moist and reminds a bit of focaccia, because it sticks easily to the hands. But also the technique: stretch, fold and fold in, reminds the preparation of the Italian classic.
After the olive bread is well folded and has had time to rise, it is sprinkled with sesame seeds and baked in a hot oven until crispy. Of course, it tastes best fresh from the oven! Just cut it into slices and serve it with some olive oil, labneh or za'atar butter.
Have fun baking and of course a good appetite.
---
Recipe for crispy and juicy olive bread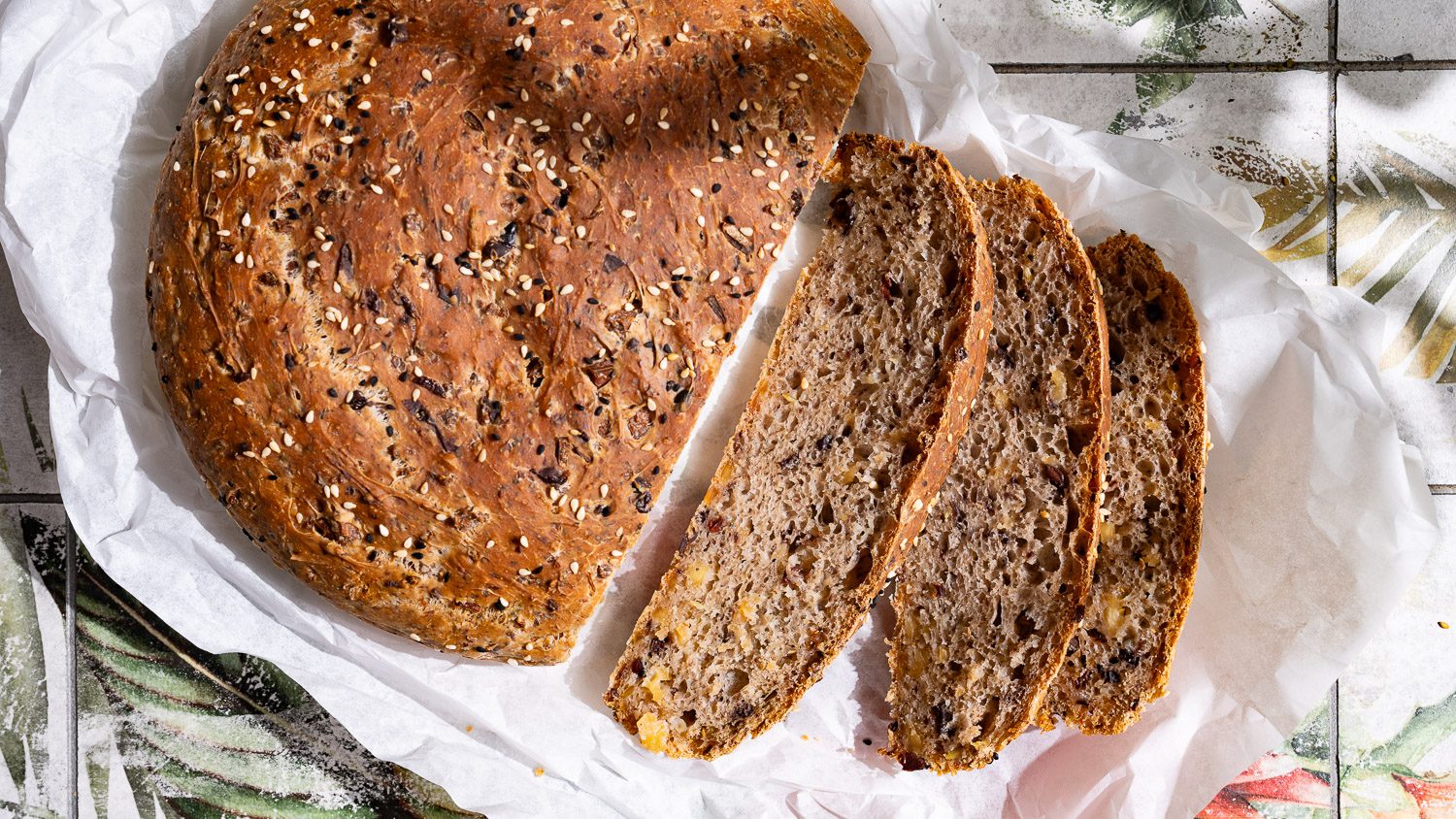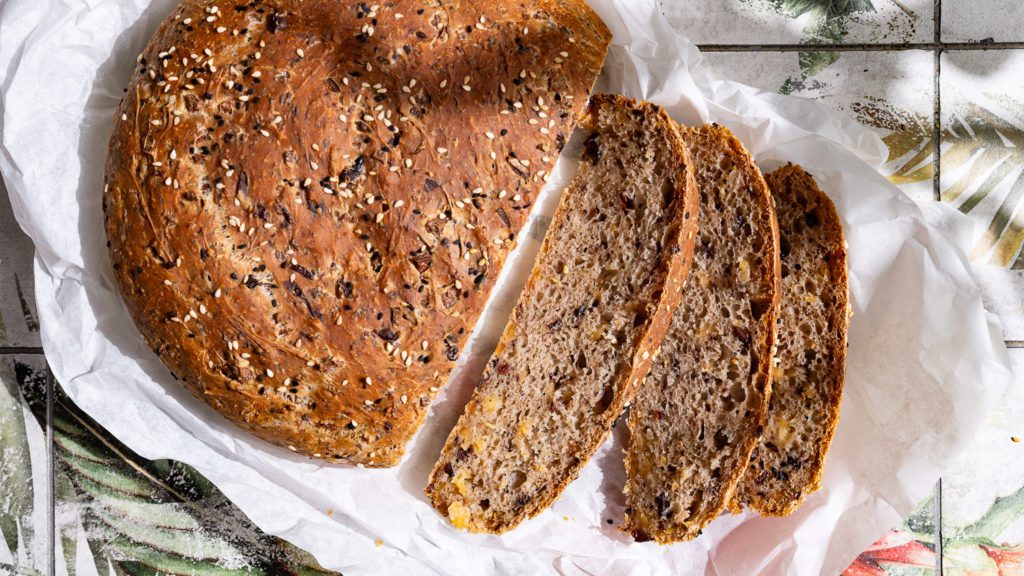 Print recipe
Save recipe
Saved!
Ingredients
7

g

Dry yeast

1

teaspoon

Sugar

180

ml

Water

250

g

Halloumi

180

g

Kalamata olives (pitted)

1

small onion

500

g

Wheat flour type 550

60

ml

Milk

1

teaspoon

Salt

3

teaspoon

dried mint

1

teaspoon

Sesame

1

teaspoon

Black cumin
Preparation
Dissolve yeast with sugar in the water and let it react for a few minutes.

Drain the halloumi and cut into cubes.

Drain olives and cut into rings or pieces.

Peel the onion and chop very finely.

Knead flour with yeast water, milk and salt to a smooth dough.

Add the halloumi, olives, onion and dried mint and knead. To do this, it is best to keep pulling, folding and folding the dough until all the pieces are distributed in the dough. The addition of the last ingredients makes the dough a little moister and a little sticky.

Cover dough with a kitchen towel and let rise in a warm place for about 1 hour.

Preheat oven to 175 °C top/bottom heat.

Line springform pan with baking paper and grease sides.

Pour the dough into the springform pan, sprinkle with sesame seeds and black cumin and bake in the oven for about 60 minutes until crisp.

Depending on the oven, the olive bread may need a few minutes more or less until it is ready. Therefore, do the chopstick test: Insert a thin wooden chopstick into the bread - if dough sticks to it when you pull it out, the bread still needs a bit. If no dough sticks to the stick, it is ready.

Olive bread is best enjoyed still warm.
Notes
Recipe contains affiliate links.
Nutritional values
Calories:
2996
kcal
|
Carbohydrates:
410
g
|
Protein:
116
g
|
Fat:
98
g
|
Saturated Fat:
48
g
|
Polyunsaturated Fat:
7
g
|
Monounsaturated Fat:
37
g
|
Cholesterol:
7
mg
|
Sodium:
6257
mg
|
Potassium:
998
mg
|
Fiber:
25
g
|
Sugar:
12
g
|
Vitamin A:
1127
IU
|
Vitamin C:
8
mg
|
Calcium:
2842
mg
|
Iron:
27
mg
---
Do you want to bake more savory? Then be sure to try the pide with eggplant or babka with feta.