Halloumi pita with grilled vegetables and yogurt sauce
Such a freshly filled pita bread is always a really good thing. Meat does not always have to play a role. It also goes meat-free and still with a lot of flavor! Like this Halloumi Pita with grilled vegetables and creamy yogurt sauce. The recipe is simple and quick to make.
Halloumi pita gyros style
As soon as you hold the Halloumi Pita in your hand and sink your face into it, a happy smile is guaranteed to spread. Make sure you have some napkins ready, because it could be a bit of a mess.
I love halloumi! You can just make so many delicious things with the grilled cheese. He does not melt and thus always retains a relatively solid form. So I had the idea to make a kind of spicy gyros pan.
You don't need many ingredients for this:
Halloumi
Onions
Olive oil
Paprika powder
Oregano
Chili
Rosemary
Salt and pepper
In the recipe card you will of course find the quantities and instructions on how to easily prepare the Halloumi Pita. Basically, you just have to cut the halloumi into small slices and fry them with onion and spices in a pan. And that's it.
Grilled vegetables and yogurt sauce
In order for the pita pocket with halloumi to be really juicy and delicious, I recommend grilling some vegetables in any case. You can either do this quickly on the grill or simply in the pan. With the vegetables you can also let off steam and just take what you just feel like or what you just have there.
Examples of grilled vegetables:
Courgette
Paprika
Aubergine
Fennel
Tomatoes
I opted for zucchini and bell peppers for my halloumi pita.
The delicious yogurt sauce is ready in no time. Simply stir some dried mint into the yogurt and season with salt and pepper. Of course, you can also add some garlic or use a completely different sauce - for example, the delicious mango curry sauce or hummus.
Pita bread and filling
What would be such a stuffed pita bag without just the delicious pita bread. A recipe for it I have of course directly supplied. If you want to enjoy your Halloumi Pita particularly quickly or you do not want to bake your own pita bread yourself, you can of course use bread from the supermarket or from the bakery.
However, I think that it simply tastes better baked by yourself. To fill it, just stuff a portion of the fried halloumi into the bread, then spread the grilled vegetables on top and add a good dollop of yogurt sauce.
Then it's: face in and enjoy! I wish you a lot of fun trying and of course a good appetite!
---
Recipe for Halloumi Pita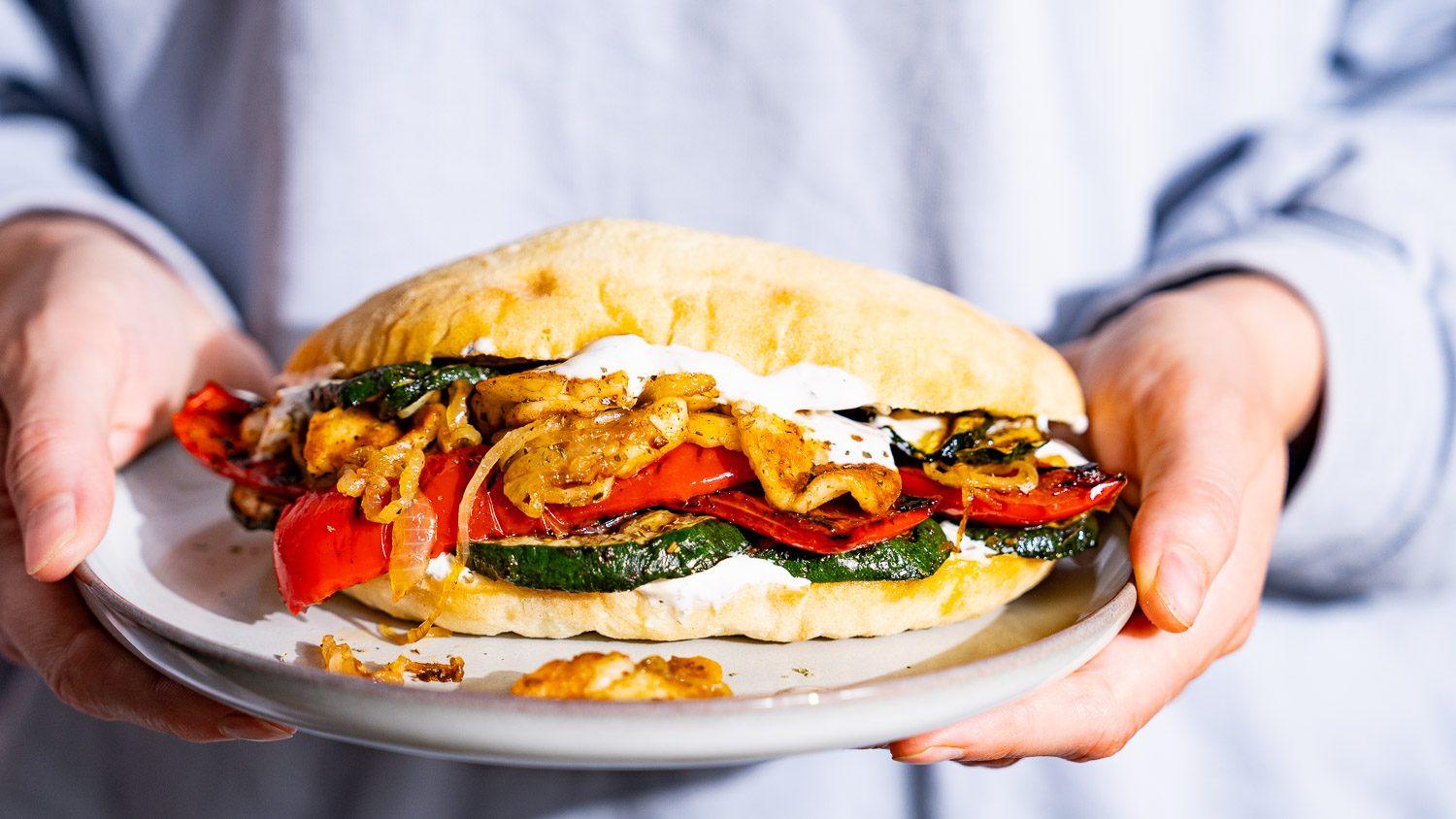 Print recipe
Save recipe
Saved!
Ingredients
Preparation
Preparation pita
Prepare pita dough according to recipe and bake. (Alternatively buy ready-made)
Preparation grilled vegetables
Wash zucchini and bell bell pepper. Cut zucchini into thick slices and peppers lengthwise into thick strips.

Mix vegetables with oil and herbs in a bowl and season with salt and pepper.

Grill vegetables in a skillet or on the grill for 4-5 minutes on each side, until vegetables have developed toasting streaks. Set aside.
Preparation halloumi
Halve halloumi lengthwise and cut into slices.

Mix the halloumi slices with the spices and half of the oil.

Peel the onions and garlic. Cut the onions into rings and finely chop the garlic.

Heat the remaining oil in a frying pan and sauté the onions and garlic for 5 minutes over medium heat until lightly browned.

Add halloumi and fry for about 3 minutes.
Preparation yogurt mint sauce
Mix yogurt with dried mint and season with salt and pepper. You can also refine the sauce with a drop of olive oil and a squeeze of lemon juice.
Halloumi pita assemble
Spread pita bread with yogurt-mint sauce and fill with grilled vegetables, halloumi and braised onions. A few fresh herbs such as parsley or mint also fit perfectly into the bread pocket.
Notes
Recipe contains affiliate links.
Nutritional values
Calories:
459
kcal
|
Carbohydrates:
40
g
|
Protein:
26
g
|
Fat:
22
g
|
Saturated Fat:
12
g
|
Polyunsaturated Fat:
1
g
|
Monounsaturated Fat:
8
g
|
Trans Fat:
0.003
g
|
Cholesterol:
3
mg
|
Sodium:
863
mg
|
Potassium:
612
mg
|
Fiber:
5
g
|
Sugar:
10
g
|
Vitamin A:
2206
IU
|
Vitamin C:
98
mg
|
Calcium:
752
mg
|
Iron:
3
mg