Potato Kibbeh - Kibbet Batata
Small juicy croquettes of potatoes with an ultra delicious filling of sautéed onions and pine nuts. This is potato kibbeh! At least in its croquette form. In fact, kibbeh is incredibly versatile and can be prepared and enjoyed in a number of different ways. But let's start at the very beginning ...
Kibbeh? What is that actually?
If you already know my blog and regularly treat yourself to delicious recipes here, then you may have already come across the classic Kibbeh recipe. Since Kibbeh is very versatile and therefore has many faces, I'm talking now about the croquette form, which you also see in the photo. Kibbeh is an absolute classic of oriental cuisine, especially in the cuisine of the Levant.
Kibbeh always consists of a dough of fine bulgur + X. The X you can then replace with, for example, potatoes, pumpkin, lentils or as it is in the classic and most famous variant: meat. In the potato kibbeh, however, cooked boiled potatoes are mixed with fine bulgur and spices to a dough, which is then the outer shell of the croquettes.
The ingredients for the dough of potato kibbeh are
Potatoes: Here you should go for mainly waxy potatoes.
Fine Bulgur: Bulgur is a shredded wheat that you can get in various grains. The fine bulgur is also known as wheat groats.
Basil: Brings its distinctive flavor and aroma.
Spices: For my recipe you need cumin, cinnamon, allspice, nutmeg and salt and pepper.
Any type of kibbeh can be easily spread on a plate after the dough is ready, and olive oil can be poured over it - including potato kibbeh. You can then enjoy this delicacy directly with pita bread. On a mezze table, where you serve many small plates (as with tapas), kibbeh is often served as a croquette. And these croquettes are deliciously filled.
A delicious filling of onions and pine nuts
In the original kibbeh, the filling is ground meat with onions, spices and pine nuts. For this vegan potato kibbeh, we fill it with really tasty olive oil roasted onions and pine nuts and a good dose of the tart and tangy spice Sumac.
With this oniony mixture as a filling, the potato kibbeh are then stuffed and shaped into their typical almost diamond-like shape. How exactly you can do this, I describe below directly in the recipe card. Although the first two or three potato kibbeh croquettes may not turn out quite so perfect, with a little practice you're sure to get it just fine. Otherwise, just roll them into balls - they'll taste great no matter what shape you put them in.
After you have formed the potato kibbeh, you only have to deep-fry them briefly in hot oil until golden brown. They are then deliciously crispy on the outside and nice and juicy on the inside.
Prepare and enjoy later
Potato kibbeh croquettes you can of course prepare a day in advance and fry them just before eating. I recommend that you always serve and eat kibbeh fresh right after frying, because that's when they taste best.
In case you have some of the little things left over, you can also freeze them. But make sure that you first put the small croquettes (e.g. on a plate) next to each other for one hour in the freezer and only afterwards in a freezer bag. This way you avoid that the potato kibbeh stick to each other while freezing. Frozen, the stuffed croquettes will keep for about 6 months.
After defrosting, you should bake them again in the oven or just deep fry them again for a short time. Even if Kibbet Batatahow this type Kibbeh in Arabic, are also delicious solo, the stuffed croquettes go perfectly with Tabouleh, Hummus and Labneh. But no matter what you serve this delicacy, it will be really delicious in any case! Bon appetite!
---
Recipe for potato kibbeh - Kibbet Batata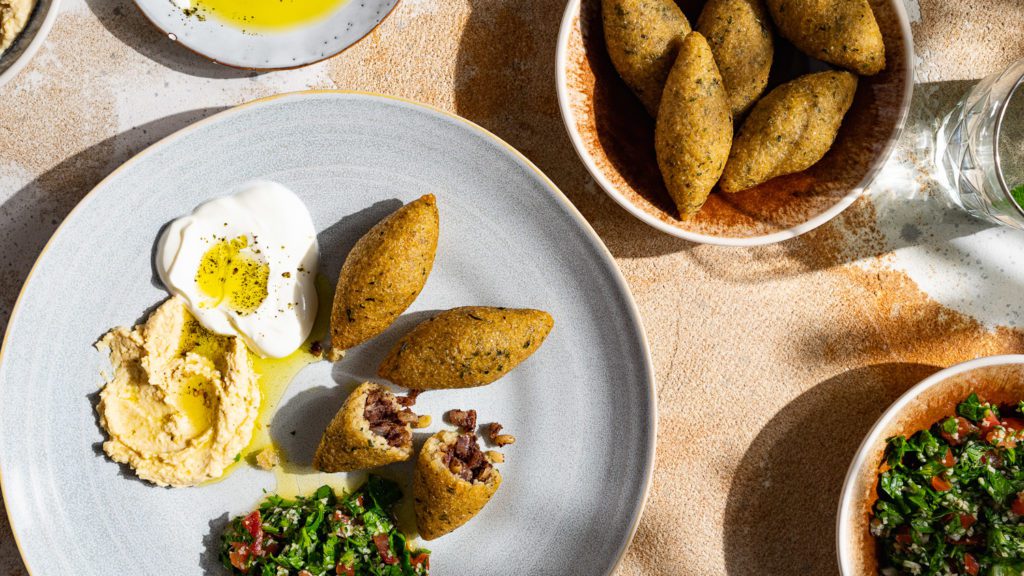 Print recipe
Save recipe
Saved!
Ingredients
Kibbeh dough
150

g

Potatoes (mainly waxy)

90

g

fine bulgur

75

ml

lukewarm water

1/2

teaspoon

Cumin

1/4

teaspoon

Cinnamon

1/4

teaspoon

Allspice

1/8

teaspoon

Nutmeg

7

g

Basil

Salt, pepper
Preparation
Kibbeh dough
Peel and chop potatoes and cook in boiling salted water until tender.

Drain potatoes and allow to steam. Finely chop the basil.

Soak bulgur with warm water for about 5 minutes and then mix with the spices.

Mash the potatoes, add to the bulgur with the basil and knead into a dough with your hands.
Kibbeh filling
Peel and dice the onions.

Heat olive oil in a frying pan on medium heat and fry the onions in it for about 5 minutes.

Add sumac, cinnamon and pine nuts, mix and season with salt and pepper.
Shape kibbeh
To shape the potato kibbeh croquettes, fill a small bowl with cold water. Keep moistening your hands with the water while shaping.

Form about 40g of the dough into a ball in your hand and flatten it as much as possible in the palm of your hand. The thinner the dough, the juicier the croquettes will be afterwards. 

In the middle of the dough put about 1 teaspoon of filling and close the dough around the filling. To do this, first roughly close and then close any cracks. To do this, moisten fingers with a little water and rub the surface. The surface of the dough will become smoother and more pliable for molding. 

You now have a closed kibbeh croquette. Next, shape this croquette so that the ball gets two tips. To do this, moisten your hands with water again and again.

Repeat this until no dough and filling is left. 
Kibbeh croquettes deep fry
Heat sunflower or rapeseed oil in a deep fryer or pot to approx. 175 °C and deep-fry the Kibbeh croquettes in it for approx. 7 - 8 minutes until golden brown and crispy on all sides. 

Remove kibbeh from oil and drain. Serve kibbeh while still warm. (Caution: Directly from the deep fryer, the filling is still extremely hot!)
Notes
Recipe contains affiliate links.
Nutritional values
Calories:
64
kcal
|
Carbohydrates:
12
g
|
Protein:
2
g
|
Fat:
1
g
|
Saturated Fat:
0.1
g
|
Polyunsaturated Fat:
1
g
|
Monounsaturated Fat:
0.5
g
|
Sodium:
4
mg
|
Potassium:
144
mg
|
Fiber:
2
g
|
Sugar:
1
g
|
Vitamin A:
40
IU
|
Vitamin C:
5
mg
|
Calcium:
13
mg
|
Iron:
1
mg
Also try the salad with toasted pita bread or the delicious tomato salsa with mint.