Hummus with roasted Brussels sprouts and sumac-mint dressing
There are simply dishes that are true classics, and rightly so. For me, hummus is definitely one of them. Hardly anything makes me happier than dipping a piece of fresh pita bread in warm, creamy hummus. So the chickpea cream alone is enough to send me into raptures. A real strength of the cream is that it can form highly delicious symbioses with other dishes. Like this fusion: hummus with roasted Brussels sprouts and a wonderfully aromatic dressing of fresh mint and tangy sumac.
Hummus with roasted Brussels sprouts is a stunner!
When I bought a net of Brussels sprouts the other day, I already knew what I wanted to do with them. Roast them in the oven with a little olive oil to get the full flavour of the mini sprouts. I also like it cooked, but unfortunately the cabbage loses some of its flavour for me.
By the way, when I'm shopping, I often get the ideas that I would like to or could cook later. So I knew right away while shopping that I definitely wanted to top freshly made hummus with the Brussels sprouts. I had actually never tried the combination before, but it all came together quite well in my head. But there was still one small, important component missing: a dressing.
A little acidity & a little freshness: sumac and mint go perfectly together
In terms of taste, I already knew the combination of mint and sumac from the classic salad fattoush, of course. So I mixed together sumac, lemon juice, fresh mint, some chopped onion and a good amount of olive oil and poured it over the plate with the hummus and roasted Brussels sprouts and lo and behold, the fusion is perfect.
So when you take in a bit of everything with a piece of pita bread, your palate has a real party first! It all comes together: The creaminess of the hummus, the subtle roasted flavours of the Brussels sprouts and the fresh tangy dressing. I actually ate the plate as a main course. But you can also consider serving the vegan dish in small bowls as a mezze.
---
Recipe for hummus with roasted Brussels sprouts and sumac-mint dressing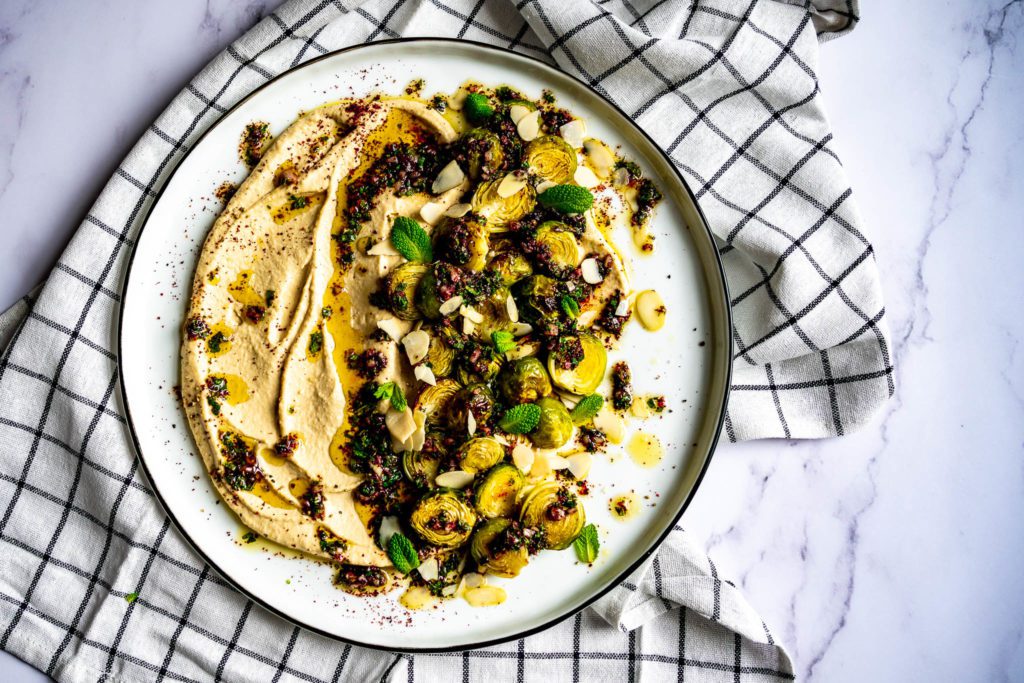 Print recipe
Ingredients
Roasted Brussels sprouts
500

g

Brussels sprouts

1

El

Olive oil

1

pinch

Sugar

1

pinch

Salt
Preparation
Brussels sprouts
Preheat the oven to 180 °C convection oven and line a baking tray with baking paper.

Clean the Brussels sprouts: Cut off the stalk and remove the outer leaves.

Halve the Brussels sprouts and mix with sugar, salt and olive oil.

Lay out the Brussels sprouts on the prepared baking tray and roast in the preheated oven for approx. 15 - 17 minutes.
Dressing
Finely chop the mint and mix with the remaining ingredients for the dressing.
Sideboards
Divide the hummus between plates / bowls, top with roasted Brussels sprouts, drizzle with the dressing and garnish with almonds.
Notes
*Recipe contains affiliate links. 
If you liked the recipe, I am very happy about a small tip. You are helping me to bring more great recipes to the blog. Thank you so much 🙂
Donate here: continue to Paypal
Also try baba ghanoush.