Falafel croutons on a colourful salad with Medjool dates
For me, salad is not just a side dish to any meal. Okay, if I make myself fat fried potatoes and fried eggs and fry the whole thing in butter, then a small side salad is a must for my conscience. Otherwise I won't be able to look at myself in the mirror. Anyway, a proper salad that is really rich, tasty and doesn't tolerate any rivals has to be topped off properly! And nothing is better than crispy falafel croutons and sweet Medjool dates.
Falafel Croutons: Simply perfect to top any salad
You knowfalafel for sure. The small, crispy things made of chickpeas and fresh herbs and spices are an absolute classic when you think of Levantine cuisine. Besides shawarma(vegan versions are also available) and sabich, a delicious falafel wrap is the best street food from the Levant.
But do you already know falafel croutons?
I had the idea one day when I had a little bit of falafel dough left over, but it wasn't enough for a whole meatball. I simply plucked the dough into small pieces with my fingers and threw them into the hot oil (be careful!). And what can I say? Tastes just as good, but crunches a bit more than the big falafel. A salad was needed that was worthy of being topped with the falafel croutons. For the croutons, however, I changed the original recipe very slightly and added some sesame seeds, for example.
Salad must be lush!
Salad can be so much more than just a side dish. I decided to use a colourful salad, because it has everything: young lettuce leaves, beetroot leaves, baby spinach, etc. And then there's no need for the annoying chopping 😉 I like it.
Then, of course, my much-loved sumac onions had to go in. I also threw the following into the salad bowl:
Cherry tomatoes
Cucumber
Pomegranate seeds
Fresh herbs, such as mint and parsley
roasted almonds
Medjool dates
All the ingredients give the salad volume and a lot of flavour. The Medjool dates offer an incredible contrast to the crunchy falafel croutons in the mouth. First they are crunchy, then crispy and then soft and sweet. The tahini dressing is really "just" the icing on the cake.
---
Recipe for falafel croutons on a colourful salad with Medjool dates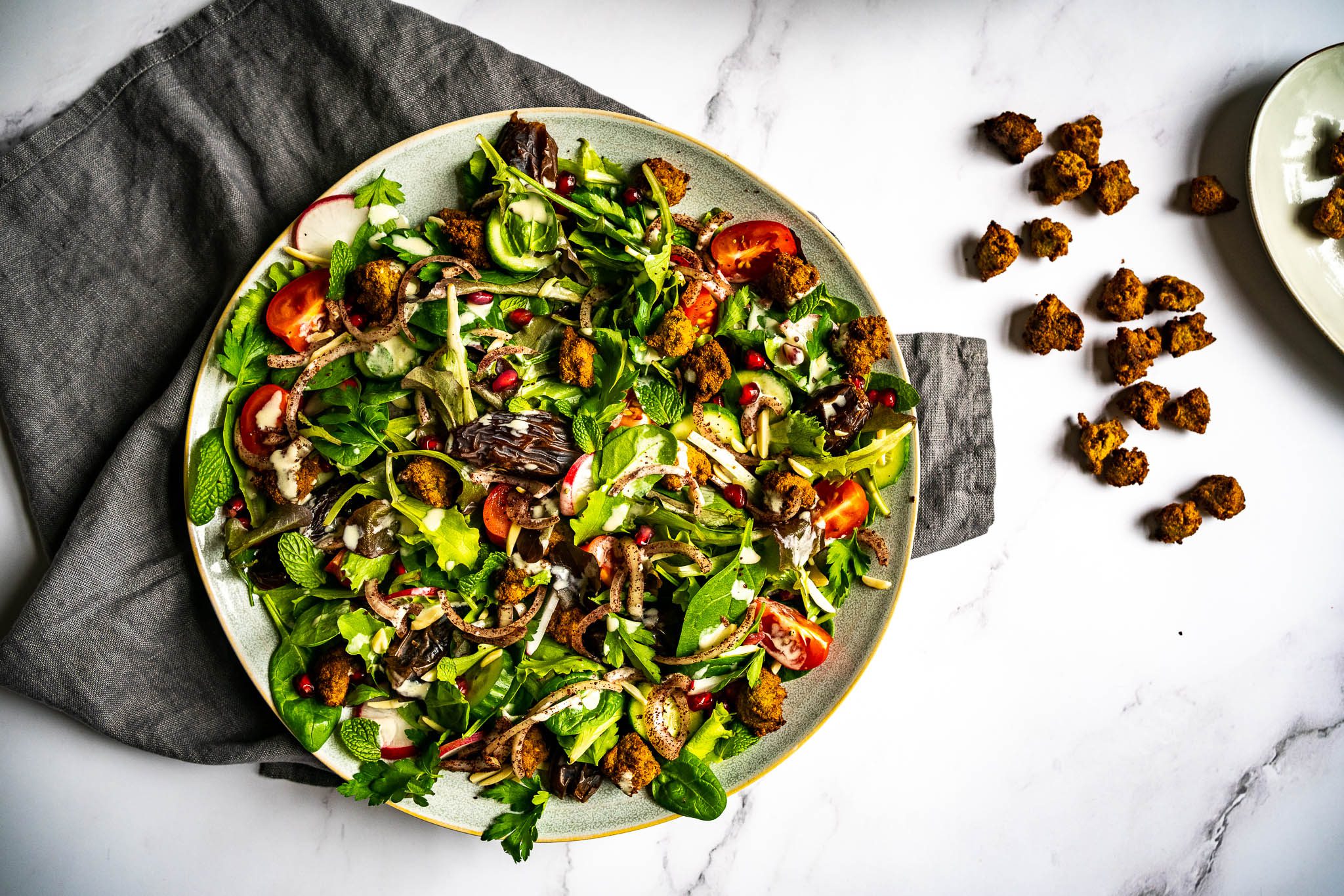 Print recipe
Ingredients
For the falafel croutons
100

g

dried chickpeas

5

g

Parsley

5

g

Coriander

1

TL

Sesame

1/2

Shallot

1

Pinch

Cumin

1/2

TSP

Salt

500

ml

Rapeseed oil for frying
For the colourful salad
200

g

mixed pluck lettuce

150

g

Medjool dates

40

g

Pomegranate seeds

1/4

Cucumber

6

Cherry tomatoes

3

Radish

1

Handful

Mint

1

Handful

Parsley

1

Onion

1

TL

Sumac

sliced almonds

roasted
Preparation
Prepare the falafel croutons
Soak dried chickpeas in water for at least 12 hours.

Peel and roughly chop the shallot.

Mix all the ingredients for the falafel croutons with a hand blender to a dough and mix again briefly with a spoon.

Heat the oil in a small saucepan, deep frying pan or deep fryer to approx. 165 °C.

Pull the falafel by hand into small croutons. (These do not have to look even).

Fry the falafel croutons briefly (approx. 20 - 30 seconds) in the oil and then place on a plate lined with kitchen paper to drain.
Prepare dressing
Mix all the ingredients for the dressing together and season with salt and pepper.
Arrange salad
Peel the onion, cut into rings and mix with the sumac.

Core dates if necessary and cut into bite-sized pieces and mix with sumac onions.

Cut and prepare salad and vegetables as desired and mix with dressing.

Garnish the salad with dates, pomegranate seeds, cassava and falafel croutons.
Notes
Recipe contains affiliate links. 
If you liked the recipe, I am very happy about a small tip. You are helping me to bring more great recipes to the blog. Thank you so much 🙂
Donate here: continue to Paypal
If you want to learn more about Levantine cuisine, check out my Levant guide.