Pistachio ice cream | How to make it yourself
In the ice cream parlor, there is usually one type of ice cream that I really always order: pistachio ice cream! Sometimes it tastes quite ok, sometimes so really good. In Düsseldorf, I have now found an ice cream parlor where I get the almost perfect pistachio ice cream - almost, because I have not made it myself - haha! Thereby, make ice cream yourself is really quite simple and goes quickly!
Make your own ice cream: The balance must be right!
Making your own ice cream is not really a big deal. Once you have found your personal basic recipe, you can easily vary it to your heart's content and get really creative. That's how my pistachio ice cream came about.
What I didn't know before is that really good ice cream requires a so-called "ice cream balancing". I do not want to complicate it unnecessarily now and can tell you very roughly that this is about the perfect composition of all ingredients of ice cream.
Then it's all about questions like "How much sugar should I use?", "How much cream?". If everything fits together, you've not only made really good pistachio ice cream, but you've also achieved a really creamy consistency.
The full power pistachio flavor!
What was particularly important to me, in addition to the creaminess, is the full flavor of the pistachios. For this I have not simply ground a handful of pistachios and stirred into the ice cream mixture of whole milk, cream, egg yolk and sugar. Instead, I opted for really fine pistachio puree for my pistachio ice cream.
Yes, pistachio puree is not necessarily the cheapest ingredient. Finally, good pistachio puree is obtained from 100% pistachios and these are not cheap. But I can really tell you: It's worth it! The taste is so incredibly delicious and intense! In the recipe I have linked my favorite mush - if you need a tip.
If you're ever in the mood for some really tasty tahini ice cream, check it out here: To the recipe
Once you have the base for your pistachio ice cream, mix in the pistachio puree and put everything into the ice cream maker, which will do the rest of the work for you. If you like, you can add finely salted pistachios as a topping to your ice cream - delicious! Enjoy your meal!
---
Recipe for pistachio ice cream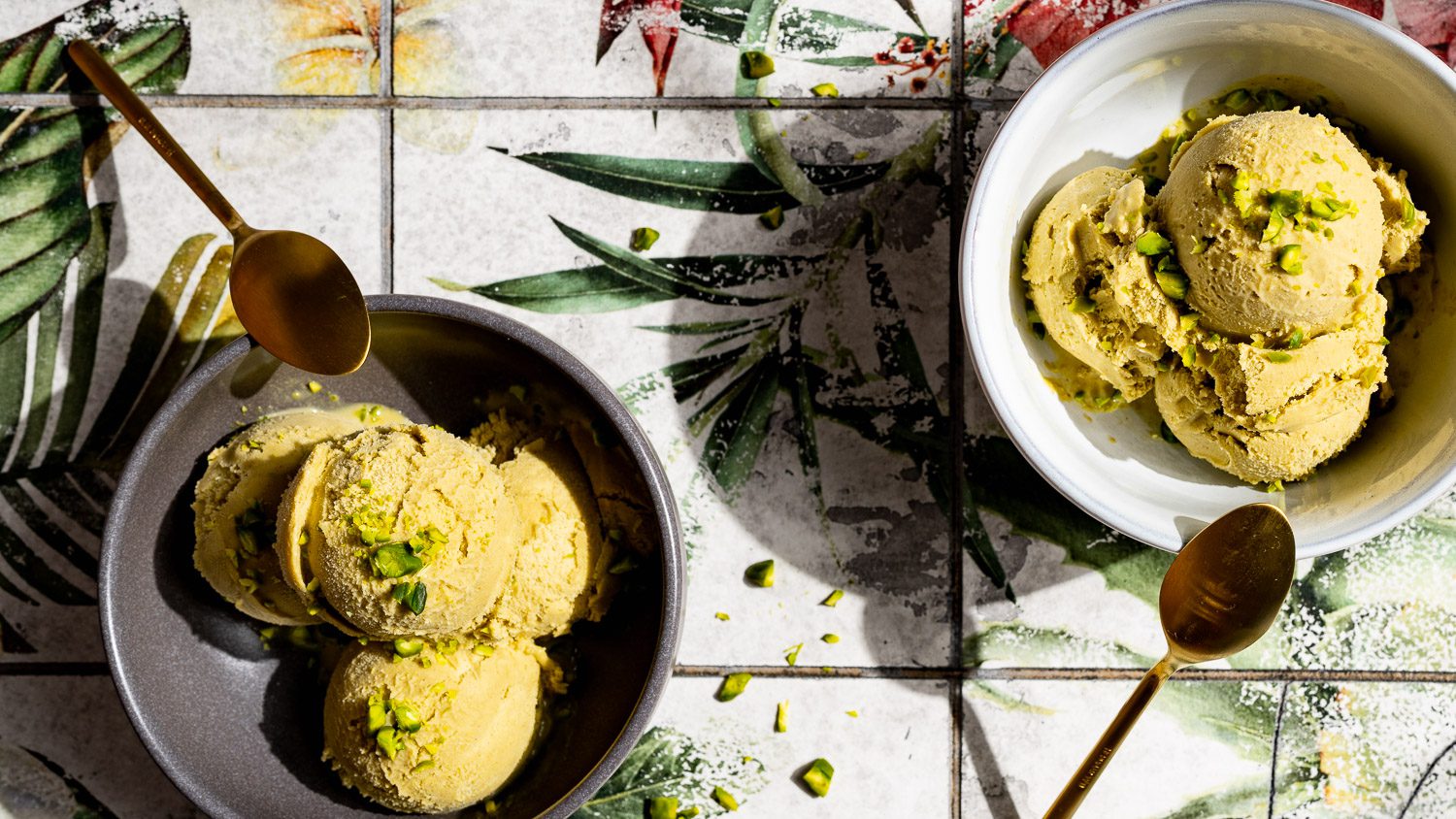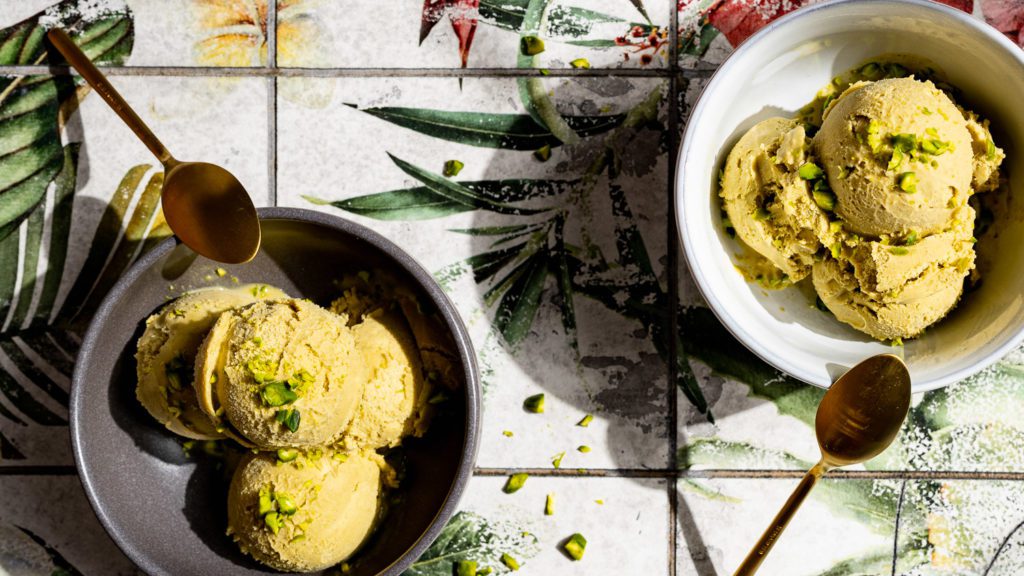 Print recipe
Save recipe
Saved!
Ingredients
2

Egg yolk

170

g

Sugar

500

ml

Whole milk

200

ml

Cream

150

g

Pistachio puree

20

g

chopped pistachios
Preparation
Beat egg yolks with 1 tablespoon sugar in a bowl until creamy.

Gently heat the milk and cream with the remaining sugar in a saucepan until the sugar has dissolved and the milk mixture has become warm (not hot).

Place the egg yolk mixture on a water bath and stir in the milk mixture in a thin stream.

Heat the ice cream mixture over medium heat, stirring, until it starts to steam. However, the mass should not boil, just a little tighten.

Remove the ice cream mixture from the heat, allow to cool slightly and stir in the pistachio puree. 

Allow ice cream mixture to cool to room temperature and place in ice cream maker for about 60 minutes.

For a firmer consistency, you can put the pistachio ice cream in an ice cream container and put it in the freezer for a few hours.

Garnish pistachio ice cream with chopped pistachios and serve.
Notes
Recipe contains affiliate links.
Nutritional values
Calories:
114
kcal
|
Carbohydrates:
10
g
|
Protein:
3
g
|
Fat:
7
g
|
Saturated Fat:
3
g
|
Polyunsaturated Fat:
1
g
|
Monounsaturated Fat:
3
g
|
Cholesterol:
28
mg
|
Sodium:
12
mg
|
Potassium:
114
mg
|
Fiber:
1
g
|
Sugar:
9
g
|
Vitamin A:
198
IU
|
Vitamin C:
0.3
mg
|
Calcium:
42
mg
|
Iron:
0.3
mg
Also try the fluffy cinnamon buns, delicious baklava or chocolate mousse with pimento.