Harissa Carbonara is my new highlight! I have already tested all variations: Spaghetti Carbonara - the original and also with cream, Kimchi Carbonara, Mushroom Carbonara or Miso Carbonara. As you may just notice, I am a real carbonara fan. So it was clear that I also absolutely have to create a version with the influence of Levant.
Harissa and Sucuk - the taste of the Levant
And what do they cook with in the Levant? Harissa can be found in many recipes and Sucuk is also the sausage of the Middle East. Maybe you've already tried my Harissa Fried Chicken or Rafik's Sucuk Hot Dog and got a taste for it? Not yet? Good, then try this deliciously spicy Harissa Carbonara with Sucuk right away.
Since the Levant is a region spread across several countries, there are also different harissa pastes and sucuk sausages. Try your hand at it - for example, I like a softer sucuk that's not quite as garlicky, but I like a stronger harissa paste that tastes nice and smoky.
The secret of a good carbonara
For the harissa carbonara, harissa, sucuk, pecorino and especially fresh eggs are the essential ingredients for good taste. Always take fresh organic eggs, they also have a deeper, more orange yolk, and test beforehand if they are still good or not. To do this, fill a bowl with water and put the egg in it. If it stays at the bottom, it is fresh - if it floats to the top, you should not use it anymore.
When you have mixed the pasta with the harissa and sucuk, make sure the flame is off. If the pasta is too hot, the egg will set as soon as you add it to the pan. I usually make the carbonara as a team: one person stirs the pasta while the other carefully pours in the egg-cheese mixture.
And in pairs it tastes twice as delicious. Enjoy the Harissa Carbonara - bon appétit.
---
Recipe for Harissa Carbonara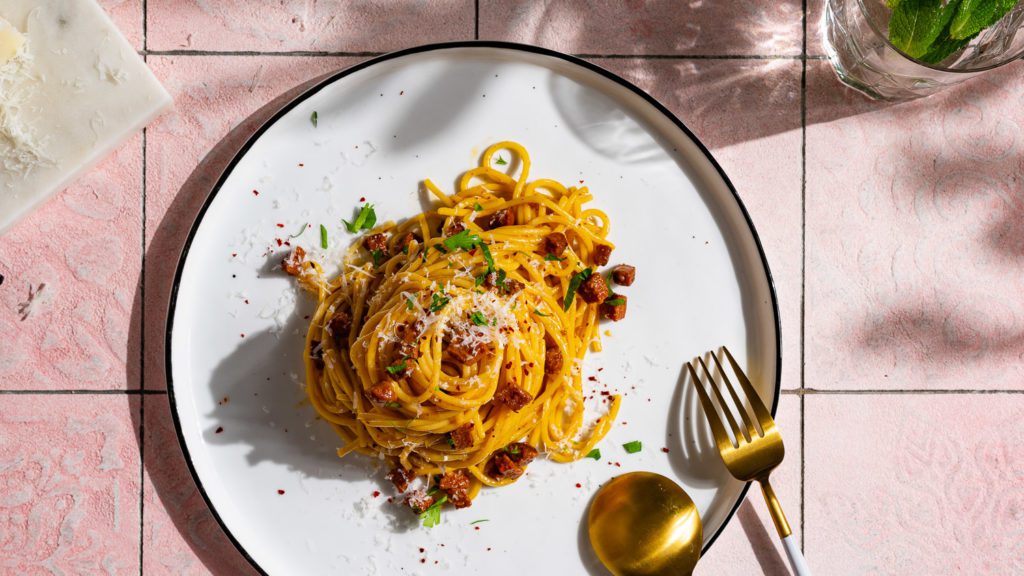 Print recipe
Save recipe
Saved!
Ingredients
For the pasta
400

g

Spaghetti

250

g

Sucuk sausages

3

teaspoon

Harissa

4

Egg yolk

80

g

Pecorino

100

ml

Pasta water

Salt
For garnishing
4

Tablespoon

Pecorino

4

stalks

chopped parsley

4

Pinches

Chili
Preparation
Peel the sucuk and cut into small cubes.

Grate the pecorino. A little more for garnish if desired.

Cook spaghetti in bubbling salted water according to package directions.

Heat a frying pan and let sucuk in it over low heat for about 5 minutes.

Add the harissa paste, turn the heat up a bit and fry the sucuk for about 3 minutes until crispy on all sides. Then turn off the heat.

Whisk egg yolks and pecorino in a small bowl.

Add spaghetti directly from the pasta pot to the sucuk pan and stir.

Add egg-cheese mixture to pan and stir (it's best to stir while you're still adding the mixture to the pasta).

Stir in the pasta water until the Harissa Carbonara is creamy. Add the pasta water gradually so that the sauce does not become too liquid.

Season the Harissa Carbonara with salt, add more seasoning if necessary and garnish with pecorino, parsley and chili flakes as desired.
Notes
Recipe contains affiliate links.
Nutritional values
Calories:
615
kcal
|
Carbohydrates:
77
g
|
Protein:
28
g
|
Fat:
20
g
|
Saturated Fat:
11
g
|
Polyunsaturated Fat:
2
g
|
Monounsaturated Fat:
4
g
|
Cholesterol:
260
mg
|
Sodium:
296
mg
|
Potassium:
288
mg
|
Fiber:
4
g
|
Sugar:
3
g
|
Vitamin A:
1047
IU
|
Vitamin C:
13
mg
|
Calcium:
286
mg
|
Iron:
3
mg
---
Harissa has done it to you? Then just make the paste yourself - this version is with rose water.