Tahini ice cream | The simple recipe
What's better in summer temperatures than a cold, creamy ice cream? Yes ok, vacation in a large suite with a private pool and terrace - I know! But there you can definitely also enjoy a delicious portion of ice cream. And since we are already on vacation, the ice cream may also go in the direction of Levante. Because here comes a really creamy and delicious tahini ice cream, which you can even prepare quite easily and quickly yourself.
Tahini ice cream - The Levant as ice cream!
What would the Levant be without the creamy sesame butter or sesame paste called tahini? There would be no hummus! There would be no Baba Ghanoush - there would also be no Halva! My goodness, I don't even want to think any further!
Usually I use tahini actually in creams or sauces, sometimes also as an ingredient in the cake. But as the star of an ice cream I've never tried tahini before but.that had to change!
After I had purchased an ice cream maker, I became really experimental in this field. The first result was the mocha ice cream and then probably the best pistachio ice cream.
Based on my experience, I then had a good basic recipe in any case, which I then tried times with tahini. The result is then this creamy tahini ice cream. And I can tell you directly that after the first serving of sesame ice cream I had to produce directly more of it.
The ice cream tastes delicious and very intense sesame, almost in the direction of frozen halva. To achieve this, I had to make the tahini ice cream actually twice, because I used too much tahini in the first round and that then led to slight bitter notes. The second attempt with a little less Tahni was then but directly a bull's eye!
Everything you need for tahini ice cream:
Tahini
Sugar
Egg yolk
Whole milk
Cream
Sesame seeds (for decoration)
Ice cream with or without ice cream machine?
As you have already read above, I use an ice cream machine with a refrigeration compressor. This means that I do not have to put the container in the freezer first, but the ice cream machine itself provides this cooling.
The advantage of an ice cream maker, not only for Tahini ice cream, is the independent stirring of the ice cream mass. So you get a very creamy result in any case.
But if you don't have an ice cream maker or don't want to buy one, you can make the ice cream without one. Simply fill the ice cream mixture into a flat container and place it in the freezer. You have to take it out of the freezer every 30 minutes to mix the ice cream. This way it will be at least a little creamy.
This is more work than with a fully automatic ice cream machine, but it does not detract from the taste. So there is no reason to do without the delicious sesame ice cream.
When you serve the tahini ice cream, you can sprinkle some sesame seeds on top. Enjoy your meal!
---
Recipe for tahini ice cream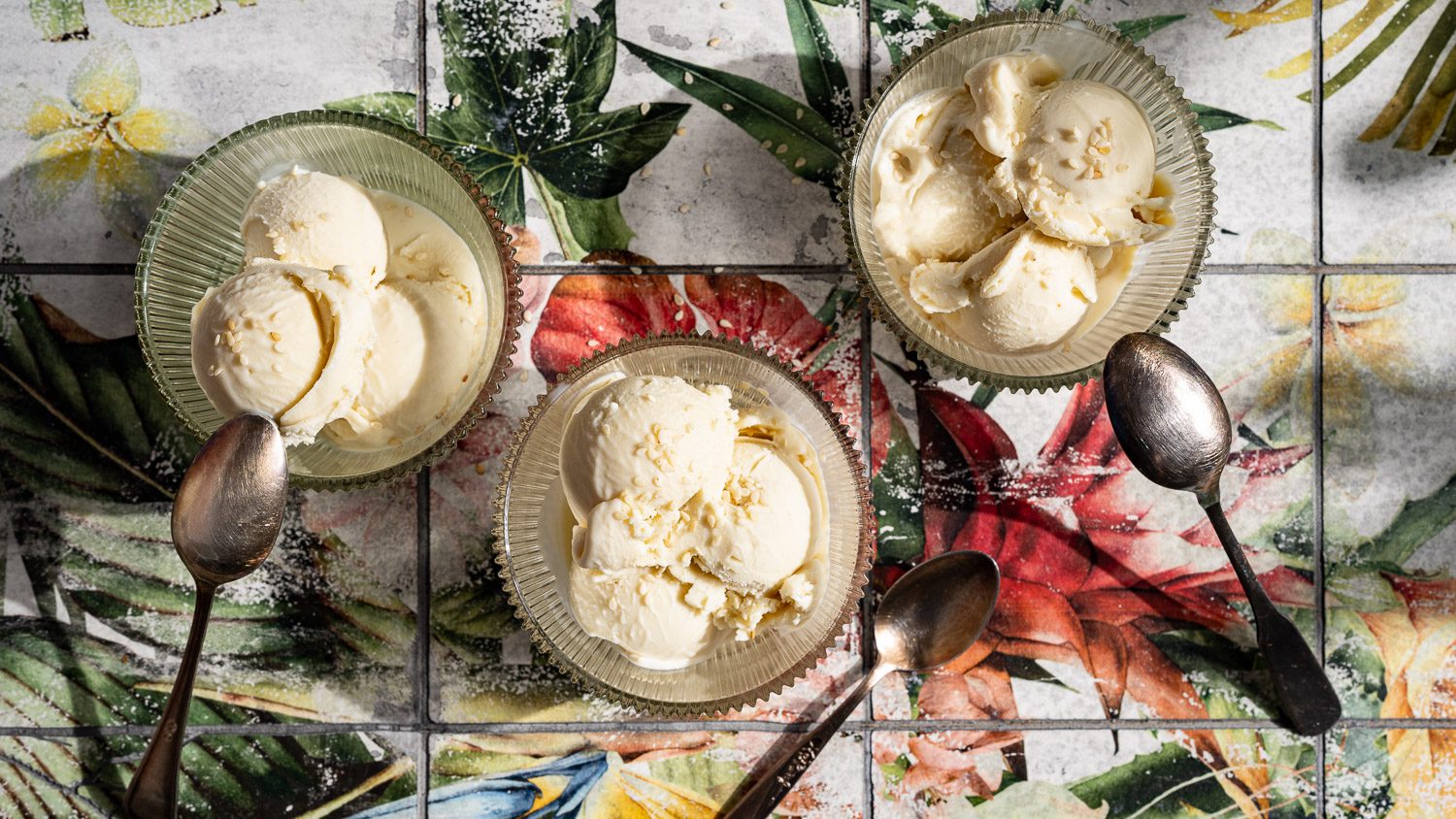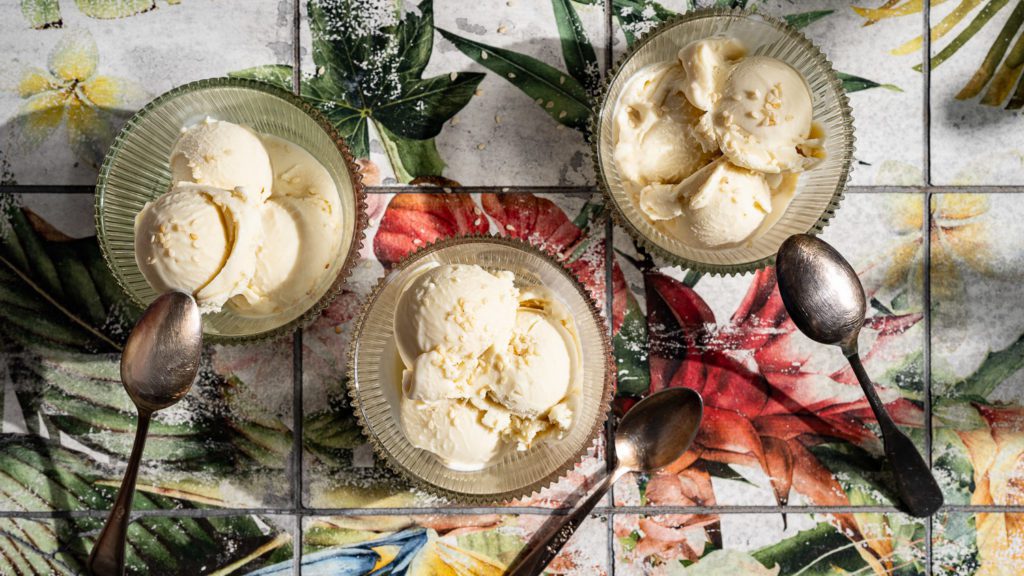 Print recipe
Save recipe
Saved!
Preparation
Beat the egg yolks with 2 tablespoons of sugar in a bowl until the mixture is pale.

Gently heat the milk and cream with the remaining sugar in a saucepan until the sugar has dissolved and the milk mixture has become warm (not hot).

Place the egg yolk mixture on a water bath and stir in the milk mixture in a thin stream.

Heat the ice cream mixture over medium heat, stirring, until it starts to steam. However, the mass should not boil, just a little tighten.

Remove the ice cream mixture from the heat, allow to cool slightly and stir in the tahini. 

Allow ice cream mixture to cool to room temperature and place in ice cream maker for about 60 minutes.

For a firmer consistency, you can put the tahini ice cream in an ice cream container and put it in the freezer for a few hours.

Garnish tahinieis with, for example, a little sesame seeds and serve.
Notes
Recipe contains affiliate links.
Nutritional values
Calories:
113
kcal
|
Carbohydrates:
10
g
|
Protein:
2
g
|
Fat:
8
g
|
Saturated Fat:
3
g
|
Polyunsaturated Fat:
2
g
|
Monounsaturated Fat:
2
g
|
Cholesterol:
28
mg
|
Sodium:
14
mg
|
Potassium:
73
mg
|
Fiber:
0.3
g
|
Sugar:
8
g
|
Vitamin A:
184
IU
|
Vitamin C:
0.3
mg
|
Calcium:
44
mg
|
Iron:
0.4
mg
How about cool drinks for a refreshing drink? Try homemade mate iced tea, mint iced tea or iced mocha.