Pomegranate raspberry jelly
Pomegranate-raspberry jelly is the new must-have for your breakfast table. Of course, you can also stir the fruit jelly into your yogurt or use it to refine cakes. But for me, it tastes best in the morning on a buttery croissant or a freshly baked kaak.
Pomegranate raspberry jelly - flavors of the Levant in one glass
Pomegranate seeds not only look beautiful, they also taste deliciously tart and sweet. While the red seeds visually enhance one or the other dish, such as bulgur salad, you can make a refreshing pomegranate iced tea or even a fruity pomegranate-raspberry jelly from pomegranate juice.
And the good thing is, for this simple recipe you do NOT have to peel the pomegranate. I've tried all the peeling techniques - none of them have convinced me yet. All the more pleasant that you only need the juice for the jelly. Either you buy freshly squeezed or you get a few pomegranates that you squeeze yourself - and that's really easy.
A pure pomegranate jelly was a bit too boring for me and since I still had a few raspberries in the fridge, they also ended up in the pot. And to round off the taste of the jelly, a few drops of rose water must of course not be missing. Traditionally, a touch of vanilla and a squeeze of lemon juice are also added to the mixture, which is boiled up with a good portion of preserving sugar.
Jam or jelly - With or without pieces?
How do you prefer to eat your sweet spread? Do you prefer a few pieces to chew on or a jelly that melts in your mouth? It varies for me. I don't like seeds, so I boiled up the raspberries and strained them through a fine sieve. You can do the same. If you don't mind the seeds, you can save this step and your pomegranate raspberry jelly will be ready even faster!
There are also differences in consistency. You should let your jelly bubble for at least 1 minute. The longer it simmers, the firmer the consistency will be. You can also test it in between by putting a spoonful of the simmering liquid on a plate - if it becomes thick and firm after a moment, it is ready.
Be sure to try the recipe - and as I said before, the pomegranate raspberry jelly tastes best with a buttery croissant and a few chopped pistachios. Bon appetit.
---
Recipe for pomegranate raspberry jelly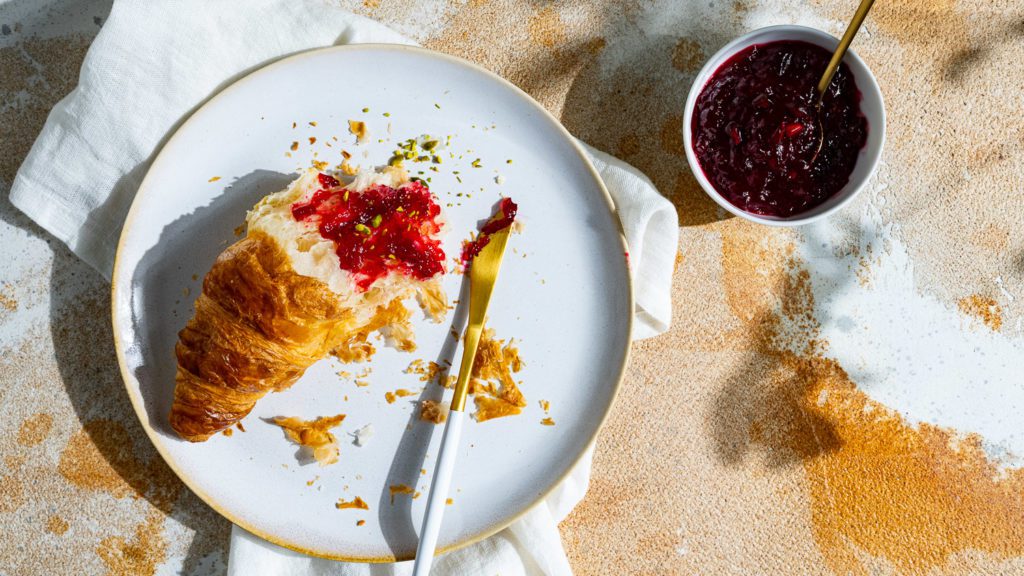 Print recipe
Save recipe
Saved!
Ingredients
250

ml

Pomegranate juice

250

g

Raspberries

fresh or frozen

400

g

Gelling sugar 1:1

1

teaspoon

Rose water

2

teaspoon

Lemon juice

1

teaspoon

Vanilla extract
Preparation
Heat raspberries in a saucepan until they break down, then strain through a sieve to collect raspberry puree.

Bring raspberry puree with pomegranate juice, lemon juice, rose water and vanilla extract to a boil with preserving sugar and boil for about 2 minutes until bubbling. 

Make a gelatinization test: Pour some of the mixture onto a cold plate and gently tilt the plate back and forth. You will see the consistency. Continue cooking if the jelly is still too liquid. As it cools, the jelly will still thicken, so don't let them simmer too long.

Fill pomegranate-raspberry jelly into sterile jars while still hot and allow to cool.
Notes
Recipe contains affiliate links.
Nutritional values
Calories:
908
kcal
|
Carbohydrates:
223
g
|
Protein:
2
g
|
Fat:
1
g
|
Saturated Fat:
0.1
g
|
Polyunsaturated Fat:
1
g
|
Monounsaturated Fat:
0.2
g
|
Sodium:
13
mg
|
Potassium:
472
mg
|
Fiber:
8
g
|
Sugar:
213
g
|
Vitamin A:
41
IU
|
Vitamin C:
33
mg
|
Calcium:
46
mg
|
Iron:
1
mg
---
Want to try more spread recipes? Then try the plum jam or give this aromatic lentil spread a hearty try.