Make roasted chickpeas yourself
I admit, I'm a total chip soholic. If there are chips, I really can't control myself and like to snack on a bag. It's not good for my health, I know. But they just taste so good. To save myself from this temptation, I simply don't buy any more. A perfect alternative to chips for me are roasted chickpeas. And they are very easy and quick to make.
Often, you don't really know what's in store-bought snacks. Vegans also have to check whether a snack that is actually naturally free of animal ingredients has actually not been "given" any strange additives. In addition, chips and the like often contain hydrogenated fats, which I would like to do without. So? Then I simply make my own snacks. Roasted chickpeas are ready in about 30 minutes, wonderfully crunchy and even healthy.
Season roasted chickpeas
You can then season the chickpeas to taste. I always flavour mine with salt flakes and za'atar. But you can really go wild here. For inspiration, you can find a few delicious seasoning ideas here.
Za'atar & salt flakes
Salt & Pepper
Smoked paprika
Smoked salt
Chilli
Garlic
"Cheese & Onion"
Salt & Vinegar
Sugar
Sugar & Cinnamon
Prepare roasted chickpeas
So, how does the whole thing work now? You simply take cooked chickpeas (canned or home-cooked), dry them really well with a kitchen towel and oil them once properly with olive oil for the savoury versions and with rapeseed oil for the sweet versions. Then put the chickpeas in the oven and bake for about 30 minutes. Then season them and go to the couch for a snack 😉 You might want to think about letting them cool down a bit so you don't burn your fingers.
Note that for the savoury versions you only add the spices after baking, otherwise the spices will burn and cause bitterness. For the sweet versions, you can add the sugar from halfway through the baking time, then the roasted chickpeas will caramelise beautifully.
If you like, tell me what your favourite flavour is in the comments. You can find out more about chickpeas here.
---
Recipe for roasted chickpeas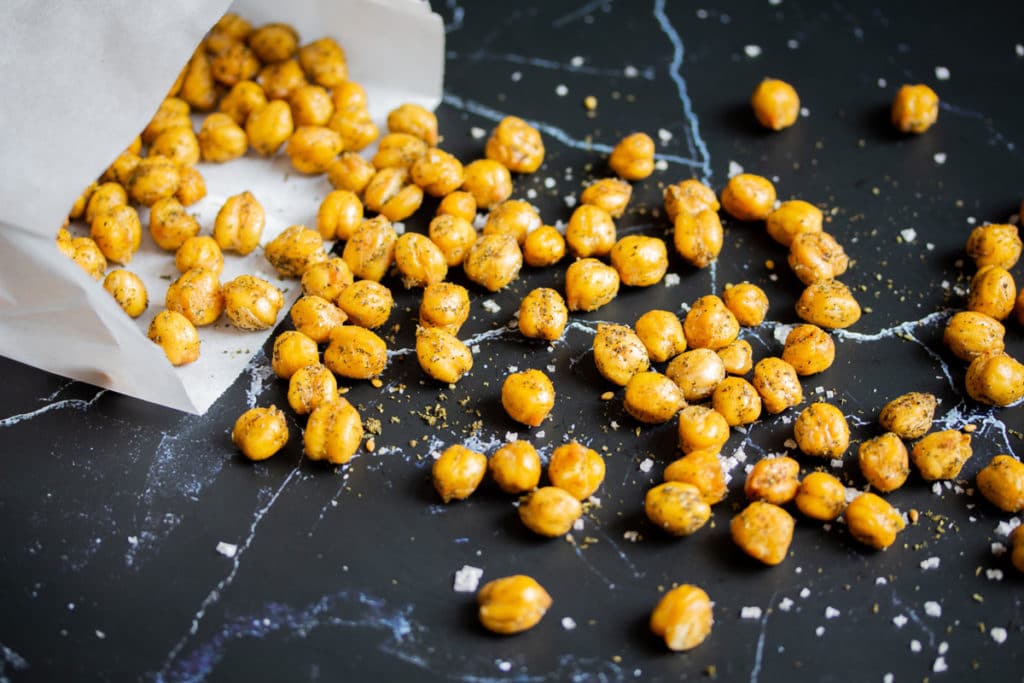 Print recipe
Save recipe
Saved!
Ingredients
More seasoning ideas - Be creative
Salt & Pepper

smoked salt

smoked paprika

Chilli

Garlic

Vinegar & Salt

Cheese & Onion Powder

Cinnamon & Sugar
Preparation
Preheat the oven to 190 °C.

Strain and properly dry the chickpeas and mix with olive oil.

Spread the chickpeas out on a baking tray and bake (depending on the size of the chickpeas) for approx. 30 - 40 minutes. Mix the chickpeas in between.

Season chickpeas. One serving equals approx. 300 g.
Notes
For the sweet versions, please add the sugar halfway through the baking time and mix.
Recipe contains affiliate links.
Nutritional values
Calories:
375
kcal
|
Carbohydrates:
55
g
|
Protein:
20
g
|
Fat:
10
g
|
Saturated Fat:
1
g
|
Polyunsaturated Fat:
4
g
|
Monounsaturated Fat:
3
g
|
Sodium:
1113
mg
|
Potassium:
592
mg
|
Fiber:
18
g
|
Sugar:
0.03
g
|
Vitamin A:
136
IU
|
Vitamin C:
1
mg
|
Calcium:
178
mg
|
Iron:
7
mg