Dukkah | How to make the spice mixture yourself
Dukkah is already such a thing for itself. When I make this spice mixture myself, I usually stand around in a daze and daydream. So beguilingly good I find the scent and aroma of the unfolding spices - that like a ghost rising from the lamp to enchant you.
Making dukkah yourself is super easy!
Originally Dukkah probably comes from Egypt, from where it spread by storm also in the Levant. I find alone the idea to combine freshly roasted spices and with equally roasted nuts, super good! But my first encounter with the fantastic spice blend was actually a bit disappointing, because I bought a ready-made product.
Honestly, never buy Dukkah packaged in stores! This is guaranteed to backfire, unless you have a roastery around the corner, which produces the mixture fresh for you. The difference between fresh Dukkah and longer packaged is enormous!
The reason for this, of course, is that the really fantastic and important roasted flavors become stale. And nuts should also rather not be left for so long, otherwise their fat becomes rancid. So you better make your dukkah yourself! It's easy, I promise!
My very own mixture
Dukkah usually consists of a handful of spices and a selection of nuts. Which you take is up to you. The classic choice is hazelnuts or walnuts. However, I have developed my own personal mixture. It contains the following:
Cumin
Coriander
Fennel
Sesame
Fenugreek
Pistachios
Hazelnuts
Pine nuts
Coarse sea salt flakes
The recipe or the mixture I have kept it very simple and have decided against gram numbers and instead for ratios. Decisive here is then a tablespoon. You can scale the Dukkah recipe for you so really quite simple to the desired amount.
When composing the spice mixture, I would definitely also pay a little attention to the individual textures. The spices can be finely ground - this also applies to part of the roasted sesame. But the rest of the sesame remains whole, just as with the Za'atar spice mixture.
You can simply chop the nuts with a knife until the size suits you or grind them in a blender. However, I would not put everything together in the blender and make a uniform mass out of it. The different sizes are important, even if the difference is rather small. This may sound strange, but it makes a difference not only visually, but also on the tongue.
With the salt, I found it important to resort to salt flakes and not fine, refined salt. Firstly, the natural sea salt tastes much better and the structure of the salt flakes results in another slight crunchiness that feels really great in the mouth.
Dukkah store and use
So once you've roasted and ground the spices and ground the nuts as well and then mixed it all together, you'll probably serve some of it right away anyway on a plate with some olive oil and chow down with pita bread or baguette.
The rest you can simply put in a clean jar and seal as airtight as possible. The spice mixture will last a few weeks, if it survives that long at all and is not eaten before. There are many ways to use Dukkah. For example, the spice mixture tastes great with:
Olive oil and bread
On fried egg
On a bread with labneh or other cream cheese
On meat or roasted vegetables
In salad
As a seasoning for feta or halloumi
As a topping for hummus
You can use Dukkah really very universally and it also makes a really perfect gift or souvenir for friends and family. I'm sure that once you try it, ideas will pop right into your head. Enjoy your meal!
---
Recipe for Dukkah spice mixture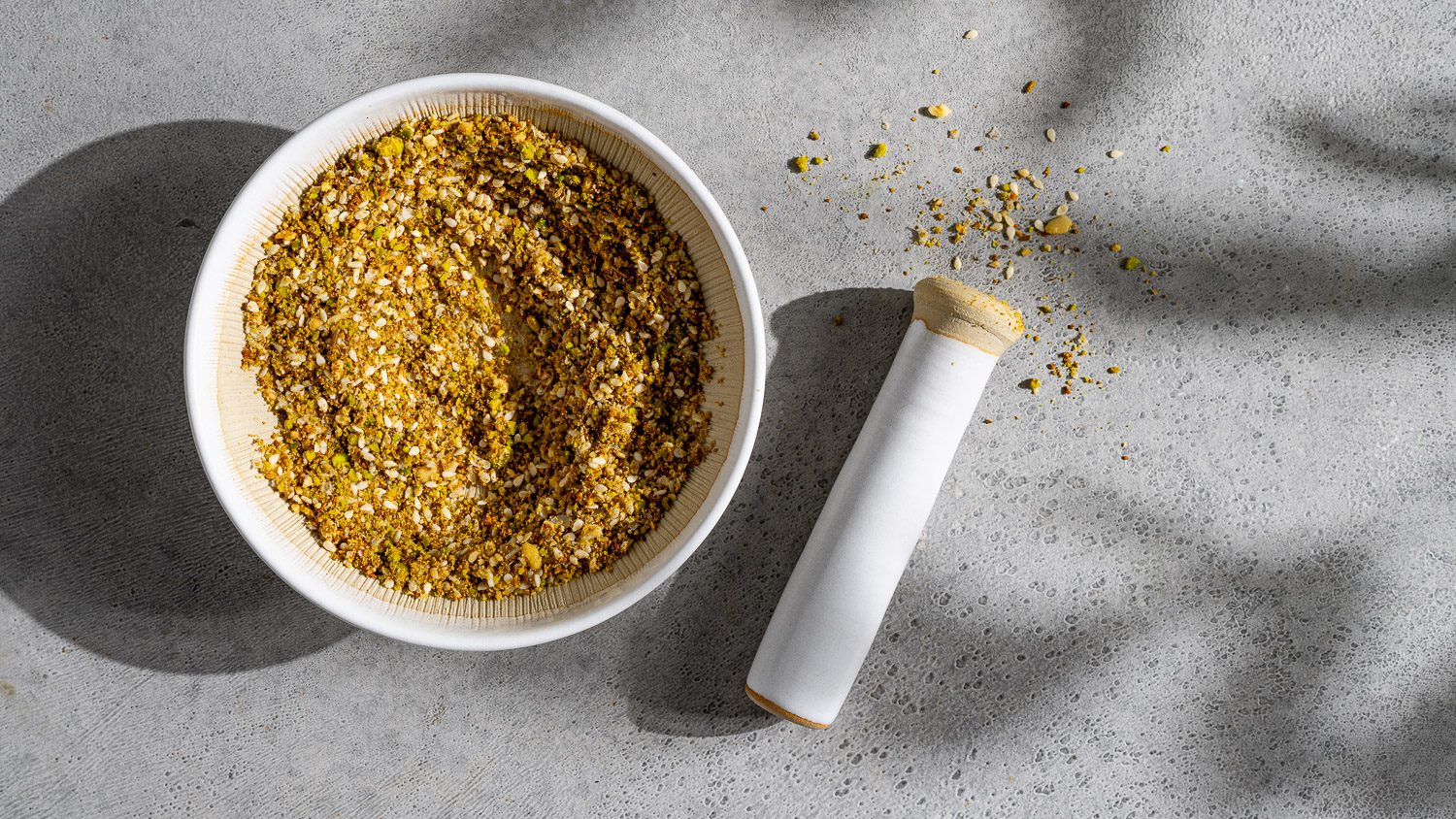 Print recipe
Save recipe
Saved!
Ingredients
2

Tablespoon

Cumin seeds

1

tablespoon

Fennel seeds

1

tablespoon

Coriander seeds

1/2

Tablespoon

Fenugreek seeds

3

Tablespoon

Sesame

3

Tablespoon

Pistachios

1

Tablespoon

Hazelnuts

1

tablespoon

Pine nuts

1

tablespoon

Coarse salt (salt flakes)
Preparation
Roast nuts in a pan without fat until fragrant. Then coarsely chop or grind. Individual pieces may be seen, but the largest amount should be finer.

Roast all the spices, except for 2 parts of sesame seeds and the salt, in a pan without fat. Then grind finely or pound finely in a mortar.

Mix nuts, spices, remaining sesame seeds and the salt.

Fill finished dukkah in an airtight container and use as a seasoning mix.
Notes
Recipe contains affiliate links. 
Nutritional values
Serving:
100
g
|
Calories:
471.8
kcal
|
Protein:
19
g
|
Fat:
33.6
g
Try the avocado bread with halloumi and za'atar. You could also replace the za'atar with dukkah, for example.