Balilah: Warm chickpea salad with roasted pine nuts
There are dishes that I would love to write a song about. But since I unfortunately sing like a dying rooster and have not been very good at writing songs either, I will gladly leave this pleasure to you. Balilah is a dish that definitely deserves its own song! The chickpea salad served warm is a must for a good mezze.
Balilah: A great taste explosion with just a few ingredients
For many dishes of Levantine cuisine, you only need a handful of ingredients, but with the right combination you get an absolutely crazy spectacle of flavours. For balilah, you only need chickpeas, lemon, parsley, spring onion, pine nuts and a small flood of the best olive oil. The lemon is used in its entirety - even the peel. This way you can bring a whole range of citrus flavours into the salad with just one ingredient. The lemon juice provides the necessary acidity. The lemon peel, on the other hand, gives Balilah the scent of a lemon plantation and a really pleasant bitter note.
Now, before you call the salad "Fifty shades of lemon", you need to know that the chickpeas are also used twice. A small part of the chickpeas, still warm, is crushed with garlic, while the rest is added whole. This gives the warm salad an absolutely delicious creaminess. And when you then come across the toasted pine nuts, you will surely notice how multi-faceted Balilah is. The spice of choice here is cumin, by the way. The ground cumin not only provides a pleasantly savoury taste, but also makes the dish more digestible.
Mezze, starter and main course in one
Balilah is a warm chickpea salad that you can safely serve as a whole main meal. I can actually eat my fill of it without getting sick of it 😉 You can also fill the warm chickpea salad into small bowls and serve it alongside hummus, baba ghanoush, falafel and the like.
---
Recipe for Balilah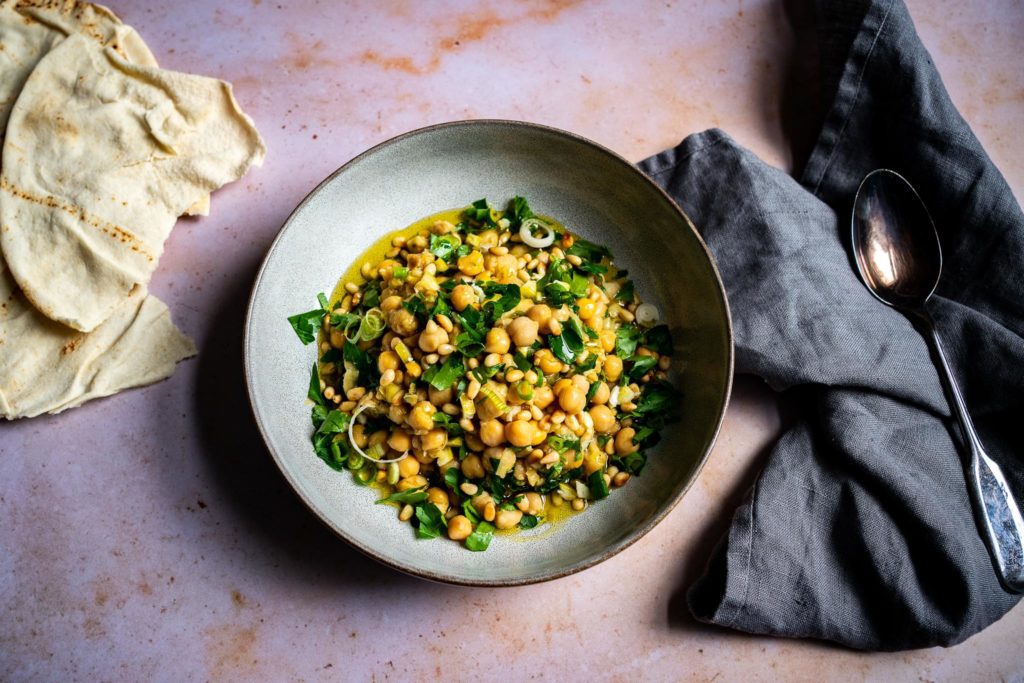 Print recipe
Ingredients
500

g

cooked chickpeas

30

g

flat leaf parsley

30

g

Pine nuts

1

Lemon

Organic

2

Spring onions

1

Garlic clove

2

TSP

Cumin

ground

100

ml

Olive oil

Salt, pepper
Preparation
Put the cooked chickpeas in a saucepan with water (or the liquid from the can) and simmer on medium heat for about 10 minutes.

Meanwhile, chop the parsley and cut the spring onions into rings.

Peel the garlic and crush it finely in a mortar with a little salt.

Wash and squeeze the lemon and finely chop one of the squeezed lemon halves.

Toast the pine nuts for approx. 3 - 5 minutes without fat in a frying pan on high heat, stirring constantly, until golden brown and set aside to cool.

Put crushed garlic in a large salad bowl. Add a quarter of the chickpeas and mash.

Add the rest of the chickpeas with all the ingredients and mix well. Season with cumin, salt and pepper.

Serve balilah warm with pita bread.
Notes
Recipe contains affiliate link. 
If you liked the recipe, I am very happy about a small tip. You are helping me to bring more great recipes to the blog. Thank you so much 🙂
Donate here: continue to Paypal
Nutritional values
Calories:
755
kcal
|
Carbohydrates:
43
g
|
Protein:
16
g
|
Fat:
61
g
|
Saturated Fat:
8
g
|
Polyunsaturated Fat:
12
g
|
Monounsaturated Fat:
37
g
|
Sodium:
710
mg
|
Potassium:
665
mg
|
Fiber:
14
g
|
Sugar:
2
g
|
Vitamin A:
1450
IU
|
Vitamin C:
52
mg
|
Calcium:
146
mg
|
Iron:
6
mg
Learn everything you need to know about chickpeas in my guide.