Tomato soup with white beans and za'atar croutons
To make tomato soup itself is really super simple - and you do not even need cream. Nice fresh, fruity and creamy it becomes with this recipe in any case! But it would not be a Bistro Badia recipe, if the tomato soup does not come along at least with one or the other clou. The first time I tried this soup, all I could think was "'%#$ again, this is awesome!" So forget that canned stuff and treat yourself to something handmade! It's going to be really good, I promise!
Tomatoes and the song of ice and fire ...
Don't worry, there won't be any white horsemen or dragons coming at you now. It is still about a fruity tomato soup (Hodor!!). But there's a bit of fire in there then. In addition to spices like cumin, cinnamon, cardamom and coriander, a good helping of the spicy chili paste harissa lurks in the soup, bringing its savory heat. And the ice cream? The tomato soup is rounded off at the very end with chopped mint, which in addition to its great aroma gives the whole thing a fresh breeze. Ice and fire ... Okay, I've gone too far - let's move on to the next chapter.
From buttery white beans and crispy croutons
Buttery and crunchy, creamy and fruity, fiery and cool - what a royal mixture! (Ouch!)
What else I love about this tomato soup are the white beans, which are added just before the credits and are allowed to steep a bit in the tomato soup. As a filling ingredient, they not only give the soup more "food", but also convince with their creamy-buttery consistency and give you a little protein boost.
On top, croutons made from either toast or stale bread are refined with olive oil and za'atar. All in all, you can expect a small spectacle of flavors. Enjoy your meal!
---
Recipe for tomato soup with white beans and za'atar croutons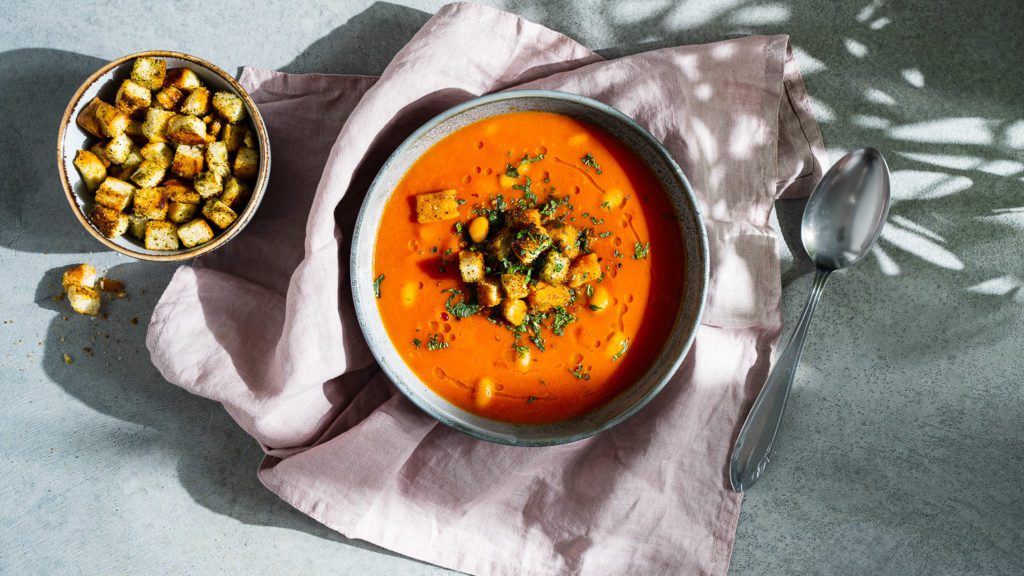 Print recipe
Save recipe
Saved!
Ingredients
For the tomato soup
Preparation
Tomato soup
Peel and finely chop or grate the onion, garlic and ginger.

Wash the tomatoes, remove the stalk and cut into coarse pieces.

Heat oil in a pot and fry onion, garlic and ginger. Add spices, tomato paste and harissa paste and roast.

Alternatively, you can use spice seeds and roast them in a pan without fat until it smells. Then put the spices in a container with the onion, garlic, ginger, tomato paste and harissa and puree everything into a creamy paste.

Add the tomatoes to the spice paste, sauté briefly, pour in water and simmer gently with the lid closed over medium heat for about 15 minutes.

Finely puree tomato soup with a hand blender until creamy.

Drain and rinse white beans, add to soup and let steep briefly. Season with salt to taste.

Wash and finely chop the mint.
Za'atar croutons
Cut toast or bread slices into cubes, mix with oil and za'atar and toast in a pan until crispy on all sides.

Tomato soup with white beans garnish with za'atar croutons and chopped mint.
Notes
Recipe contains affiliate links.
Nutritional values
Serving:
310
g
|
Calories:
173.1
kcal
|
Carbohydrates:
21.2
g
|
Protein:
6.2
g
|
Fat:
5.8
g
Fancy some more soup? Then definitely try the Lebanese lentil soup with lemon.