Freekeh Salad with Grilled Vegetables & Feta
I can tell you one thing straight away: This salad has a lot of kick! So if you like it really hearty when grilling and love nice smoky notes and roasted flavours, then this Freekeh salad with grilled vegetables is just your thing! Maybe äh.... you'll even leave your barbecue meat behind!
Freekeh: Kissed by Fire
So, now I've really gone out on a limb, haven't I? Leaving grilled meat lying around and all that nonsense (veggie BBQ for life!). You don't have to, of course. But once you've tried the Freekeh salad, you might understand why I was so provocative.
If you don't know Freekeh yet: It's a wheat that you harvest while it's still unripe (i.e. still green behind the ears) and roast directly. Game of Thrones fans will now say it is "kissed by fire". The whole story of Freekeh actually stems from a real tragedy when, umpteen thousand years ago, a village under attack wanted to save its wheat in a hurry and harvested it as unripe as it was. The wheat caught fire in a barn during the attack (so they say, I wasn't there). Only after all the fires had gone out did the villagers rub the wheat in their hands to remove the chaff and see if it was still edible. The name Freekeh comes from the Arabic word for "rub" (firik).
This process not only preserves the wheat, but it is also packed with nutrients - green harvesting also means that most of the nutrients are still in it. I'm just saying: almost 15g protein per 100g Freekeh - your protein drink can almost pack it in.
Superfood, super salad!
The consistency of Freekeh is similar to green spelt or wild rice, but the taste explodes with smoky and hearty flavours in your mouth. So there's no room for boredom here! Now you may have an idea why we are approaching a real highlight of barbecue salad here. Freekeh is already so full of flavour and roasted aromas that it really does go perfectly with grilled vegetables. I've chosen peppers, courgettes and aubergine here. But of course you can let your imagination and creativity run wild. Chopped parsley and mint freshen up the hearty salad. And for a nice and balanced acidity, we go straight for four aromatic ingredients: Feta, lemon juice, pomegranate seeds and sumac!
The salad goes fantastically well with grilled fish, meat or halloumi - or just on its own for filling 😉
---
Recipe for Freekeh Salad with Grilled Vegetables & Feta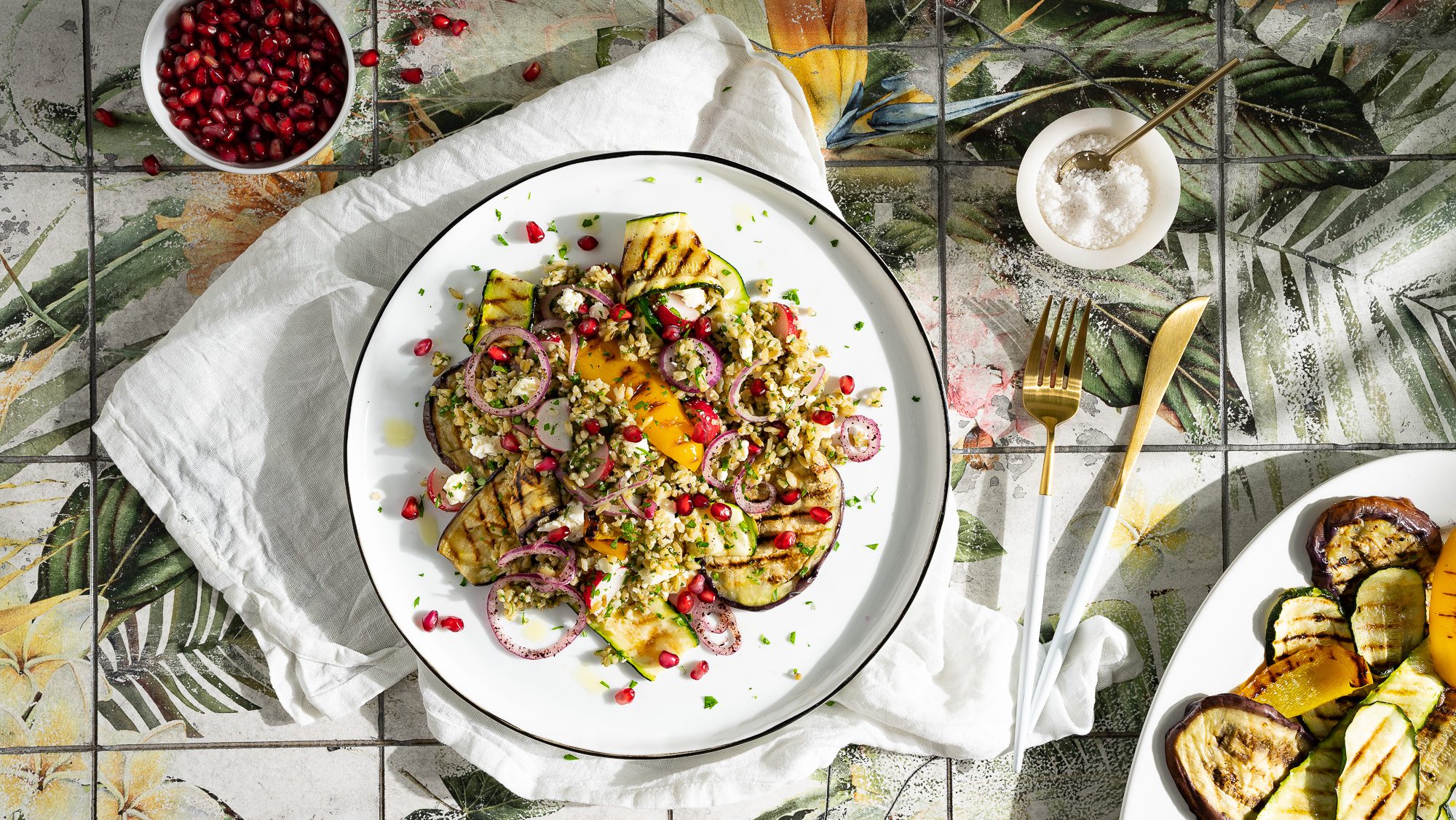 Print recipe
Save recipe
Saved!
Ingredients
For the salad
For the grilled vegetables
1

Paprika

1

small

Zucchini

1

small

Eggplant

2

TBSP

Olive oil
Preparation
Wash the freekeh properly in water in a bowl and then pour the water away. (Please wash really thoroughly, as sometimes small stones stray to the wheat).

Briefly boil washed freekeh with 1 tsp. salt in the water and then put it straight back on the lowest setting.

Put the lid on the pot and let the Freekeh cook for about 15 minutes. The water is completely gone at the end. Then let the Freekeh cool down.

Slice the pepper, courgette and aubergine lengthways. Sprinkle the aubergine slices with salt, leave to stand for approx. 10 minutes and then pat dry with kitchen paper.

Brush the vegetable slices with olive oil and grill on both sides on the barbecue or in a grill pan until they are well roasted and cooked.

Cut the onion into rings and mix with the sumac. Cut the radishes into quarters. Crumble the feta with your hands.

Roughly chop the parsley and mint.

Mix the freekeh with the grilled vegetables, herbs, feta, pomegranate seeds, olive oil and lemon juice and season with salt and pepper.
Notes
Recipe contains affiliate links. 
Nutritional values
Calories:
357
kcal
|
Carbohydrates:
37
g
|
Protein:
15
g
|
Fat:
19
g
|
Saturated Fat:
6
g
|
Polyunsaturated Fat:
1
g
|
Monounsaturated Fat:
9
g
|
Cholesterol:
33
mg
|
Sodium:
440
mg
|
Potassium:
172
mg
|
Fiber:
6
g
|
Sugar:
4
g
|
Vitamin A:
1074
IU
|
Vitamin C:
15
mg
|
Calcium:
238
mg
|
Iron:
2
mg
Be sure to try the fresh freekeh salad with za'atar, the aubergine salad or the grilled salad with halloumi.