Green spinach shakshuka with feta | quick & easy
Green spinach shakshuka moves away from the classic shakshuka not only visually, but also in terms of taste. No wonder: here the spicy tomato sauce is missing, in which the eggs poach. But I can tell you right away that the green version is also an absolute feast that you can prepare quickly and easily.
Spinach and feta instead of tomato sauce
The green shakshuka gets its name from the color of the spinach, of course. That's not an eye opener now, is it? But there's a lot more in here besides spinach. For this version of shakshuka, I was inspired by the filling of the Fatayer inspired me. Those are those little dumplings with spinach and feta that you might know from the last mezze session.
Of course, it's no wonder that the flavors here are quite similar. First, onions and garlic are sautéed in the pan until they are nicely glazed and have formed a few roasted aromas. Then the fresh spinach is added to the pan and seasoned with sumac in addition to salt and pepper.
To make it really flavorful, add the feta. You can simply crumble it over the spinach in the pan. The feta also brings a nice acidity to the green spinach shakshuka. The filling of the spinach pockets tastes similar.
But the pockets are a thing in itself. Now all you have to do is make wells in which the eggs can then cook. If you have a fireproof pan, you can put it directly into the hot oven. Otherwise, just put a lid on the pan with the spinach shakshuka, so that the egg whites can cook well.
Once the Er are then ready, I like to give a little black cumin over the spinach Shakshuka and also grate some lemon zest on it. Believe me, this is a real flavor spectacle!
You can actually make shakshuka for any time of day. Classically, shakshuka is actually a breakfast, but it also tastes great for lunch or dinner!
The best thing is that the Green Spinach Shakshuka is ready in just 30 minutes on the table and you can go straight to it. It tastes best with fresh pita bread or crusty baguette. Enjoy your meal!
---
Recipe for Green Spinach Shakshuka with Feta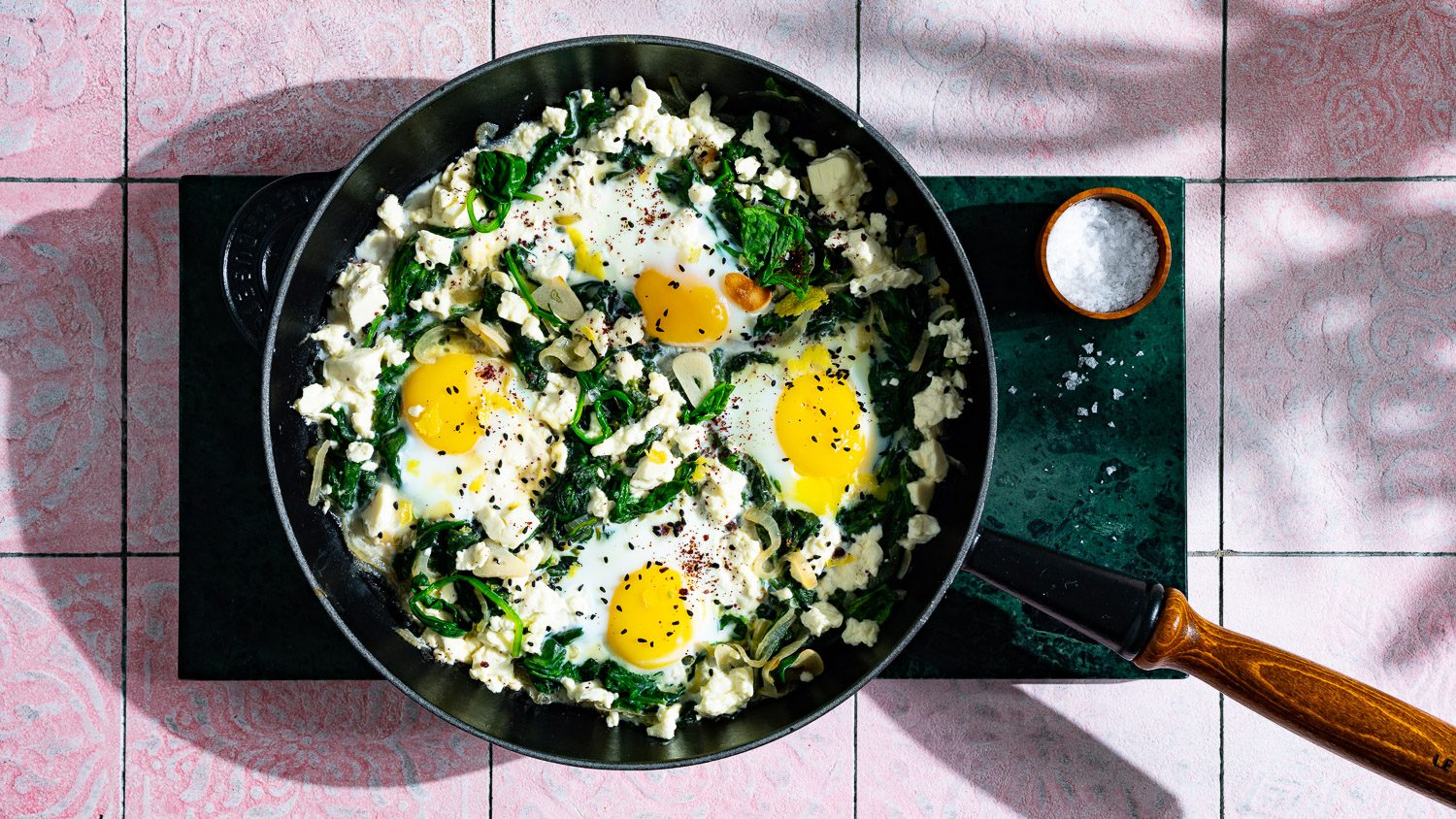 Print recipe
Save recipe
Saved!
Ingredients
Preparation
Peel the onion and garlic. Halve the onion and cut into half moons. Also cut the garlic into slices.

Spinach wash and spin dry.

Heat oil in a pan and sauté onion and garlic in it at low temperature for about 5-7 minutes until translucent.

Add spinach, season with sumac, cumin, salt and pepper and stir.

Crumble feta over spinach in pan.

Press four small wells into the green shakshuka and add eggs. Put lid on the pan and let eggs fry for about 5-7 minutes over medium heat - depending on your preference.

Sprinkle green shakshuka with black cumin and grate some lemon zest over it. Serve with pita bread or baguette.
Notes
Recipe contains affiliate links.
Nutritional values
Serving:
445
g
|
Calories:
471
kcal
|
Carbohydrates:
18
g
|
Protein:
32
g
|
Fat:
32
g
|
Saturated Fat:
16
g
|
Polyunsaturated Fat:
3
g
|
Monounsaturated Fat:
9
g
|
Trans Fat:
0.04
g
|
Cholesterol:
416
mg
|
Sodium:
1426
mg
|
Potassium:
1390
mg
|
Fiber:
5
g
|
Sugar:
4
g
|
Vitamin A:
19656
IU
|
Vitamin C:
61
mg
|
Calcium:
758
mg
|
Iron:
8
mg
Fancy some more shakshuka? Try the Ratatuille Shakshuka, the Pita Bread Shakshuka or the Shakshuka with Eggplant!