Oven vegetables with halloumi | quick & easy
Oven vegetables with halloumi is the perfect comfort food, when it should be particularly quick and easy. Simply cut the vegetables roughly into parts, Halloumi in slices on it and off with it in the oven. After 20 to 30 minutes everything is ready.
Oven vegetables with the scent of Levant
I always find it amazing how incredibly delicious oven vegetables actually are. Honestly, I could really eat them every other day. I could also say that I wasn't that fond of vegetables as a child and now I'm all over it - but I wasn't a fussy eater as a child either and liked to shovel everything into myself that wasn't rescued from my reach at the count of three.
Oven vegetables with halloumi was absolutely no exception. Especially not when everything was also beautifully seasoned with za'atar and the kitchen thus smelled incredibly aromatic.
What I really celebrate about an oven vegetable is how versatile you can make it. So it never gets boring. So if you don't like a vegetable in the recipe, feel free to just replace it with another. I chose cherry tomatoes, eggplant, zucchini, bell peppers and potatoes.
Chickpeas are also a must for me in the oven vegetables with halloumi. But you can also use butter beans if you like. Then just season everything with enough za'atar and a few chili flakes. Then drizzle with good olive oil and mix everything once.
I mix the halloumi with it, but then pick out the slices again and put them on the vegetables so that the grilled cheese also gets a nice browning and delicious roasted flavors form. When the oven vegetables with halloumi is ready, you can start right away. I recommend serving with a simple blob of yogurt. Enjoy your meal!
---
Recipe for oven vegetables with halloumi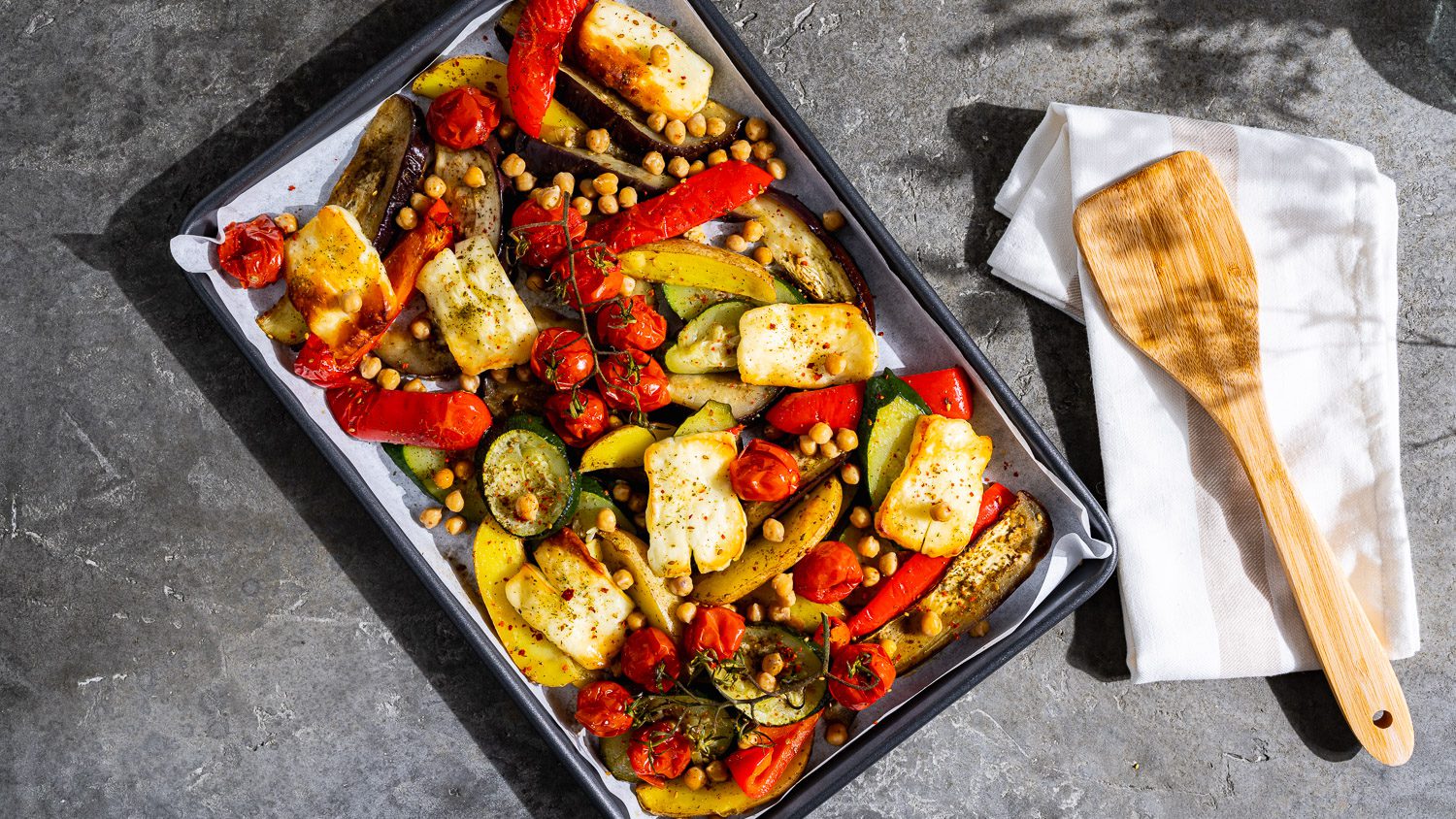 Print recipe
Save recipe
Saved!
Ingredients
Preparation
Preheat oven to 190°C convection oven. Line baking tray with baking paper.

Wash vegetables and cut into quarters or slices. Drain chickpeas and rinse with cold water.

In a bowl, mix za'atar, salt and chili with olive oil and marinate vegetables in it briefly.

Cut halloumi into slices.

Spread marinated vegetables on baking sheet and bake in oven for about 20-30 minutes until crisp.

Serve oven vegetables with halloumi directly from the tray. It goes well with a very simple blob of yogurt.
Notes
Recipe contains affiliate links.
Nutritional values
Serving:
340
g
|
Calories:
418.5
kcal
|
Carbohydrates:
22.6
g
|
Protein:
19
g
|
Fat:
26.5
g
If you already like the oven vegetables with halloumi, be sure to try the oven-baked feta parcels or the halloumi vegetable skillet served with butter rice.