Makhloota - vegan legume stew from the Levant
Just when you're actually eagerly awaiting your ordered new kitchen and cursing the world for the late delivery (yep, happened to me), a stew comes at the right time. It's quick, doesn't require much cookware and it's actually always delicious! If you're a fan of legumes in addition to stews then you should prick up your ears now! Today we have a really delicious and easy to make legume stew called Makhloota. Without any meat at all!
Makhloota - the "mixed bag" stew
For me, a mixed bag has been a bag full of different Haribo since I was a child. My mum, however, understands it as a bag full of dry beans, chickpeas and lentils... Sexy is something else, I know! As with many other dishes in the Levant, the name of the dish says it all. Makhloota translates as "mixed". And of course this doesn't mean gummy bears, kola bottles and gummy frogs, but the many different legumes that go into the stew. Actually, you can use any legume you like and you will always end up with a delicious stew.
I like to mix red and white beans, lentils and chickpeas and add a good portion of bulgur at the very end. I fry the bulgur briefly with onions and tomato paste before adding it all to the makhloota. The best thing about the bulgur move is that it tastes a bit like mince in a stew. I call it the "bulgur mince"! Mega good, believe me!
Soul food meets protein bomb
I probably don't need to explain that pulses are little protein bombs. But what I would like to tell you is that you can also use dried pulses. It's usually cheaper, saves on packaging and simply tastes better. But make sure you soak the chickpeas and beans in water for at least 12 hours and then cook them before using them in the stew.
But whether dried or not, makhloota is Levantine soul food at its best!
Update 3 February 2021
I had originally developed the recipe for dried pulses, however I got feedback that the recipe didn't work out so well. Your feedback is really important to me and I always take it seriously. So I have directly redeveloped the recipe from scratch and simplified it. The basis is now no longer dried pulses, but already cooked ones. With this, you are guaranteed to get the result I had in my kitchen. There is now also more bulgur in it, which improves the texture again. In addition, the recipe is now much quicker to make. If you liked it or something didn't work out, feel free to write me in the comments.
---
Recipe for Makhloota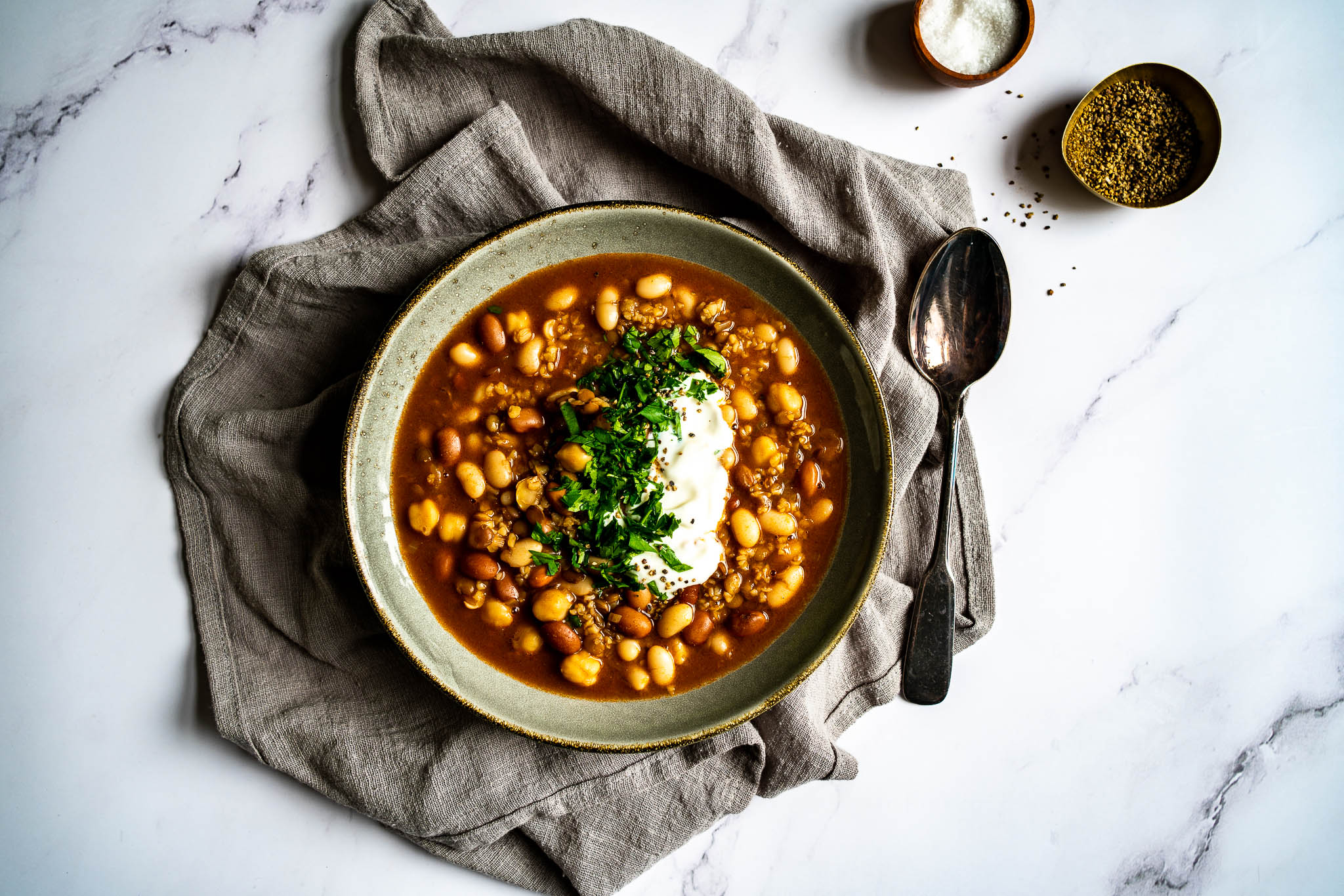 Print recipe
Ingredients
250

g

cooked chickpeas

250

g

Cooked white beans

250

g

cooked red beans (e.g. quail beans)

300

g

cooked green lentils or plate lentils

150

g

Bulgur (coarse)

2

Onions

1,5

TSP

Cumin

1

TSP

Cinnamon

2

TBSP

Tomato paste

7

TBSP

Olive oil

1,2

L

Vegetable broth

Salt, pepper

Optional: chopped parsley and (vegetable) yoghurt
Preparation
Peel and chop the onions.

Put the olive oil in a pot and fry the onions in it for about 5 minutes on medium heat.

Add the cumin and cinnamon and fry briefly with the onions. Add the tomato paste to the onions and fry for 1 minute.

Add the bulgur to the onions and stir-fry for about 3 minutes.

Deglaze bulgur with vegetable stock and add cooked pulses. Simmer the stew for about 15 minutes on medium heat and without a lid.

Season the stew with salt and pepper.

Serve the stew optionally with chopped parsley and (vegetable) yoghurt.
Notes
*Recipe contains affiliate links. 
If you liked the recipe, I am very happy about a small tip. You are helping me to bring more great recipes to the blog. Thank you so much 🙂
Donate here: continue to Paypal
Also be sure to try Fasolia or the spinach stew.