Za'atar butter | an alternative to herb butter
A good homemade herb butter can not really be missing at a barbecue, right? Ok, but how about a really incredibly delicious alternative? Za'atar butter is more than that for me! This butter is a real revelation for me!
Za'atar and butter: a delicious fusion!
In case you don't know Za'atar yet: It's an almost iconic spice blend from the Levant. It includes thyme, a little salt, toasted sesame seeds, and the tart spice of the vinegar tree sumac. You can also make za'atar yourself quite easily: To the recipe. You can also buy the spice mixture online or find it in the oriental supermarket.
But now back to Za'atar butter! I think of grilled corn on the cob and how this butter with za'atar on it slowly melts and spreads the flavor and aroma of intense thyme on it. Believe me, this is really absolutely great!
Za'atar butter, like herb butter, is quick and easy to make yourself. You only need three ingredients and 5 minutes of your time. The ingredients are:
The exact quantities I tell you below in the recipe card. For salt, I also like to use salt flakes, because they have a nice texture in the mouth. Give it a try.
Just let the butter warm up at room temperature and then fold in the spice mixture and salt and mix with it. That's it: your own Za'atar butter is ready.
Prepare and store
Like herb butter or garlic butter, you can prepare Za'atar butter very well and then store it in the refrigerator until you need it. To do this, I simply wrap the flavored butter in some baking paper, for example, or put it in a butter dish. It will keep in the refrigerator for at least two weeks.
Za'atar butter keeps a little longer in the refrigerator than, for example, herb butter, because it does not contain fresh herbs or garlic, but is flavored with a dried spice mixture. If you want to keep it longer, you can also freeze it well wrapped, frozen it keeps fresh for about six months.
Personally, I just absolutely love za'atar butter on grilled corn on the cob. But it also tastes really super good with halloumi skewers, on crusty baguette, with pita bread or with delicious grilled vegetables. I just love it when za'atar lets you taste the flavor of Levant with every bite.
Tip for vegans: You can of course also prepare the recipe with a vegetable butter alternative.
I wish you now a lot of fun trying and of course a good appetite!
---
Recipe for Za'atar butter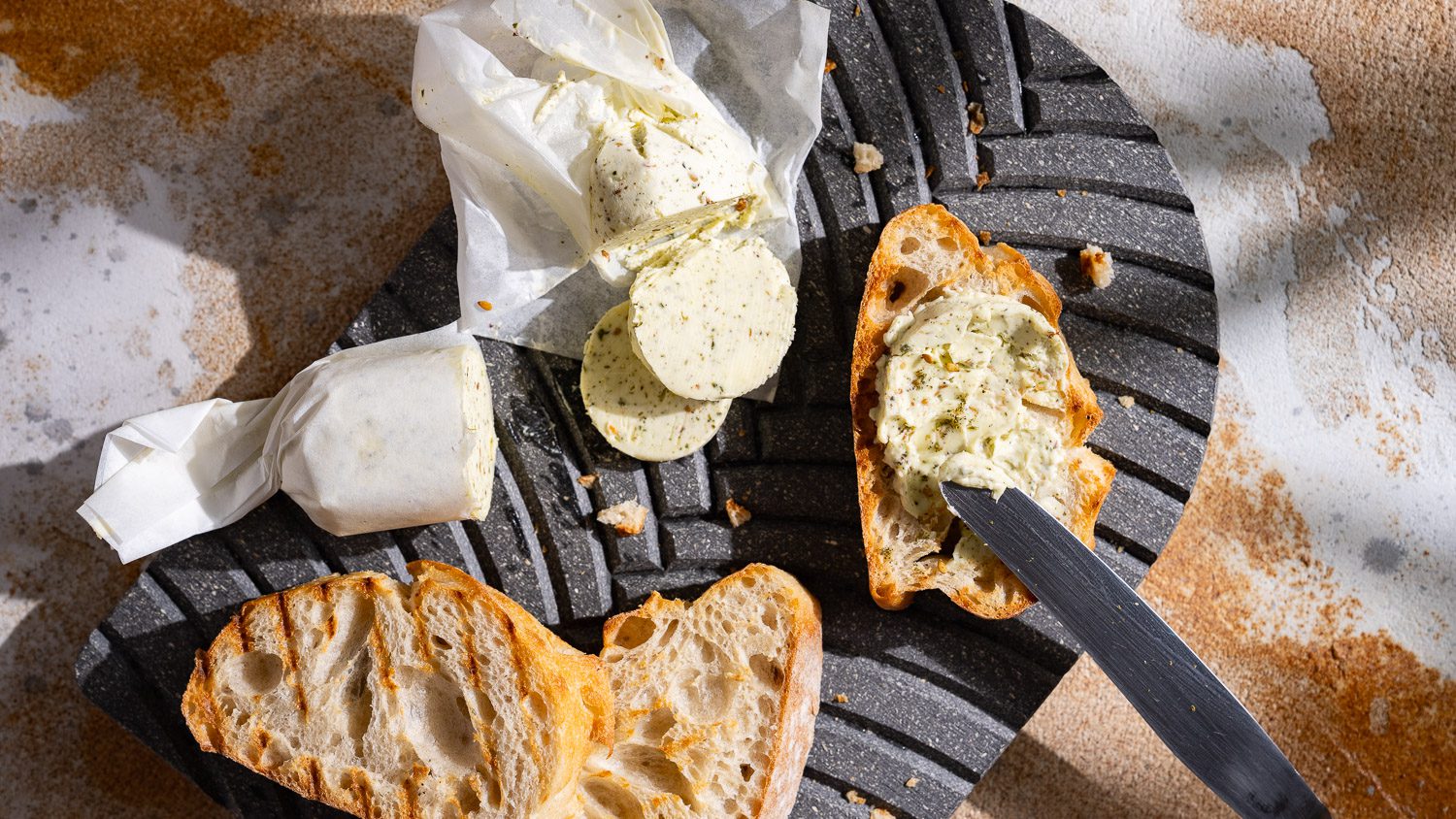 Print recipe
Save recipe
Saved!
Ingredients
250

g

Butter

4

Teaspoon

Za'atar

1

teaspoon

Salt
Preparation
Bring butter to room temperature.

Mix butter in a bowl with za'atar and salt.

You can serve the butter in a bowl or you can form it into rolls, wrapped in baking paper.
Notes
Recipe contains affiliate links.
Nutritional values
Calories:
902
kcal
|
Carbohydrates:
1
g
|
Protein:
1
g
|
Fat:
102
g
|
Saturated Fat:
64
g
|
Polyunsaturated Fat:
4
g
|
Monounsaturated Fat:
26
g
|
Trans Fat:
4
g
|
Cholesterol:
269
mg
|
Sodium:
999
mg
|
Potassium:
46
mg
|
Fiber:
1
g
|
Sugar:
0.1
g
|
Vitamin A:
3200
IU
|
Vitamin C:
1
mg
|
Calcium:
68
mg
|
Iron:
2
mg
Fancy a barbecue? Then try the chicken skewers, the hot dog with garlic sausage or the grilled lettuce hearts!