Spinach roll with hummus & labneh
Spinach roll somehow always reminds me of a thematically as well as visually somewhat outdated buffet. I grew up in the 80s and I seem to remember that these rolls with cream cheese and salmon were the absolute hit back then - so next to hard-boiled eggs with cream on top etc.. But this version of the spinach roll is definitely fresher and more modern - trust me!
Fresh and crispy filled!
The very classic spinach roll that I know, always comes with cream cheese and smoked salmon. This is quite different with my version!
In my sometimes confused head was born a version of spinach roll with the flavors of Levant! And what is particularly well suited? Of course, hummus, labneh and the aromatic spice mixture Za'atar!
In addition, crunchy carrot, fresh cucumber and aromatic mint. And since I love Kalamata olives so much, they also got their place in the spinach roll.
The spinach roll itself is really super easy to make. You only need a few fresh organic eggs, some grated cheese, za'atar and of course spinach. I have now resorted to the fresh spinach, but you can of course also take the frozen. Important here would be then only that you defrost the frozen spinach before and wring out.
Then simply chop the spinach and whisk it together with the eggs and the grated cheese. When it comes to the cheese, you can choose your favorite. Take Gouda if you like it rather mild or a mountain cheese if you want it a little stronger. The decision is up to you.
Simply place the spinach and egg mixture on a baking tray lined with parchment paper and leave to set in the oven. After baking, everything can cool down a bit and you take care of the crunchy vegetables.
Inspired by breakfast in the Levant!
I actually based this combination for the spinach roll filling somewhat on a classic Levantine breakfast table.
For breakfast on the weekend, we often have a kind of early mezze with labneh, olive oil and za'atar, some hummus, cucumber, mint, olives and a few fried eggs. And everything together in a piece of pita bread is just super delicious! Fits then also very well in the spinach roll.
In the recipe you will now find both versions as filling - so one half of the spinach roll is filled with hummus and the other with labneh. If you prefer the roll with only one of the two creams, just double the amount and leave out the other cream.
When rolled up, let the spinach roll with the wonderfully fresh filling cool in the refrigerator so that everything sets once and the roll keeps its shape. Then you can simply cut it and serve.
I personally sprinkle a little za'atar and a pinch of salt on top. Enjoy your meal!
---
Recipe for spinach roll with hummus & labneh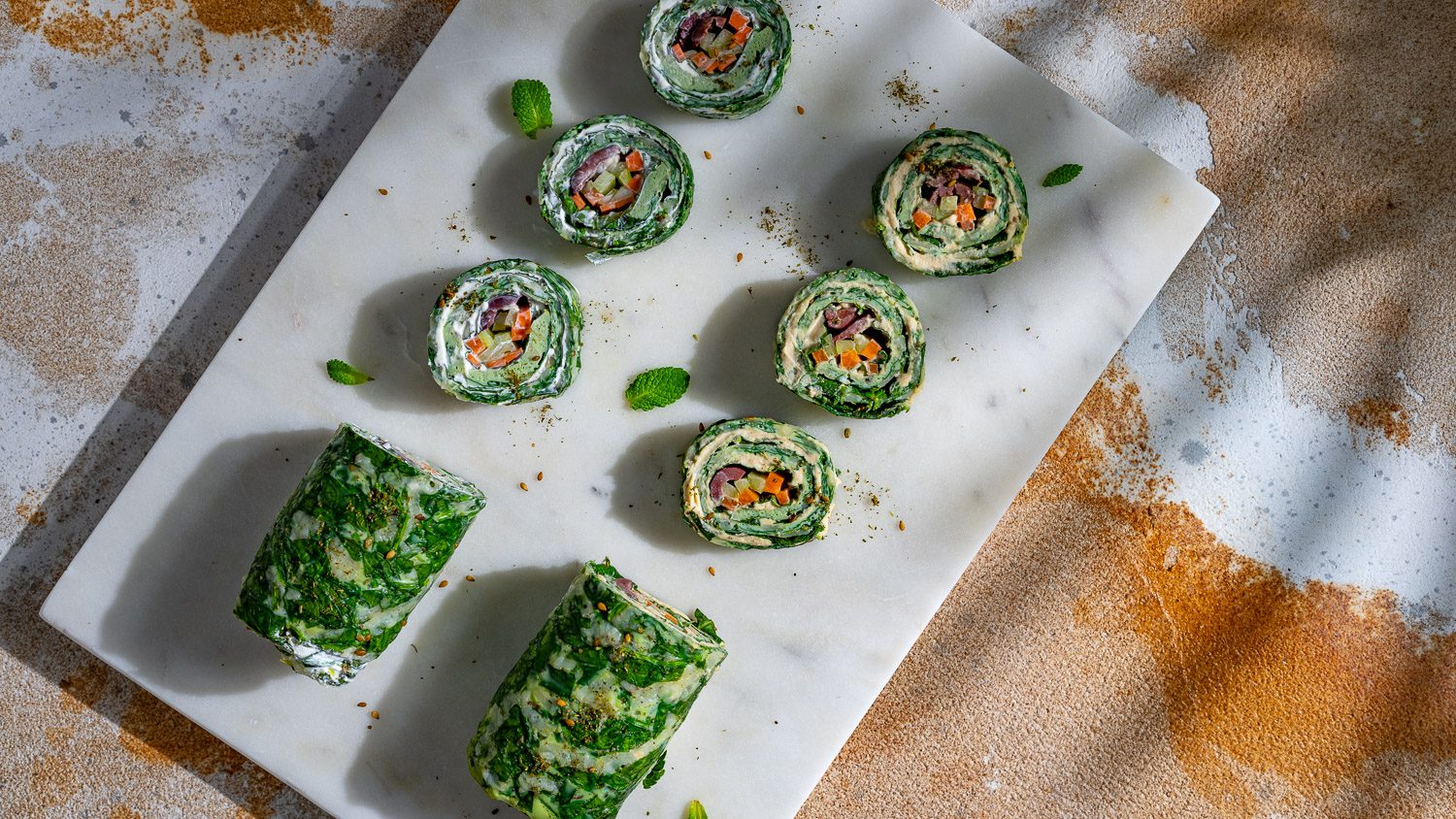 Print recipe
Save recipe
Saved!
Ingredients
For the spinach roll
Preparation
Preheat oven to 200°C top/bottom heat.

Wash and coarsely chop the spinach.

Beat eggs in a bowl and season with za'atar, cinnamon, salt and pepper.

Stir the spinach and cheese into the egg mixture and pour onto a baking sheet lined with parchment paper. Spread the mixture so that you create a rectangle.

Bake egg mixture in oven for about 10 minutes until set, then let cool.

Meanwhile, peel carrot and cucumber. Remove the seeds from the cucumber. Cut carrot and cucumber and into thin strips. Halve olives. Pluck mint from stems.

Place cold and set egg mixture on a large piece of plastic wrap and divide mixture in half.

Spread one half with hummus, the other with labneh, leaving a border so that the cream does not run out when rolled up.

Spread mint leaves on top of the creams.

Spread carrot and cucumber strips and olives along the longer edge and carefully roll up the spinach roll. 

Tangle ends of plastic wrap and chill spinach roll in refrigerator for about 1 hour.

Remove spinach rolls from plastic wrap and cut evenly into pieces about 2 cm and serve. Optionally sprinkle with a little za'atar, salt and pepper to taste.
Notes
Recipe contains affiliate links. 
Nutritional values
Calories:
806
kcal
|
Carbohydrates:
32
g
|
Protein:
56
g
|
Fat:
52
g
|
Saturated Fat:
19
g
|
Polyunsaturated Fat:
8
g
|
Monounsaturated Fat:
19
g
|
Trans Fat:
0.1
g
|
Cholesterol:
719
mg
|
Sodium:
1710
mg
|
Potassium:
1540
mg
|
Fiber:
13
g
|
Sugar:
7
g
|
Vitamin A:
17576
IU
|
Vitamin C:
42
mg
|
Calcium:
879
mg
|
Iron:
11
mg
Also, how about delicious crostini with bean puree or the crispy cheese rolls?