Pasta with vegetables - Pasta à la Ratatouille
Pasta with vegetables somehow always go. The dish is really quick and easy to make and also always leaves me with a pleasant feeling in the stomach area. Perfect for a quick lunch or in the evening after work. I once ate this pasta at a friends house and the vegetables to go with it came straight from their garden. That made this pasta à la ratatouille really special for me. Here comes the recipe now also for you.
Pasta with vegetables: made quickly and easily!
For this pasta with vegetables you do not need much time and also not so many ingredients. For the vegetables, I used the classic ratatouille style of eggplant, zucchini, tomatoes and peppers. If you want, you can of course vary and just look what is in season.
To round off the pasta with vegetables, really aromatic olives are also added. I have chosen Kalamata olives, because they are nice and strong in taste and always remain firm to the bite. But of course you can also use other olives. They should be pitted, however, so that you no longer have so much work with it.
You can then simply cut the vegetables into cubes and sauté them with garlic in olive oil. The tomatoes also make everything nice and juicy. I usually start with the vegetables and let the pasta cook right alongside. Then I can also directly take a ladle of the cooking water to round off the vegetables a bit.
When the pasta is ready, I add it directly to the vegetables and mix everything together. It is important that the pasta briefly pulls with the vegetables and the broth, so that everything combines well with each other. Then you can optionally add some parmesan cheese and maybe even some chili flakes and your delicious pasta with vegetables is ready.
Perfect even the next day
If you have some left over, you can take it to work as a quick lunch for the next day, or simply make a casserole out of it: Just put the leftover pasta with vegetables in a baking dish, add cheese and put it in the oven!
If you are now really in the mood for pasta, then I can recommend the following recipes to you
I wish you a lot of fun while cooking and of course a good appetite!
Recipe for pasta with vegetables - Pasta a la Ratatouille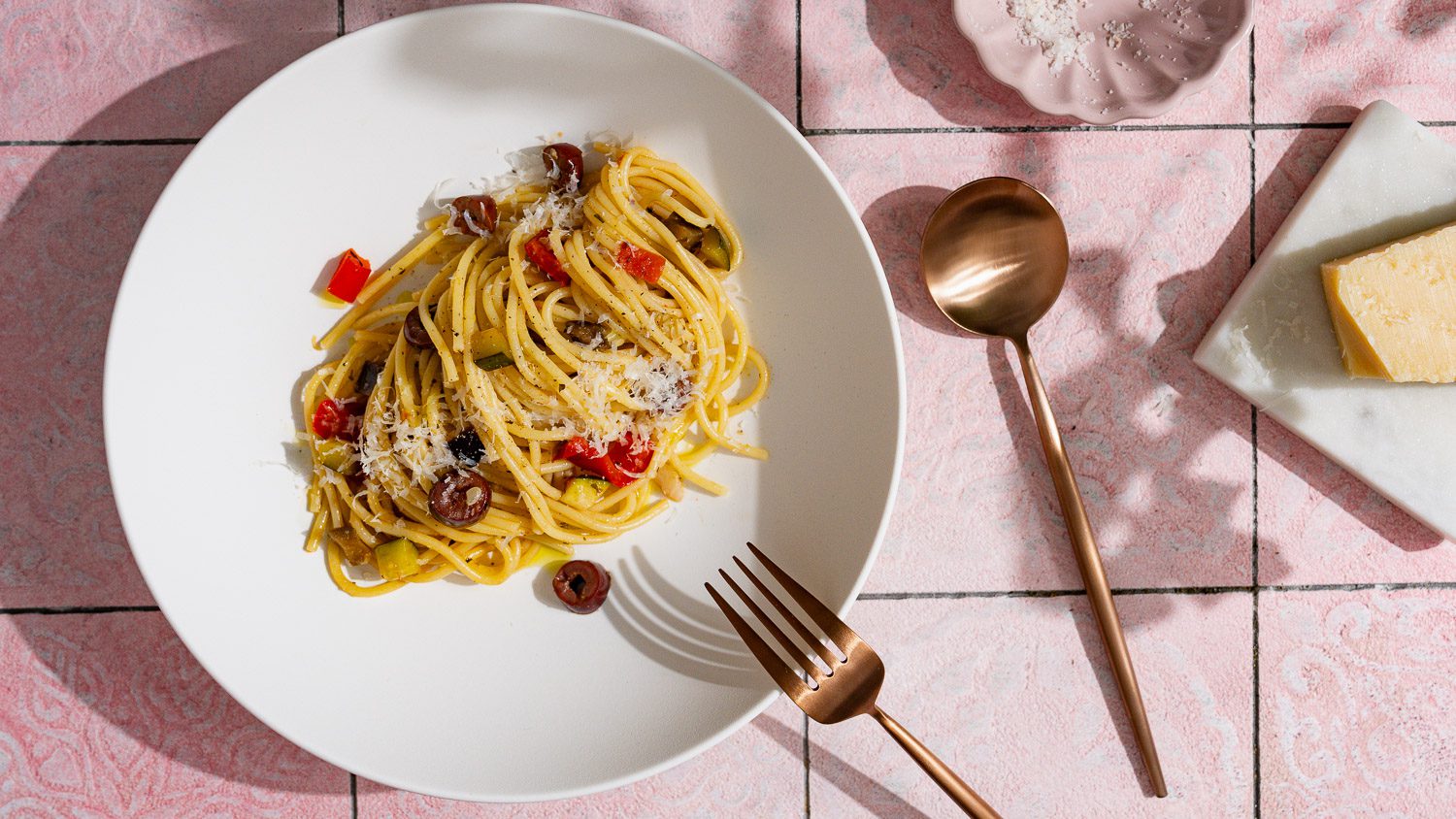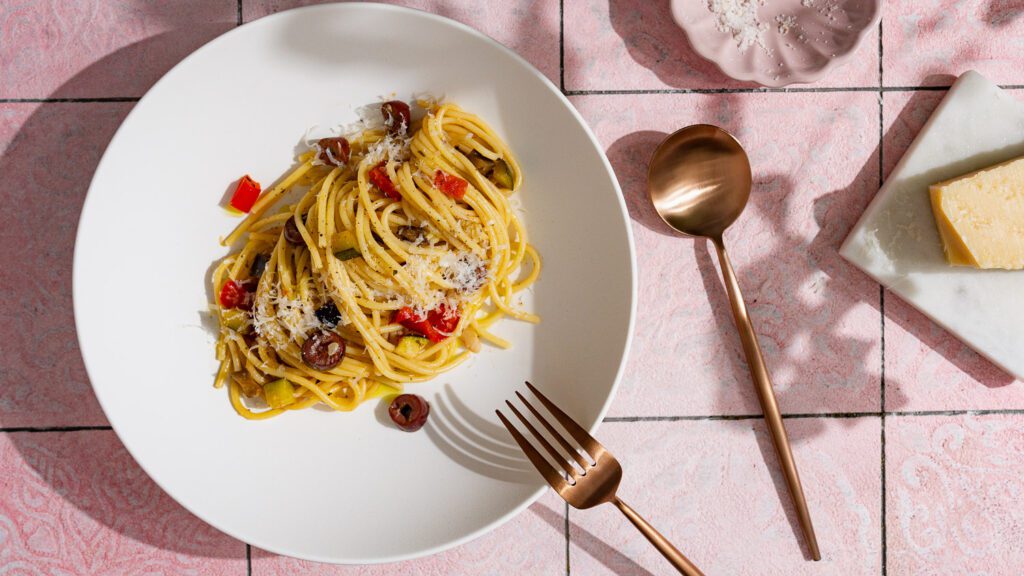 Print recipe
Save recipe
Saved!
Ingredients
Preparation
Vegetables Wash and cut into cubes.

Peel and slice or chop the garlic.

Cut olives roughly into slices. If necessary, pit beforehand.

Cook pasta in salted water according to package instructions until al dente. Shortly before the end of the cooking time, collect 50 ml of the cooking water.

Heat olive oil in a saucepan or deep skillet over medium-high heat.

Add garlic and sauté for about 1 minute.

Add eggplant and sauté for about 3 minutes.

Add remaining vegetables and olives and season with oregano, thyme, rosemary and salt and pepper. Turn the heat to medium and simmer until the pasta is ready.

Add pasta cooking water and stir.

Strain the pasta and add directly to the vegetables. Mix well and let stand for approx. 2 - 3 minutes before serving. If necessary, season with salt and pepper.

Serve pasta with freshly grated Parmesan cheese.
Nutritional values
Calories:
607
kcal
|
Carbohydrates:
106
g
|
Protein:
23
g
|
Fat:
11
g
|
Saturated Fat:
3
g
|
Polyunsaturated Fat:
1
g
|
Monounsaturated Fat:
5
g
|
Cholesterol:
7
mg
|
Sodium:
568
mg
|
Potassium:
852
mg
|
Fiber:
10
g
|
Sugar:
10
g
|
Vitamin A:
956
IU
|
Vitamin C:
21
mg
|
Calcium:
192
mg
|
Iron:
3
mg