Fava | Creamy dip from split peas
When I first discovered the Fava cream on the menu at the Greek restaurant, I had to try the dip in any case directly. Super creamy, velvety and incredibly delicious! The recipe is also super easy and quick to make.
What is Fava anyway?
Fava is traditionally a puree made from the fava (pea), which is found on the volcanic soils of the Greek island of Santorini. This is why this variety of yellow pea is also called "Santorini fava".
The cream has a certain similarity with the consistency of hummus, but is prepared quite differently and also tastes quite different. However, both creams are definitely delicious! Personally, Fava totally reminds me of the taste of the Lebanese yellow Mujadara, which my mother has always cooked for us from lentils.
To make fava, however, you don't necessarily need to travel to Santorini to get the yellow peas. A trip to the supermarket should be enough, as you can find yellow split peas (or split peas) that come close to Santorini fava almost everywhere.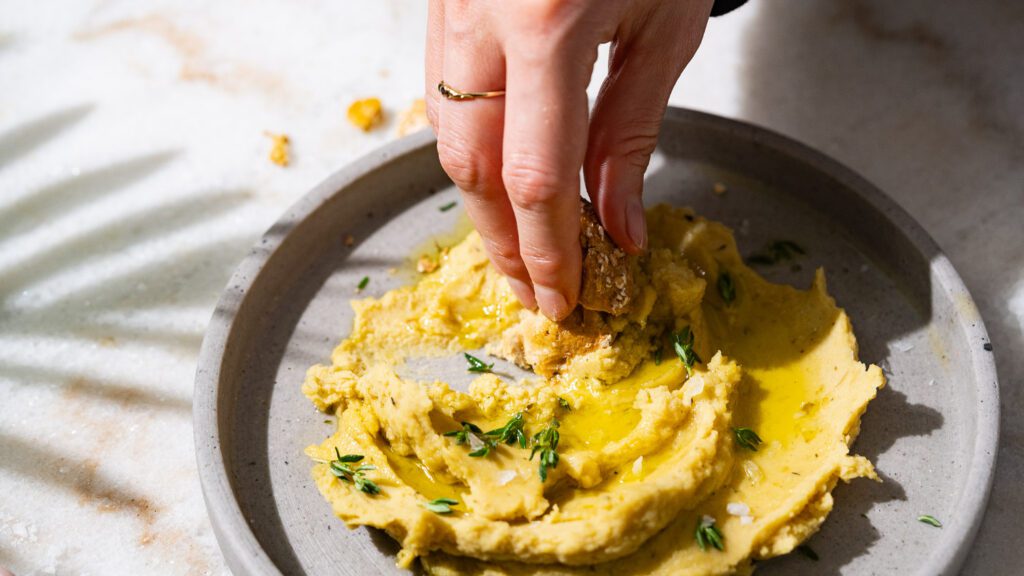 Quick and easy to make your own pea dip
When I ate the dip for the first time, it actually made me think of my mother's lentil puree and I could already imagine how the dish would be cooked.
After briefly researching the ingredients, it was immediately clear to me that it really is just as quick and easy! After that, we only had the delicious fava dip at home.
To make a good fava you don't need many ingredients and you can usually get them all in the supermarket. Besides yellow split peas, you also need garlic, onions, good olive oil, some oregano and thyme.
Even though the ingredient list isn't super fancy now, the taste will still blow you away - trust me!
I also recognized direct similarities to the recipe for mujadara during preparation. Onions and garlic are roasted in olive oil and given a lot of flavor. The yellow peas are then added and roasted briefly before thyme and oregano are added and the whole thing is deglazed with water.
This is very similar to the Lebanese lentil puree. With fava, the yellow peas are also cooked until they become soft and almost fall apart. With the peas, however, it takes a good 50 minutes until they are really cooked through.
When the yellow peas are soft, add some freshly squeezed lemon juice and salt and pepper. That's it. The intense flavor comes from the roasted aromas of the garlic and onion and of course the yellow peas. The lemon juice then lifts the flavor again properly.
All you have to do then is puree the fava. Here you can vary how fine you want your pea cream. Serve the fava directly with some olive oil and a crusty bread.
Fava can be kept well wrapped in the fridge for approx. 3 days.
I wish you lots of fun trying it out and of course a good appetite!
---
Recipe for fava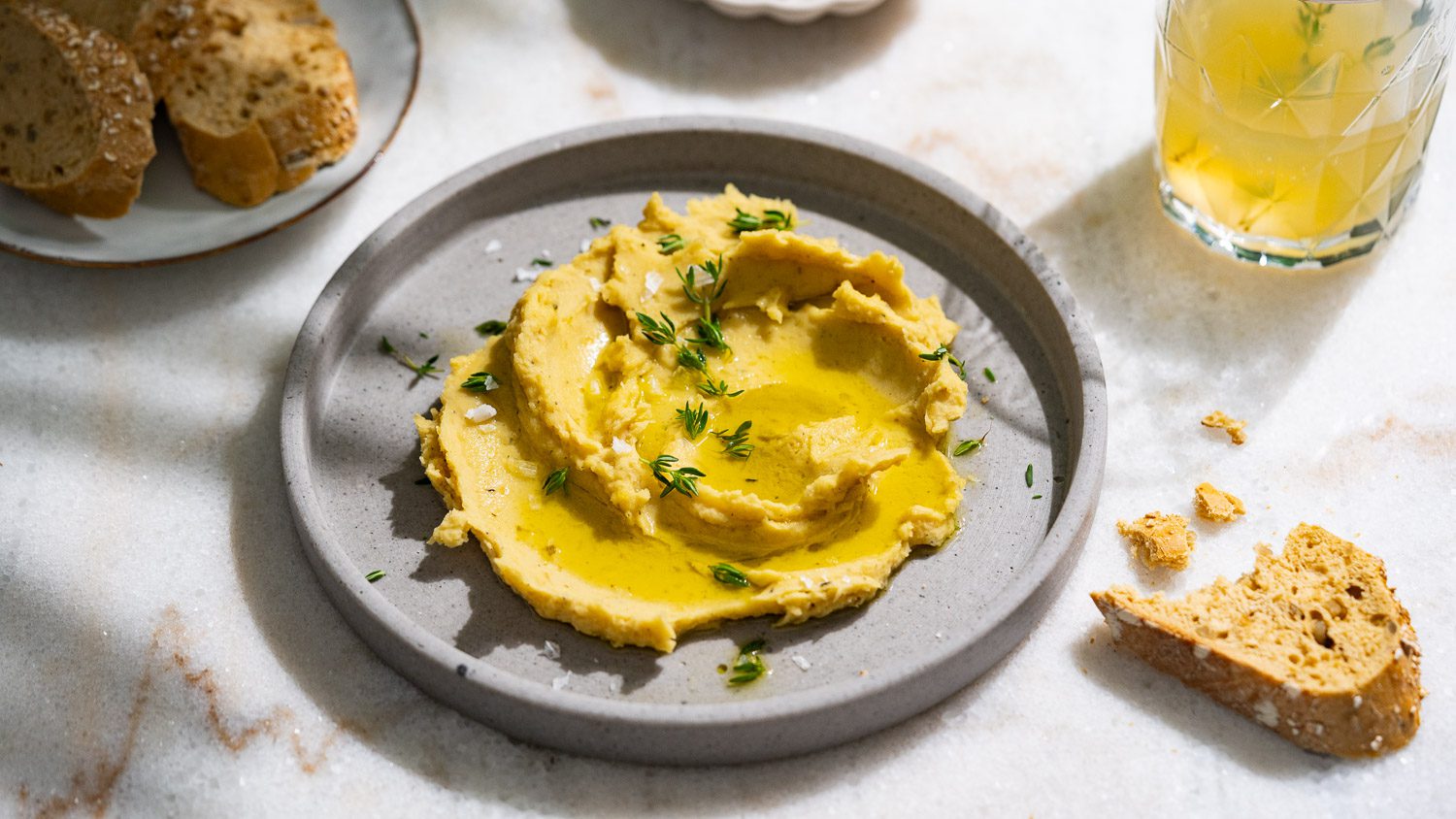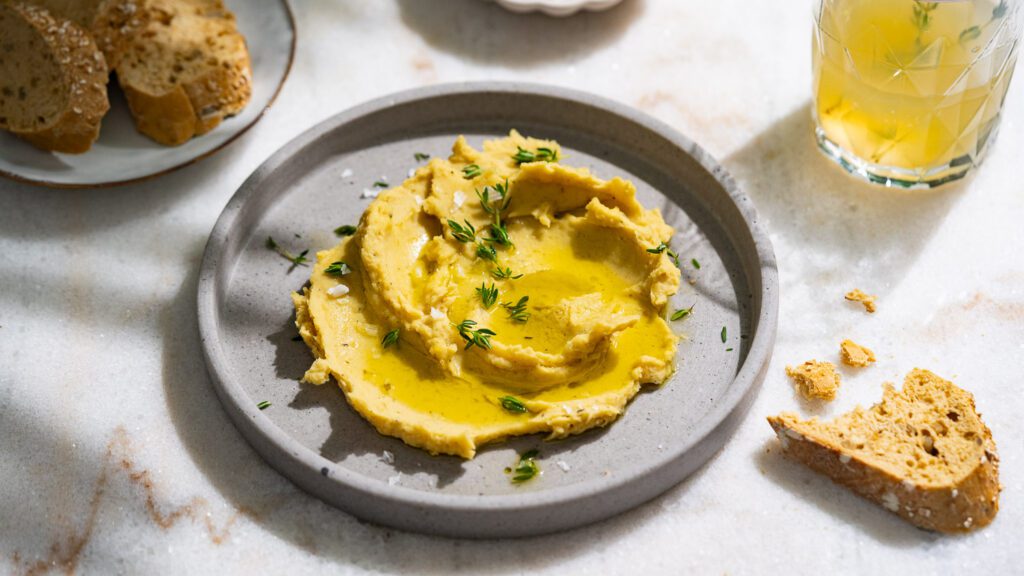 Print recipe
Save recipe
Saved!
Ingredients
Preparation
Peel and chop the onion and garlic.

Heat olive oil in a saucepan over medium-high heat and sauté onion and garlic for about 5 minutes.

Add split peas and sauté for about 1 minute, then deglaze with warm water and stir in thyme and oregano.

Simmer on medium heat for about 50 minutes with the lid closed until the peas are really soft. Stir occasionally and remove the lid during the last 5 minutes. The peas will also break down slightly as they cook. The cooking time may vary slightly.

Add lemon juice and season with salt and pepper.

If necessary, puree with a hand blender, spread on plates and garnish with a little olive oil.
Notes
Recipe contains affiliate links.
Nutritional values
Calories:
170
kcal
|
Carbohydrates:
30
g
|
Protein:
10
g
|
Fat:
2
g
|
Saturated Fat:
0.2
g
|
Polyunsaturated Fat:
0.1
g
|
Monounsaturated Fat:
1
g
|
Sodium:
42
mg
|
Potassium:
60
mg
|
Fiber:
8
g
|
Sugar:
3
g
|
Vitamin A:
10
IU
|
Vitamin C:
3
mg
|
Calcium:
39
mg
|
Iron:
1
mg
More dips & creams can be found here: